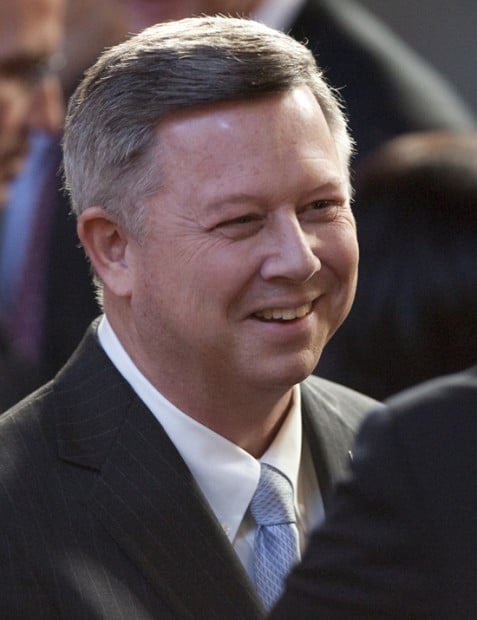 It's over. The battle to continue prenatal care for all low-income unborn babies is over for this year, Omaha Sen. Brad Ashford said late Wednesday evening.
Gov. Dave Heineman's position opposing a broad prenatal care program, which would include care for women who are in the country illegally, has not changed, Ashford said after he and two other senators met with Heineman Wednesday evening.
And there are not 30 votes in the Legislature to override a governor's veto, said Ashford, who had hoped an offer of $3 million in private donations to pay for the state's share of the broad prenatal program would change Heineman's mind.
"It was a generous offer, and I'm proud of the Omaha philanthropic community for offering it," Ashford said. "But it didn't change any votes."
Sen. Cap Dierks of Ewing had offered his abortion-related bill (LB594) as the vehicle for the prenatal plan if senators had enough votes. That bill, set for debate Thursday afternoon, will not include any prenatal program amendments.
Heineman ducked reporters waiting to talk with him both before and after an early afternoon public appearance in the Capitol Wednesday. Staff said he was too busy, and Ashford waited all day for any hint the governor was willing to talk with him about the prenatal issue. At midafternoon Ashford told reporters, "He's a good guy. I'd like to talk with him."
That talk finally came at 8:30 p.m. when Ashford, Speaker Mike Flood and Lincoln Sen. Kathy Campbell talked with the governor.
Ashford spent the weekend and this week trying to find a way to re-create the state's traditional prenatal care program that was based on providing care for the unborn baby. He had been promised the $3 million from unidentified Omaha donors. That would cover the state's share of the cost for the broad prenatal care plan until July 1, 2011.
Nebraska's Department of Health and Human Services ended the prenatal program earlier this month after federal officials said federal Medicaid funds could not be used to pay for the prenatal care for about 1,500 women, including almost 870 illegal immigrants.
Ashford has said his plan was based on providing prenatal care to all unborn babies, including those whose mothers are here illegally.
"I understand the governor's position on illegal immigrants," Ashford said before the meeting Wednesday.
His proposal, he said, is aimed at unborn babies -- who have no immigration status.
"This can be done without ever having to talk about illegal immigrants," Ashford said earlier Wednesday.
After the meeting, Heineman's office issued a news release:
"Our conversation tonight was respectful and straightforward. I recognize there are sincere concerns among state senators, but my position has been very clear from the day of the committee hearing.
"I have repeatedly said that I support prenatal care for legal residents. I do not support providing state-funded benefits for illegal individuals.
"This is a difficult and emotional issue. I appreciate the time several senators have invested in this issue in recent weeks."