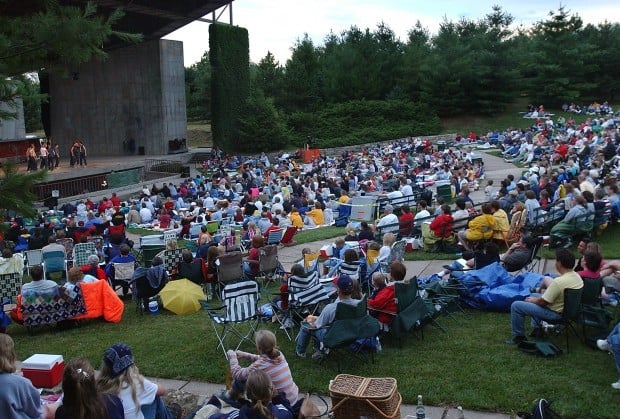 A parade of people whose businesses offer reception halls and rooms for weddings and other special events asked the Lincoln City Council not to allow liquor at Auld Pavilion.
Allowing people to serve alcohol at the former dance hall in Antelope Park would set the city up as a direct competitor, business owners said during a public hearing Monday afternoon.
"Allowing a tax-subsidized department to compete with private businesses that pay property tax would be completely unfair," said Monte Froehlich, owner of the Grand Manse, 129 N. 10th St., which houses apartments and reception rooms.
"I think it is ridiculous," he said.
But business owners and managers had no objection to allowing alcohol to be sold at Pinewood Bowl concerts and events in Pioneers Park.
The city Parks and Recreation Department is seeking permission for both -- to allow alcohol sales at the bowl and to allow alcohol to be served at private events and fundraisers in the Auld Pavilion and the Prairie Building at Pioneers Park Nature Center.
The department, looking for ways to raise money to offset budget cuts, is hoping to make another $11,000 by charging more when private citizens rent the Auld Pavilion and the Prairie Building and want to serve alcohol.
However that $11,000 in income to the city is $11,000 in income lost to private business, said Coby Mach, representing the Lincoln Independent Business Association, which opposes the proposal.
The Auld Pavilion seats 200 and the Prairie Building can host about 80 people.
This market already is very competitive, said Julie Campbell, with the Cornhusker Marriott Hotel.
The department's intent is to provide a moderately priced venue, said Parks and Rec Director Lynn Johnson, adding he doesn't think the city's park locations really compete with downtown hotels or other private venues.
"It's a challenge. We are all looking for revenue to support our facilities," Johnson said.
Allowing alcohol to be sold at Pinewood Bowl events would increase the number of concerts held there each year, Johnson said.
The city might make $3,000 to $5,000 from each show, said Tom Lorenz, Pershing Auditorium manager, who supported the change.
The council is expected to vote on the issue next Monday.
Councilman Jon Camp is asking that the issue be split -- with separate votes on Pinewood Bowl and on allowing alcohol service at the two park buildings.