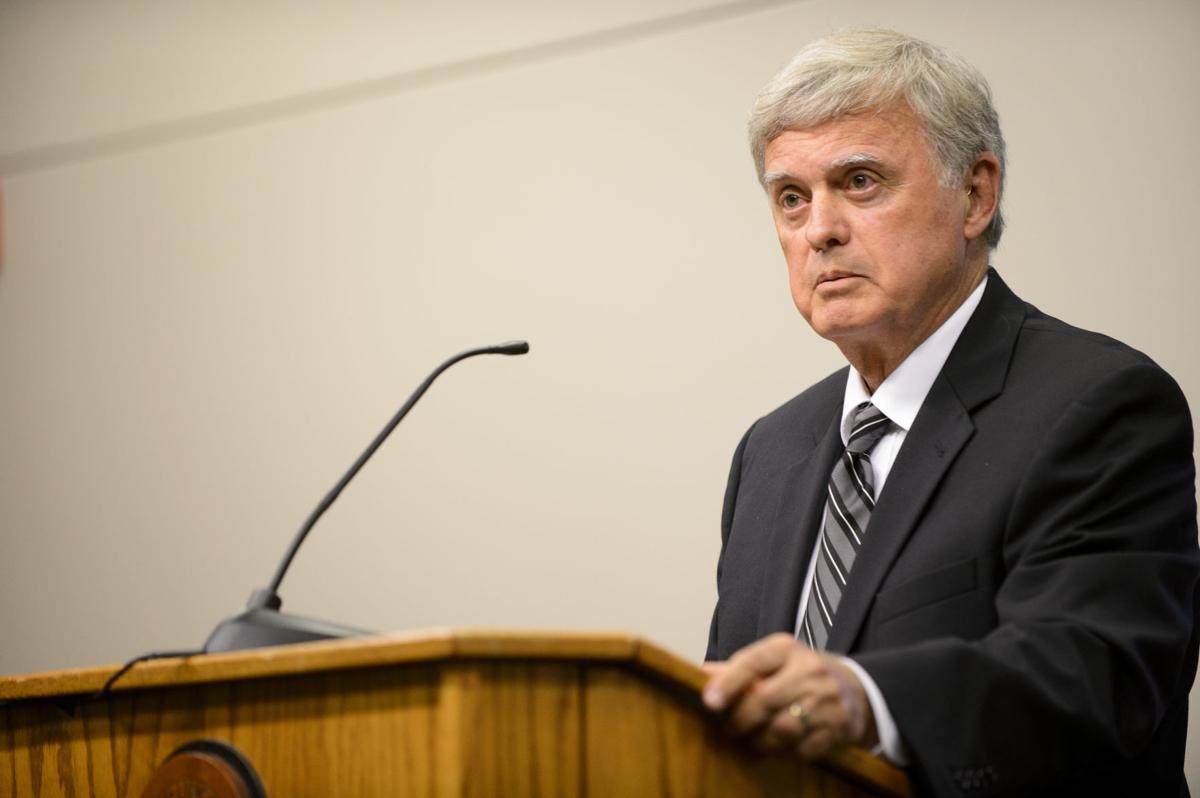 Term limits propelled Chris Beutler to first campaign for mayor, and term limits ended his run as Lincoln's longest-serving executive in City Hall.
In late 2006, the state senator fixed his political aspirations on the mayor's office and campaigned on opening Lincoln for business and governing with a mindset of cooperation.
Pairing his affinity for public service, love of architecture and desire for making Lincoln an even better city fueled a 12-year tenure as mayor, the 74-year-old Democrat said in an interview Friday.
"I had always thought that the Legislature had the power to do a broader good," said Beutler, who served six terms representing Lincoln as a state senator until he was ousted by term limits. "But when I became mayor the whole world of possibilities, and a local ability to address possibilities, became so real and so much fun that I ended up liking being mayor better."
Business and government leaders, and even his critics, say Beutler's leadership — highlighted by his focus on public-private partnerships — resulted in transformational growth that helped Lincoln build momentum even amid a national economic downturn. 
His governance helped remake the city's downtown, most notably the construction of Pinnacle Bank Arena, but Beutler has also drawn praise for his work enhancing the look of the city and championing environmental work and the arts.
Even after voters blocked him from seeking a fourth term by enacting term limits last fall, Beutler forged ahead with big announcements in his final months.
And the city has yet to fully realize some of the things Beutler ushered in, his backers say.
In the years ahead, people will ask why Lincoln has a dedicated bike corridor through downtown, a fleet of electric buses and a popular P Street business district, said Milo Mumgaard, a former mayoral aide and general counsel to Beutler.
"That's because somebody somewhere had to start the ball rolling to make these things happen," Mumgaard said. 
"(Beutler) brought the city along with him, and we're all going to benefit from that for many generations." 
'Just the beginning'
Lincoln couldn't compete economically with other cities of its size in the mid-2000s, rarely showing up on a top-10 list, the kind of accolade Lincoln Chamber of Commerce President Wendy Birdsall has now grown accustomed. 
Lincoln had been reeling after Gallup picked up and moved to Omaha in the early 2000s, a shock to the business community where for 30 years the polling company had made its headquarters.
And the fulcrum of the city's entertainment district, Pershing Center, didn't have the modern amenities to bring in country music's top touring acts, she said. 
In his 2007 bid for mayor, Beutler saw the key to sling-shot the city into a higher strata was easing regulatory burdens to business and development. 
Beutler set out to streamline the city's agencies and create a one-stop shop for permits so developers and business owners could get to work sooner, Birdsall said.
During the midst of his first term, though, the economic recession forced him to slash city services and eliminate 120 positions in city government, Beutler recalled. 
Preserving public safety staffing levels meant "doing hard things to the rest of the city's budget," he said. 
Meanwhile, the cost of construction was low, and along came the West Haymarket arena project, Beutler said.
Vision 2015's focus on putting an arena in the undeveloped West Haymarket was to create a new entertainment district to enhance the appeal of the entire downtown area.
Voters approving the arena by a double-digit margin in 2010 changed an attitude that had lingered in the community that Lincoln didn't deserve a new state-of-the-art venue, Birdsall said. 
Beutler, who declared victory at a party the night of that vote, soon felt the pressure of the financial undertaking and understood that the arena project would prove a measuring stick for him, he said. 
The massive project meant moving the BNSF Railway lines not only to make room for a world-class arena but also to clear space for business development. 
University of Nebraska Regent Tim Clare, a member of the West Haymarket Joint Public Agency, said Beutler approached the project with the right attitude to turn vision into reality. 
"That meant whatever your party affiliation, put it on the side and let's work together to make Lincoln better," Clare said.
Community officials understood the risks involved as naysayers pointed to the economic struggles of many publicly owned arenas, Birdsall said. 
To get the job done right, Beutler violated one of his principles of keeping work local when he hired a national arena-building expert. 
Ultimately, the West Haymarket JPA, chaired by Beutler, oversaw the completion of the $353 million arena seven weeks early and $20 million under budget, Clare said.
And 91 percent of the project's contractors had Nebraska zip codes.
"The city of Lincoln and state of Nebraska didn't miss a beat because the money stayed in the community," Clare said.
Built on city blocks carved from a former railyard, the arena fostered business development to the south — large housing projects and headquarters for software technology giant Hudl and engineering firm Olsson.
"It just all fits," Beutler said. 
More than 35,000 people have joined the city's population during the Beutler years, including 15,000 more workers, Birdsall noted. 
Downtown is being remade now on the south end of the Haymarket, and also along its eastern edge with work in the Telegraph District.
You have free articles remaining.
Improvements such as the arena have not only attracted new business but helped convince businesses such as Nelnet to expand here, Birdsall said.
And for Birdsall, the lesson is clear: "The Haymarket was just the beginning."
A budget showdown
As opening night arrived for the arena, Beutler began thinking of his next mission: work to improve the lives of the city's less fortunate, City Councilman Carl Eskridge recalls. 
Eskridge and others have praised the mayor's ability to think long-term while handling the complexities of the day-to-day job. 
The Democratic councilman didn't know it then, but Beutler in 2013 was specifically thinking of ways to expand after-school opportunities for underprivileged children and fast-learners through community learning centers.
Though the mechanism adopted to fund that work wasn't how Beutler had proposed it, he took pride in all sides coming together to put plans in place.
Ann Avery, who chairs the Lincoln Parks Foundation board, said Beutler's work supporting the development and funding of Union Plaza, improvements to Sherman Field and the Lincoln Airport entry corridor, renovations to Centennial Mall and tennis facilities at Woods Park was crucial.
"These projects make an impact in the immediate and long term," Avery said.
Mumgaard, who served in the mayor's office from 2009 to 2015, said Beutler's work to conserve natural resources and protect the environment through energy-efficiency projects and stormwater system improvements was far less heralded, but just as important.
Though it was expensive, one of Beutler's most important environmental efforts was powering the arena and West Haymarket through a thermal system operated by the city's District Energy Corp. 
"Even though he's very fiscally conservative, he realized you have to spend money at times to ensure a high-quality result that lasts a good while," Mumgaard said.
Twice in his tenure as mayor, Beutler had to ask people to dramatically adjust their water use, and he believes the 2012 drought and 2019 flooding on the Platte River showed how vital it is that the city's leaders shore up a second source of water. 
Negotiations and studies on just how Lincoln could draw water from the Missouri River are ongoing, Beutler said.
With his tenure ending Monday, Beutler has no regrets from his 12 years in office nor misgivings over the 2016 budget battle in which he sued the City Council because it wouldn't adopt the higher tax rate needed to balance his budget. A judge later found in Beutler's favor.
To City Councilman Jon Camp, that fight soured the working relationship between the mayor and council, where the Republican has served for 20 years. 
"All in all, (Lincoln's) in good shape," Camp said of the state of the city. But he still has concerns.
"We've piled on a lot of debt, drained a lot of reserve funds and added a lot of taxes," Camp said. 
City government's annual bond payments increased 285% from 2007 to 2018, according to a Journal Star analysis of bond information.
Still, Lincoln maintains a AAA rating, the top rating for borrowers, and Beutler believes that's a testament to the financial health of the city as he leaves office.
Take out the arena, he said, and debt levels are about where they were when he stepped in.
Despite their philosophical differences, Camp believes Beutler helped create a sense of place in Lincoln, in part through his focus on public arts projects, which have sometimes been controversial.
Beutler had proven himself a political force, twice winning reelection by comfortable margins. 
He seemed poised for a strong fourth-term bid last fall, when the term-limits initiative backed by some Republicans succeeded.
The vote disappointed him, he said, but in the weeks after, he set his sights on getting "planes off the runway."
Beutler in January outlined his homestretch goals and met some of the largest ones: Passing a sales tax earmarked for street improvements and kick-starting development of a downtown park on the south end of the West Haymarket that is seen as the city's next catalyst project. 
One effort he wished he'd gotten off the ground was finding and funding the answer to the downtown library conundrum. Bennett Martin Library needs a new heating-and-cooling system, but is the costly repair worth putting into the aging building when a new library could better serve Lincoln residents?
The evolving mission of libraries from book warehouses to technology and knowledge centers, combined with scarce resources, made him hesitant to put a lot of city money "into a new animal."
Voters may ultimately need to approve funding for the next downtown library venture, whatever it may be, he said.
The future
Mayor-elect Leirion Gaylor Baird said Beutler's 12 years in office have shown "over and over again what's possible when the public sector comes to the table and tries to accomplish big things for the community." 
Beutler appointed her to the City-County Planning Commission in 2007, setting up her run for City Council six years later.
From her vantage point, Gaylor Baird has seen how Beutler, a man of ideas, takes a quiet approach to governing. 
She's impressed by his humility. Said Gaylor Baird: "Big shoes to fill." 
Beutler's plans for life after the mayor's office include walking his new puppy and watching the graduation of two grandchildren who live in Los Angeles and Chicago. 
His wife, Judy, recently retired from her job working for the Nebraska Supreme Court, and there'll be plenty of conversations ahead for them about what endeavors they'll embark on to make them both happy, he said.
"At my age, running for public office, a new race, probably isn't going to reach the top of the priority list," he said.