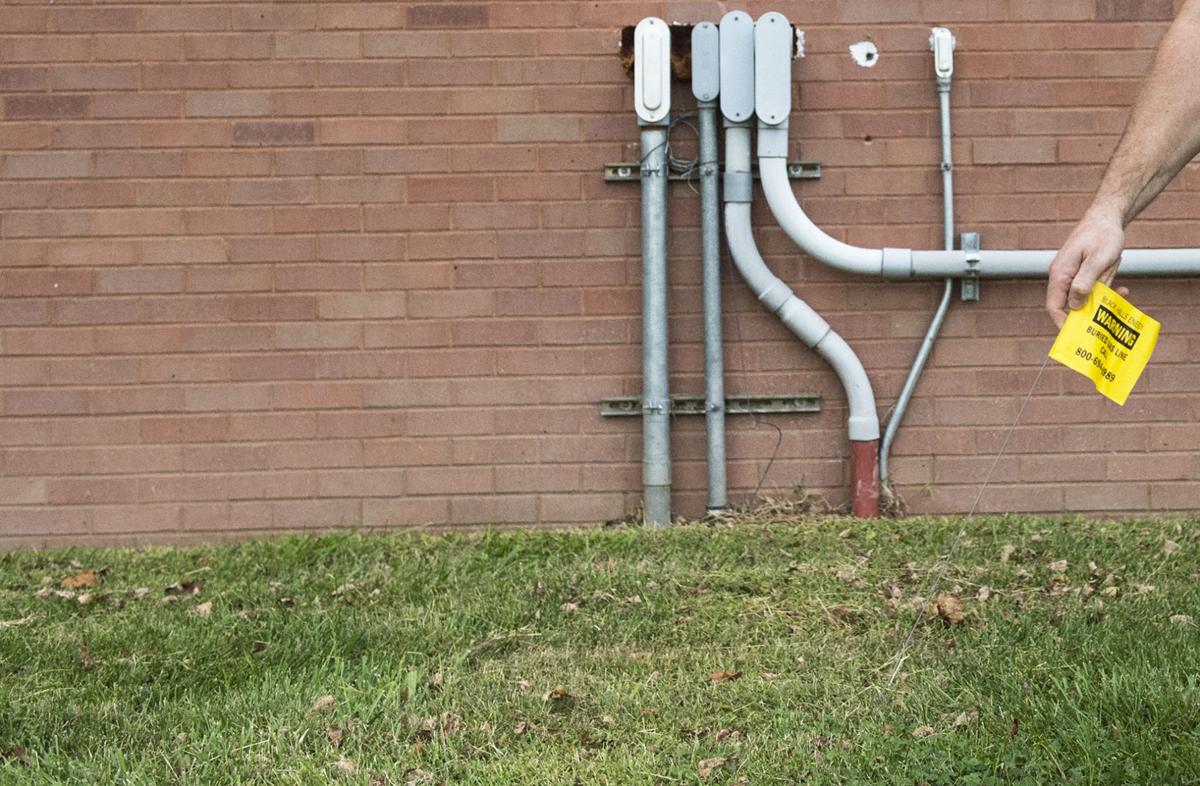 A proposal in the Legislature that would change who pays to locate underground utilities is being called the "Allo bill" because of its roots in the massive fiber-installation project underway in Lincoln.
The measure (LB1031) requires any company in a Nebraska city involved in a large excavation project — more than a mile long and taking more than 90 days — to pay the cost of locating and marking underground utility lines.
Currently, each utility is responsible for marking its buried lines and assuming the associated costs.
Several local utilities, including the Lincoln Electric System and Black Hills Energy, have described how locating their utility lines for the extensive Allo fiber project significantly raised their expenses over the past two years.
The bill is based on fairness, said Sen. Curt Friesen of Henderson.
If a big project by another company raises the costs for a utility, why should the ratepayers have to bear that cost, he asks.
But the measure could become a major expense for city taxpayers, since most big projects involve public streets, water and sewer lines, according to David Young, infrastructure and right-of-way manager for the city.
This measure targets anyone who is new to the market, but it also includes city, state, county and federal projects, Young said.
Most public road projects add up to a mile, because federal funding is generally awarded in one-mile increments, he said.
The bill "will have a really big impact (on taxpayers)," he said.
Young said he would have estimates of potential Lincoln taxpayer costs available for the Feb. 13 public hearing on the measure. It will be a big number, he said.
The bill veers from the traditional system used in Nebraska and other states, requiring utilities to pay for the costs to locate their underground lines, according to Young. 
The measure is anti-growth and anti-competition, Young argues. It is supported by established companies who don't want a new entity to come to town and build, he said.
And for public entities, "this really changes the game for construction projects," Young said.
You have free articles remaining.
Allo, which is going block-to-block putting in fiber for telephone, television and internet service across Lincoln over a three-year period, has raised costs for existing utilities.
LES has seen its annual costs more than double for locating and flagging its lines  — from about $2.8 million to $5.8 million — because of the Allo Communications project, according to information provided to the Lincoln City Council.
LES has had to reassign people and hire additional contractors in order to keep up with the Allo schedule.
LES suggested to Allo the company consider paying a special "expediting charge" in order to offset some of the locating costs.
"But that did not meet their business plan," LES CEO Kevin Wailes said of Allo's response.
Black Hills Energy has taken its case to the Public Service Commission, seeking to include additional costs when determining consumer rates. The PSC has not yet made a decision on that issue. 
Black Hills has said additional work required for the Allo project will cost the natural gas utility $1.6 million more than it projected the last time its billing rates were approved by the commission.
Even the city has experienced cost increases because of the additional locating work. Lincoln has started trying to collect for the additional cost of responding to gas lines cut by Allo and subcontractors during their excavation work.
The bill isn't related only to Lincoln's Allo project, but stems from a number of complaints senators heard during a legislative study last year, Friesen said in a telephone interview.
The philosophy behind utilities providing free location services was to encourage companies to arrange location services in the first place, Friesen said.
But sometimes companies order location services, then don't start digging for several weeks, so the locating crews have to come out again.
"Maybe it's time for them to have some skin in the game," Friesen said. 
The bill would require companies on smaller projects and in rural areas to pay for locating costs after three free services.
It would also require planning meetings with all utilities that might be affected by a large project, and for excavators to use special care when digging near other underground utility lines, including hand digging.
Since the bill isn't likely to garner a priority designation, Friesen said it's not likely the measure will go anywhere this legislative session.