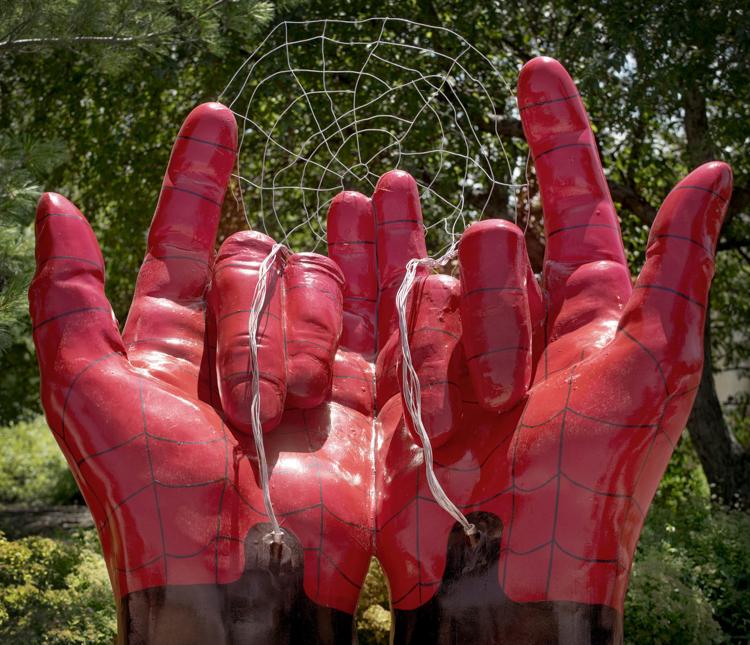 The sculpture of red-and-black hands shooting a spiderweb near the Lincoln Children's Zoo offended a Lincoln woman so much she wrote to Mayor Leirion Gaylor Baird demanding city action. 
"It is a sculpture of two hands open, painted Red & Black, and formed into Devil Horns," she wrote in an email Friday, calling the art anti-Christian, demonic, and completely inappropriate for showcase near a family attraction. 
She demanded the city move the 6-foot Spider-Man sculpture because it's ugly, perverse and a "hate crime against the church."
However, as city ombudsman Lin Quenzer explained to the concerned citizen, it wasn't devil horns or a city issue at all. 
It's one of 50 sculptures installed across the city in the "Serving Hands Lincoln" public art project, which will benefit Campus Life. 
Matt Schulte, the nonprofit group's executive director, concurred with Quenzer, and further explained the colors are an ode to the more recent depictions of the super hero, who traditionally had sported blue and red.
"The sculpture is most definitely not a devil-related sculpture," Schulte said in a response to the concerned woman. "It clearly has a very playful child-like intent."
He praised the community support for and excitement about the sculptures. 
And Quenzer told the woman the city would not seek to remove the sculpture.  
Want to lay claim to Spider-Man's hands?
The sculpture and others in the public art series will be auctioned Oct. 25 at 7 p.m. at Pinnacle Bank Arena.
Two-thirds of the auction proceeds will benefit Campus Life, with the remaining one-third of each sculpture's price going to the artist.
Zoo to request another tax grant 
Speaking of the zoo, expansion plans to build a cheetah run, a home for anteaters and a playground area near the giraffe barn are on track for completion next spring, CEO John Chapo said. 
A $2.1 million grant of Lancaster County lodging tax dollars in 2016 helped pay for the first phase of zoo expansion, which opened this spring. 
But Chapo said he plans to ask for another $600,000 in grant money to help cover financing for the project, he said.
As part of his presentation to the County Board last week, Chapo said the zoo had raised an additional $18 million in private funds needed to pay for $20 million in construction.
He signaled that the zoo would be amenable to delaying payout of its current grant to alleviate strain on the fund, which is also being used to provide significant grants to the Lancaster Event Center for high school rodeo-related improvements.
Commissioner Sean Flowerday applauded that approach.
"They understand they're not the only game in town," Flowerday said.
Safe storage 'not high priority'
Councilman Bennie Shobe doesn't believe the City Council should mandate gun storage. 
In an interview Monday, the Democrat who represents the whole city said he didn't believe the task force's research showed a need for an ordinance that likely would have enforcement issues.
That report identified 18 suicides of youths 18 and younger in the city involving firearms from 1995 to 2018. 
All gun deaths are tragic, Shobe noted, but he's more concerned about deaths from traffic accidents.  
"I don't think this is as high a priority for our community at this time," Shobe said.
He did echo several other council members in his support for education campaigns and efforts to connect people with gun safes and trigger locks as well as training. 
Cleaning up the pool talk
Last week in my column on Councilman Roy Christensen's desire for a city aquatics center, I focused on his argument that such a center would make better use of the land occupied by Mahoney Golf Course.
But to clarify, Christensen's preferred site for an aquatics center would be where the former Lincoln Municipal Pool, or Muni Pool, was at near 21st and N streets.
Get Election 2020 & Politics updates in your inbox!
Keep up on the latest in national and local politics as Election 2020 comes into focus.