Hank Bounds will be one of the newest faculty members at the University of South Alabama when the fall semester convenes, but also one of its most experienced.
Managing an organization with 14,000 employees, a presence in 93 counties and some 52,000 students for four years isn't easy, particularly during a time of financial belt-tightening and political upheaval.
While it wasn't always "the way you want to get experience," Bounds, who spoke via phone on one of his last days as president of the University of Nebraska, said he'll draw upon the lessons learned at NU as he prepares the next generation of higher education leaders.
The first course — "Higher Education Finance" — is something Bounds has become intimately familiar with almost from the start, as he was tasked with implementing a series of budget cuts following reductions to NU's state appropriations.
Years of work at Varner Hall to close a $55 million budget gap without creating long-term damage to NU resulted in a combination of back-office operational cuts that eliminated about 100 positions, and several years of higher tuition rates to students.
Bounds said while his classes will study debt ratios and managing cash flow, his experience at NU has reinforced the notion that budgets are more than figures on a balance sheet.
"These aren't just numbers on a page, these are real people with real livelihoods and the decisions you make really matter," he said.
Effectively managing a budget, no matter its size, during times of fiscal stress requires leaders to outline their mission and priorities and frame each decision through those lenses, Bounds added.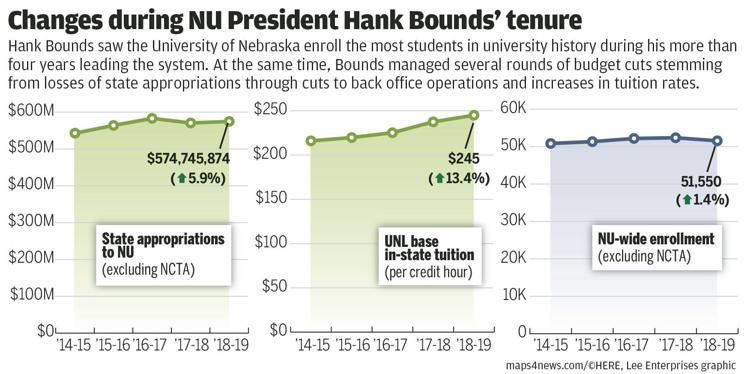 NU hoped to avoid cuts to its academic programs and to keep tuition rates as low as possible when it was forced to make three rounds of budget cuts in less than two years.
"Were some of those things impacted? Yes," Bounds said. The NU Board of Regents has enacted six straight years of tuition hikes in order to offset some of the loss from state appropriations, he added, and the university closed or consolidated some academic units.
"But I think we mitigated the risk and kept some of the bad things from happening that could have if we had not first focused on our priorities and kept that a theme throughout all of our processes," he added.
Bounds said his students will likely have to make similar or even more difficult decisions in the near future.
Studies have shown a growing number of states are funneling more money into expanded Medicaid programs, correctional facilities and K-12 education instead of institutions of higher learning, forcing those institutions to manage the increasing operational costs tied to instruction, research and maintenance through raising tuition or growing enrollment.
If neither of those methods work, future university leaders will need to consider how and what they can downsize within their operations, or in extreme cases, whether to eliminate entire academic units or close campuses.
You have free articles remaining.
Bounds said NU was able to manage its last round of cuts without diminishing its academic enterprise, but future administrators may not have that option.
Administrators are also being called on to respond to more controversies that emerge on campuses. Bounds said his time at NU has provided him with several examples he plans to discuss in a course for Ph.D. students called "Law and Ethics."
Then there was the 2017 video of a graduate student and lecturer protesting a recruiting event for Turning Point USA, a conservative student organization with close ties to the Trump administration, which went viral on social media, provoking a months-long backlash from conservative politicians in Nebraska until the lecturer was removed and the university sanctioned by a prominent academic organization.
Bounds said he thinks NU "had good outcomes" in several issues surrounding free speech on campus during his time as president, although he said there is room to do things differently.
"There is something in everything I've done that, if I could start over, I might have done differently," he said. "When you go through something the first time, you learn from it."
Using real-life examples such as those and others will provide context to students to think about how they would manage similar issues that crop up on their own campuses, he said, and confront a loss of confidence in higher education in the U.S.
According to a 2018 study by Gallup, the number of U.S. adults expressing "a great deal" or "quite a lot" of confidence in higher education dropped from 57% in 2015 to 48% in 2018, with the sharpest drop in confidence — a whopping 17% — coming from Republicans, who have espoused the belief at the local, state and national level that colleges are unfriendly to politically conservative students and faculty.
But even Democrats and independents have expressed waning confidence in higher education between 2015 and last year, although they still hold colleges and universities in higher regard than Republicans.
Bounds said higher education leaders need to become more adept at addressing those concerns in a timely manner and elevating their institutions above the noise.
"The truth of the matter is, a huge portion of our faculty are amazingly talented people who care deeply about the university, their students and the research we're doing," he said.
Now back among the faculty ranks, Bounds said he's looking forward to gaining some valuable experience in the classroom, although he will continue work on fundraising for a major Memorial Stadium project and aid in the transition to new leadership.
"As president of the university, (engaging with students) is hard to do sometimes," he said. "You have to be intentional in balancing the books, dealing with problems, raising money and thinking about how you manage all this enormous change that's coming your way that the ability to interact with students really takes a back seat.
"I'm looking forward to more engagement with students," he said.