At the turn of the last century, around the time he was acquitted of losing a quarter-million in tax dollars, a former state treasurer chucked a pair of gin bottles into the cistern behind his spacious house at 17th and L streets.
Across the alley, a neighbor in an equally big but brick house emptied a bottle of Kentucky whiskey and tossed it down his own cistern.
And all around them on their block, garbage was falling — filling outhouses and wells and rainwater catch basins, which were becoming outdated and unneeded as city water and sewer service moved the plumbing indoors.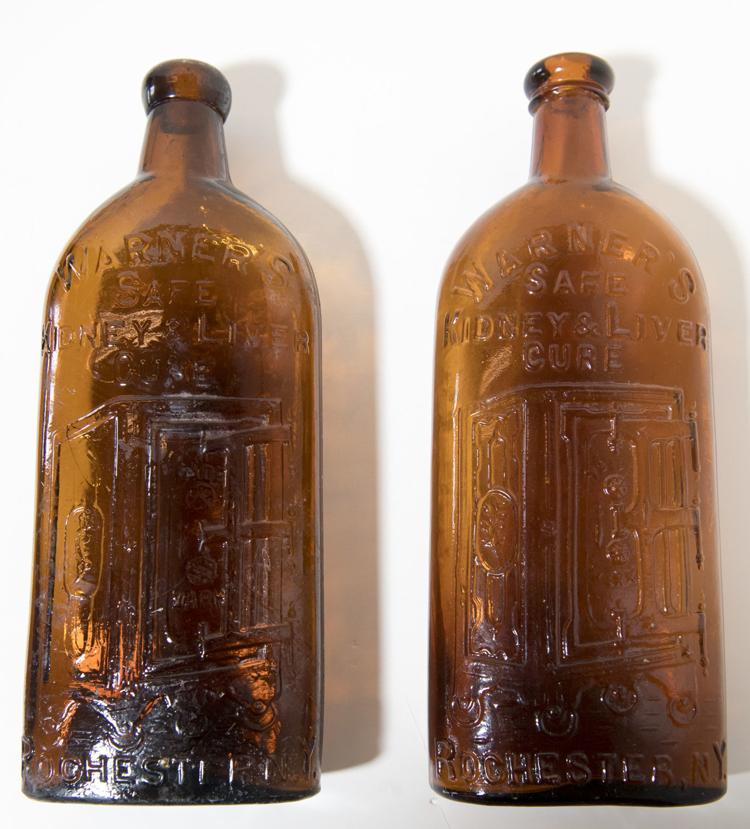 Medicine bottles from druggists in Lincoln, Wymore, Moorefield and Geneva. Broken storage crocks. Sleigh bells and ceramic Easter eggs and animal bones and even a crucifix.
They'd also dump coal and wood ash, which cushioned the breakables. And the brick-built cisterns would act as armor against the changes that would come next.
The block had began its life as a home to the affluent. An 1891 city atlas shows nine houses between 17th and 18th and L and K, some spreading across more than one parcel, including the home of former State Treasurer J.E. Hill.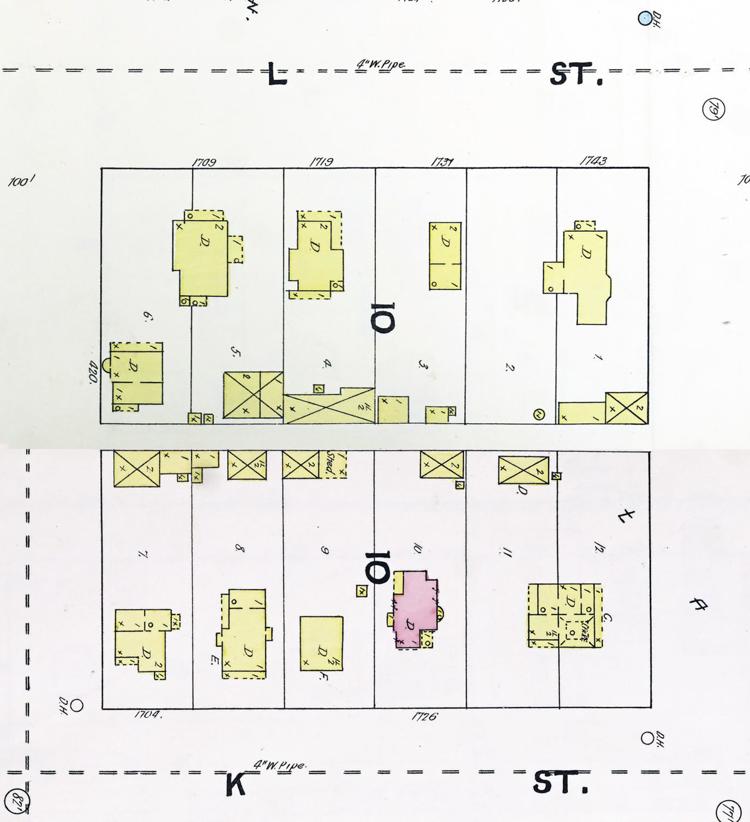 These weren't shanties, said State Capitol Administrator Bob Ripley.
"You have one building that takes up three lots, that's someone with means," he said. "They were building significant residential properties on the edge of downtown."
But in the next decades, the lots were divided, making room for twice as many homes. Some of the original houses were carved into rooms for rent.
Ripley remembers driving downtown with his parents in the 1950s. By then, the block had gone downhill.
Then the houses were gone, knocked down and buried in their basements, the block scraped clean to provide parking for Woodmen Insurance across the street.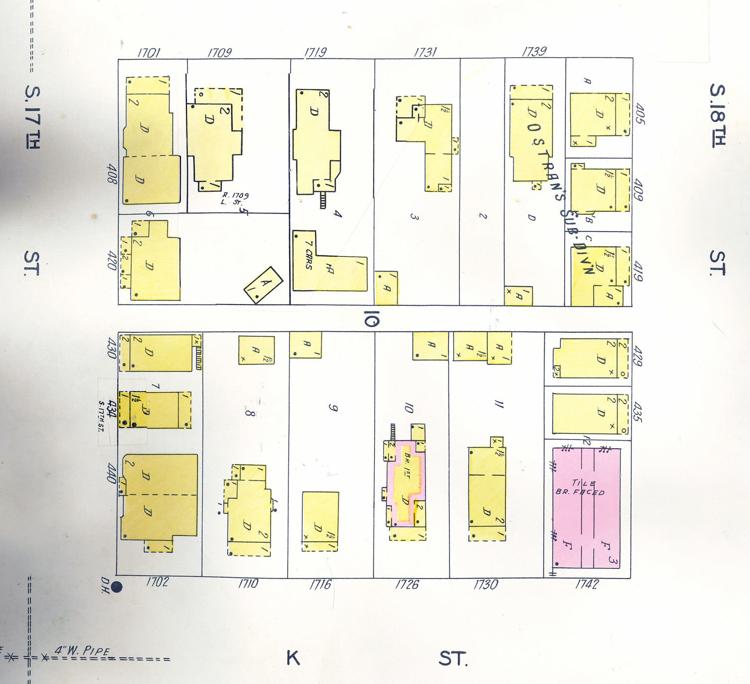 Which would prove to be the best move for future historians and archaeologists.
"That kind of sealed the time capsule in 1959," said Matt Hansen, the Capitol's preservationist architect.
Hansen and others have spent the past year opening the capsule, retrieving and rescuing thousands of artifacts they hope will add another chapter to the history of the city.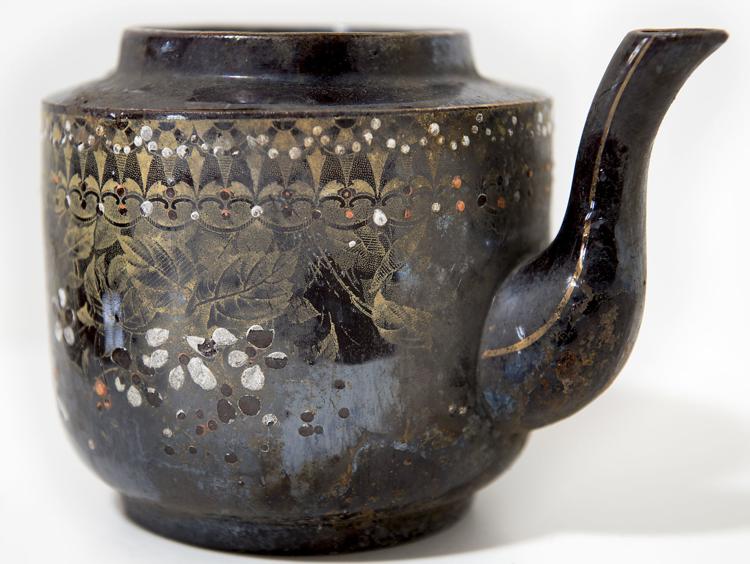 Garbage can tell a story. About who lived on the block, and how they lived, and how their lives were different from others in Lincoln during the same era.
"All this stuff was at one time regarded as refuse," Hansen said. "But there's value today in understanding the stuff these people threw away. It's the kind of thing that will be providing information for many, many years."
But if Hansen hadn't walked down the street from the Capitol last year, visited a construction site and spotted bottles at the bottom of a cistern, it all might have been lost to the landfill.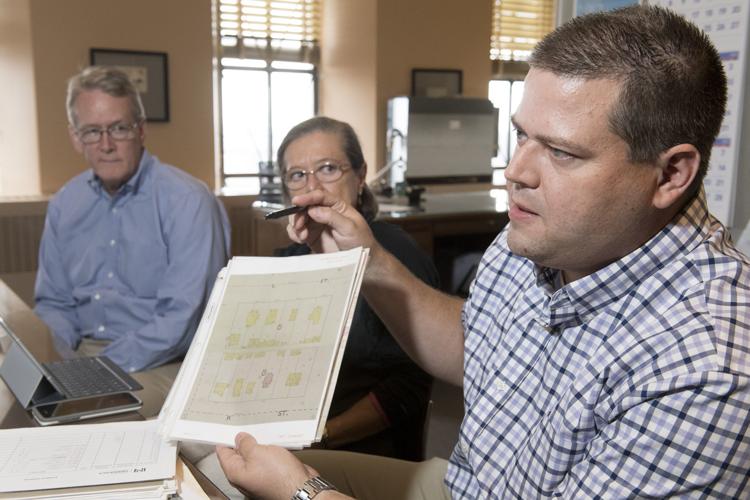 The law that wasn't followed
The affluent block that became a parking lot is now a hard-hat zone; contractors are drilling 225 holes — each one 670-feet deep — for a geothermal well field to provide heating and cooling to the Capitol.
The state owns the land. And the state is paying for the work.
Either one of those facts should have triggered a 2005 law requiring agencies to notify and work with the state archaeologist before state-funded construction projects on culturally significant sites, to mitigate any effects to archaeological resources.
Meaning, someone should have called Rob Bozell long before the first bulldozer blade bit into the earth at 17th and L.
There should have been an opportunity for Bozell, the state archaeologist, and his staff to survey and sample the site and, if necessary, to take the time to excavate.
"Somebody should have contacted us," Bozell said. "There's this big project and they're finding archaeology and it was all news to me."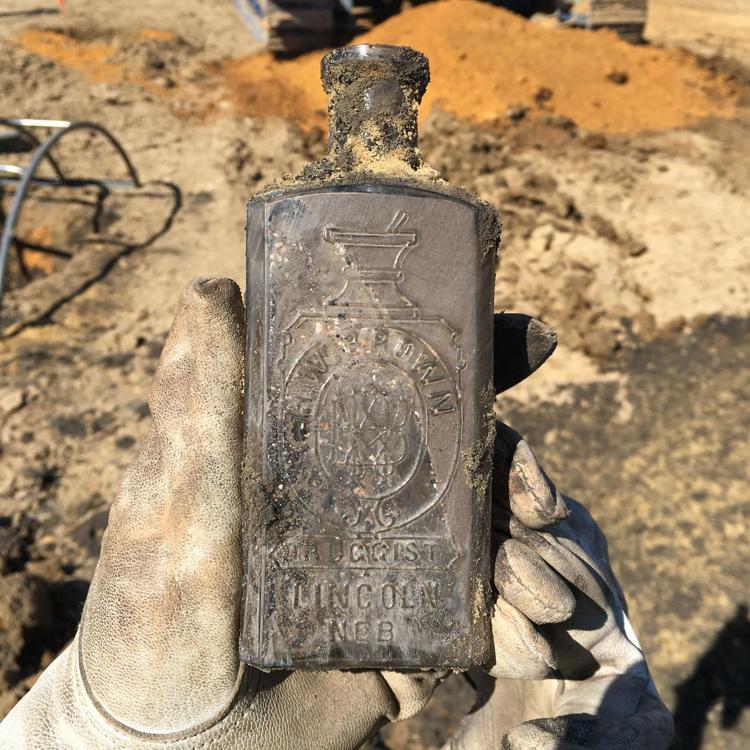 But it's more complicated than that, and Bozell will accept some responsibility for why that didn't happen in this case.
First, though, here's how it's supposed to play out:
His office works closely with the Department of Transportation and the Game and Parks Commission, two of the state's largest landowners.
Those agencies include Bozell's staff when they're planning projects, and they allocate money for the work. So when Game and Parks was planning a new mountain bike trail and boat dock at Platte River State Park, for instance, it gave Bozell the plans.
"They asked us to go out to see if there was any archaeology there, write a report, tell them if there's anything they should avoid," he said.
They did, and they found remnants of a prehistoric camp, prompting Game and Parks to redesign its plans.
"Same with the DOT," he said. "They give us their plans years before they start, and involve us in the planning process."
But the law is flawed, he said. He'd been an early supporter of the legislation until he realized it was an unfunded mandate; it didn't stipulate who would pay for what.
"I remember saying I think we should wait until we get a commitment from the Legislature to fund it."
You have free articles remaining.
And too few agencies know about it. Ripley and Hansen, who work for the Nebraska Capitol Commission and will be responsible for the well field, hadn't heard about it — because they've traditionally been responsible for the four-block footprint beneath the Capitol.
"It's not something we had to deal with before," Hansen said. "There's a general lack of awareness outside of state agencies that do that type of work."
And Bozell didn't have their agency on his radar screen, either. Which is why some of this is on him, he said.
"I'll take some responsibility," he said. "We should have told all these agencies they're supposed to contact us."
He plans to change that this winter, he said, by drafting rules and regulations and reaching out to relevant agencies to inform them of the law.
"This is a good opportunity for us to contact any agency that owns land or does things on land and remind them, 'You guys have got to do this.'"
One-man rescue operation
Hansen suspected the block bore historical riches, and he mentioned it at planning meetings before the project started, he said.
"We were sensitive to it going in. I made a point to keep bringing it up."
But his concerns — or the state law — didn't find their way into the construction costs or timelines.
And when contractors broke ground early last August, Hansen was on vacation. He returned a week later and inspected the site, immediately spotting the archaeological artifacts he knew were there, at the bottom of a cistern cut open by an excavator.
"When I found those two bottles on the first day, I was like, 'Holy cow.'"
There was nothing on paper requiring the contractor, Sampson Construction, or the subcontractor, LeGrande Excavating, to accommodate an archaeological dig. But both companies were understanding, he said.
At first, the workers would drop a dump truck's load of dirt for Hansen to sift through with a shovel. That wasn't effective.
So they found a different method. If Hansen spotted what was considered an archaeological feature — a cistern or an outhouse — they'd flag it, and the excavator would move on, giving him a little time to recover what he could.
And for a couple of months last year, before work shut down for the winter, Hansen was a one-man amateur archaeologist, saving what he could.
"Mostly it was full-time, all day every day," he said.
The Capitol Commission had contacted Bozell's office, asking for help. But it came down to money. And there was none.
"I said, if we had known about this, we would have asked for some funding to do some excavation," Bozell said. "But they were kind of unwilling. They didn't have it in their budget."
The story of the block — and the history at stake — spread through the city's archaeology community. Someone at History Nebraska contacted Effie Athanassopoulos, who teaches archaeology at UNL.
She was ready to assemble a team of graduate students to help Hansen better excavate the block, but that also required funding.
Then she heard from Hansen and Ripley in March: Sorry, no money.
But she couldn't let it go. It was too important, she said.
So she stripped everything she could from her schedule. When she wasn't required in her classroom this spring, she was in the dirt alongside Hansen — at least two full days a week, and other afternoons — often with help from grad student Harley Reed.
"It was a very challenging project, but both Matt and I understood if we didn't put in the time, we would lose a lot of information and we couldn't let that happen."
Salvage archaeology
Their work in the dirt is done.
They recovered thousands of items — mostly glass and ceramic and stoneware, materials hard enough to withstand decades under the ground — from a dozen sites, all but one of them cisterns.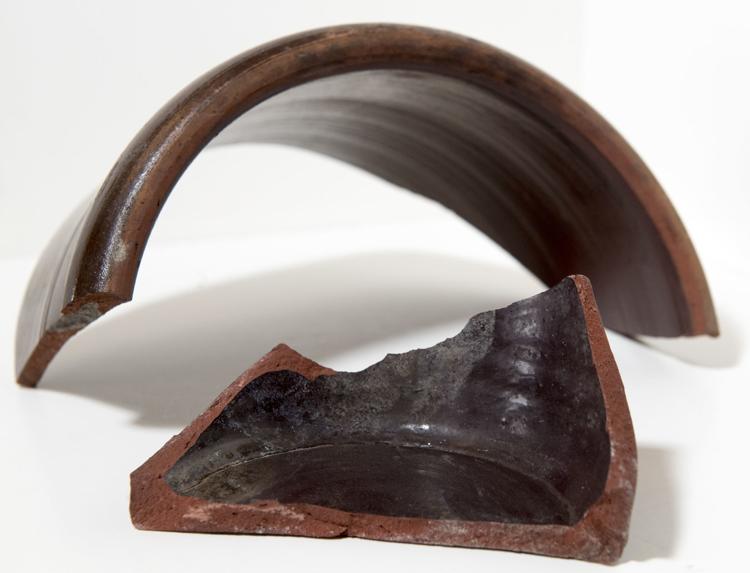 "Under the circumstances, we did pretty well. It wasn't ideal," Athanassopoulos said. "We had to watch the bulldozer take scoops of dirt and see if anything could be distinguished."
She called it salvage archaeology. She would have preferred a systematic approach, but that would have taken months and sidelined the contractors.
And that wasn't possible, Hansen said. The state would lose money if the work stopped.
"That was one of our goals," he said. "That anything that we were doing would not have an impact on the contractor's schedule, and we were very strict about making sure that didn't happen."
Bozell, the state archaeologist, kept up with the dig over the summer, and he credits Hansen's persistence for recovering what he could.
"He gets a gold star for this. He loves this thing. He had a real personal attachment to it. I think he wanted the best that could happen to happen to it."
Some of the best-preserved pieces — the reusable European gin bottles from the treasurer's house, the glass medicine bottles embossed with the names of the druggists —  will remain at the Capitol for a future display.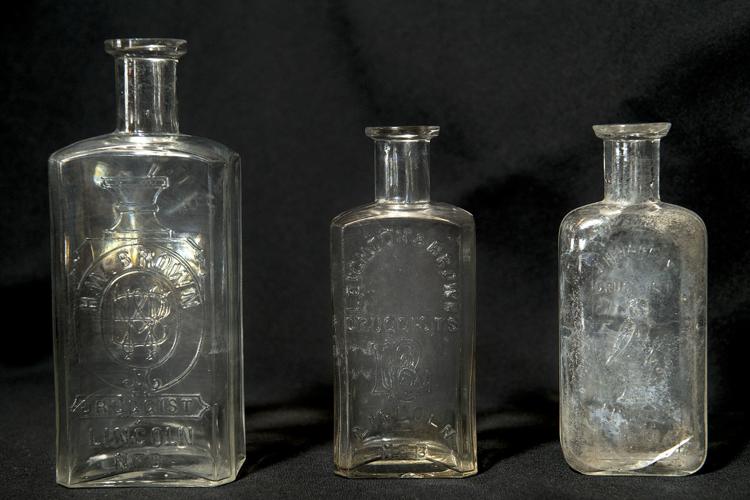 Many others went directly to the archaeology lab at the university, raw materials for a class Athanassopoulos will start teaching this week.
Ten students will spend the semester cleaning, sorting, reassembling, building a database — coaxing stories from garbage about life in Lincoln a dozen decades ago.