The city's 350-foot bridge project connecting the Rock Island and Jamaica North trails could start carrying hikers and bikers by next summer — as long as old Uriah Wise doesn't object.
Or if Isaac Wiles, Julius Cardwell or Martha Black don't speak up, either.
Or the handful of other long-gone pioneers who, starting in 1869, staked some kind of claim to a ribbon of what is now Wilderness Park, and who were all named last week in a court case.
That stretch of land became the railroad's in 1892. The Chicago, Rock Island and Pacific was the last known deed holder, but it filed for bankruptcy in 1980 and disappeared a few years later.
West of Wilderness Park and U.S. 77, the train tracks were ripped up, reclaimed and replanted by farmers and other landowners.
The city of Lincoln took possession on the other side, paving the popular Rock Island Trail that stretches northeast toward downtown.
But the quarter-mile of rail bed through the park? The overgrown trail from a former trestle on the east to U.S. 77 on the west, with a bridge over Salt Creek in the middle?
Its ownership has remained unresolved for decades.
On the county assessor's website, the narrow parcel is a ghost — no owner, no details, only an error message.
"That little piece of land has been in limbo," said Sara Hartzell, a planner for the Lincoln Parks and Recreation Department. "They never turned that land over."
You have free articles remaining.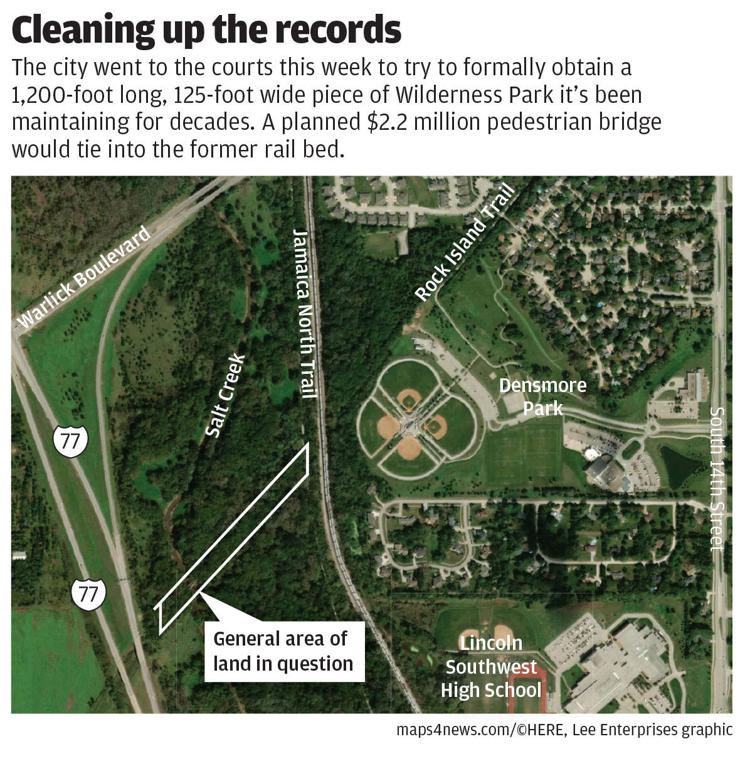 Lancaster County owns most of Wilderness Park, though the city maintains it. And it never considered the 150-foot-wide swath an issue until recently, when it began to embark on the $2.2 million bridge project that will connect to the land in limbo.
"We're just trying to get that title cleared up," Hartzell said. "That's what brought this up."
But to do that, the city had to go back to the beginning, naming all of the earliest landowners in what it called a Complaint to Quiet Title, filed in Lancaster County District Court.
Landowners such as the railroad, which no longer exists. And like Uriah, Isaac and Julius — and 13 others — named in the complaint but who have long since departed from this world.
"All the aforementioned defendants are presumed deceased given that over 120 years have passed since the last deed in 1892," Jocelyn Golden, an assistant city attorney, wrote in the complaint.
It's procedural, she said Tuesday. The city is asking for a judge to approve a published legal notice and, if no one objects, for the land to officially become the city's.
Because the city is moving forward with the bridge. It's nearly overcome a $900,000 cost increase it announced earlier this year, due in large part to design changes and tariff-driven steel prices.
"It's going really well," Hartzell said. "We've gotten quite a bit more of the funding covered."
That's thanks to donors, including Scheels and its $100,000 gift, who have put the project within about $200,000 of its goal.
The city will seek construction bids in early September and hopes to hire a contractor before the first of the year, she said.
If all goes as planned — if it raises the money, and if long-gone landowners don't come forward — the bridge could be open by next summer.