Ask Lincoln Police Sgt. Todd Hruza what's the best way to safely watch the Huskers on gameday and he's got a one-liner that speaks to the challenge. 
"Stay home and watch it on TV," said Hruza, who oversees gameday traffic operations for the police department.
But if you're part of the Great Saturday Migration that makes Memorial Stadium Nebraska's third-largest city, thinking ahead can reduce the pain of getting to and from the game, said Hruza and other transportation and parking officials.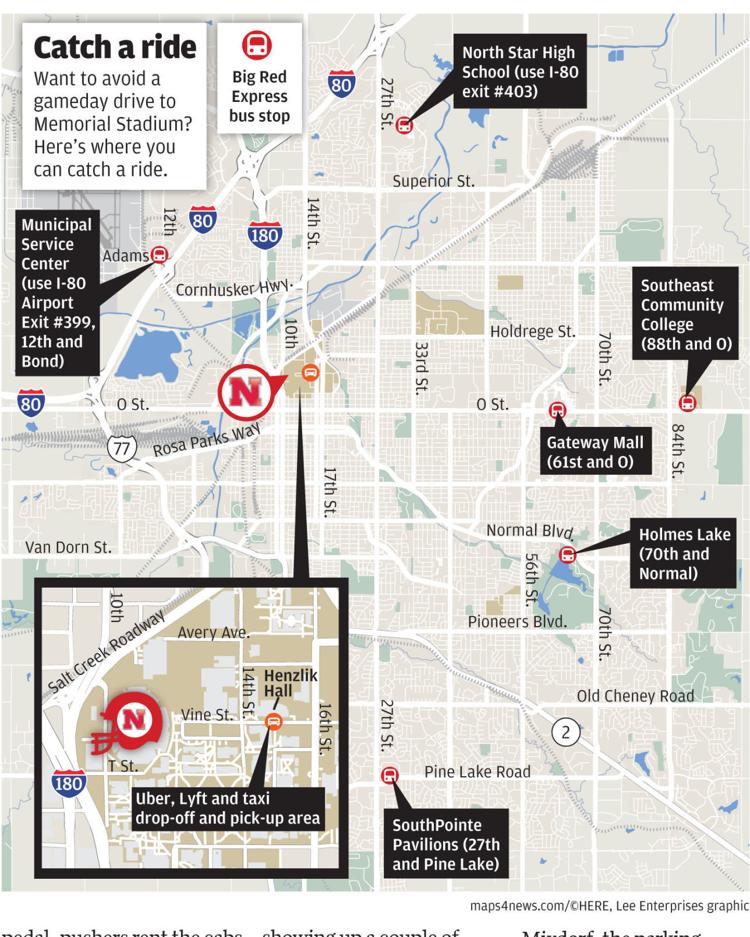 Getting there
If you want to try to park close to Memorial Stadium, expect delays.
Traffic will snarl, and you'll likely creep along at some point no matter which route you take. But the city does have some advice if you're coming from Interstate 80.
From the east: Exit at Cornhusker Highway to State Fair Drive to Salt Creek Roadway.
From the west: Exit at U.S. 77 South to Rosa Parks Way.
And if you do make it down Interstate 180 to Ninth Street, take a right at N Street to get to the Haymarket and its parking garages.
Gameday parking for all lots directly surrounding Memorial Stadium is reserved for Athletic Department donors.
* Two hours before kickoff, southbound Ninth Street will be closed starting at the roundabout at Ninth and Salt Creek Roadway. The street will reopen when vehicles have left the stadium area after the game.
* Also two hours before kickoff, R, Q and P streets in the Haymarket will be closed to traffic entering from Ninth. Drivers coming from I-180 will use N Street to access the Haymarket.
* Salt Creek Roadway will have lane restrictions at 14th Street.
* 16th Street on campus will close, with traffic being sent east on Vine Street to Antelope Valley Parkway.
* Postgame traffic on northbound 10th from Q to T streets will be restricted to I-180. No traffic will be allowed to go past the stadium on 10th. The street will reopen once pedestrians have left the stadium area.
* After the game, 10th Street south of Charleston will be closed to southbound traffic, and 17th from Vine to X will be closed.
* Stadium Drive west of the stadium will be closed to all vehicular traffic. Passenger drop-off and pick-up will not be allowed.
* Uber, Lyft and taxi drop-off and pickup will be at the bus stop in front of Henzlik Hall, 1430 Vine St.
* Charter buses will park on W Street between 14th and 16th.
* On Saturdays when a home volleyball game is scheduled at the Devaney Sports Center around the start or end of the football game, avoid Antelope Valley Parkway or Salt Valley Roadway if possible. 
* Drivers should follow the commands of officers directing traffic downtown. 
"Don't pay attention to the lights," Hruza said.
Construction to watch for
On Q Street between 11th and 12th streets, one lane is closed for construction of the Lied Place Residences. 
Let someone else get you there
Here's how to avoid all the brake lights and traffic cops: Take the bus.
StarTran's Big Red Express will pick you up — and drop you off — far from the gridlock: 
* The city Municipal Service Center, Northwest 12th and West Bond streets (Interstate 80 exit 399, east of McDonald's).
* Southeast Community College, 88th and O streets.
* Holmes Lake, 70th Street and Normal Boulevard.
* Gateway Mall, 61st and O streets.
You have free articles remaining.
* SouthPointe Pavilions, 27th Street and Pine Lake Road.
* Lincoln North Star High School, 5801 N. 33rd St. (I-80 exit 403, east on Folkways Boulevard).
Here's how it works: The first shuttles leave each lot two hours before kickoff and continue until 45 minutes before kickoff, but StarTran will have 40 buses circulating, so the wait for the next ride to the drop-off site — R Street, between 12th and 14th — won't be long. After the game, catch the bus back to your car from the same place.
Here's what it costs: $5 each way, $10 roundtrip. Bring exact change. Bills larger than a $20 aren't accepted. And you can save $20 by buying a $50 season ticket. Get them at the StarTran office, 710 J St., or from a lot supervisor on opening day.
More than 30,000 fans ride Big Red Express each season, according to StarTran. 
Mike Davis, the transit agency's manager, said those riders are a mix of loyal long-timers and fans trying out the service for the first time. 
If you can get close
This is the in-between: You parked within view of downtown — maybe near the Capitol, or south of the Haymarket — but the walk is daunting.
Catch a bike cab. "People have figured out this is the way to travel on a gameday," said Dan Warren, who owns Pedalpushers.
You can flag a cab for a trip to and from the stadium, or from bar to bar. On any given gameday, Warren has 20 to 30 bike cabs — each trailer capable of carrying two to three riders — on the streets.
Pedalpushers' pedal-pushers rent the cabs and ride for your tips, so don't stiff them. Most tips range between $10 and $20, depending on distance and passenger load.
You can also reserve a bike cab, arranging for a pick-up from the edge of downtown. Call 402-302-1032.
Pedalpushers is the biggest operator, but a few independents have hit the streets, and cabs started showing up a couple of years ago from Denver and Minneapolis and Council Bluffs, Iowa.
Some of them are on a circuit: Huskers Saturday, Chiefs Sunday. And some of them set a price-per-ride, demanding payment upfront.
You made it downtown
Those 7,800 downtown city parking spots? They can fill up.
Reservable parking spots are spoken for early in the season, according to Wayne Mixdorf, the city's parking manager.
The parking office does set aside some day-of spaces at each garage, selling them on a first-come, first-served basis. Gamegoers have become savvy, he said, and it's not unusual for them to line up at 6 a.m. on gameday to snag one of those spots.
Parking prices vary. Prime real estate — spaces nearest the stadium, such as the Haymarket Garage at Ninth and Q streets — sell for $30. Farther-flung lots, such as city-county spaces at 10th and K, are $15.
This year, five of the city parking garages closest to the stadium will only accept credit card payment in an effort to expedite processing there, Mixdorf said. 
Those garages — Larson, Que Place, Market, Haymarket, Red 1 and Green 2 — had previously accepted cash payment for the nonreserved spaces.
If you find an on-street spot in front of a meter, you can buy a hangtag for $10, allowing you to stay the day without getting a ticket. They're available at most parking garages.
Don't get towed
Lincoln police stay busy during gamedays, keeping thousands of people and thousands of cars moving safely and separately. But Capt. Jason Stille has a couple of critical pieces of parking advice.
First, if a spot looks too good to be true, check it out. There could be a reason — like a no-parking sign — that nobody else is parking on that side of the street.
And don't block alleys, crosswalks or intersections. "The moral of the story is, if you create a safety issue or create a traffic impediment, your chances of getting ticketed or towed — usually towed — go up exponentially."
Keep your car at home
Once you're on your feet
Hruza hopes pedestrians mind the barricades blocking some crosswalks. 
"I wish I didn't have to say these kinds of things," said Hruza. "If it's blocked, don't go over or around it."
Following police directions will help everyone get where they need to be with fewer headaches, he said.