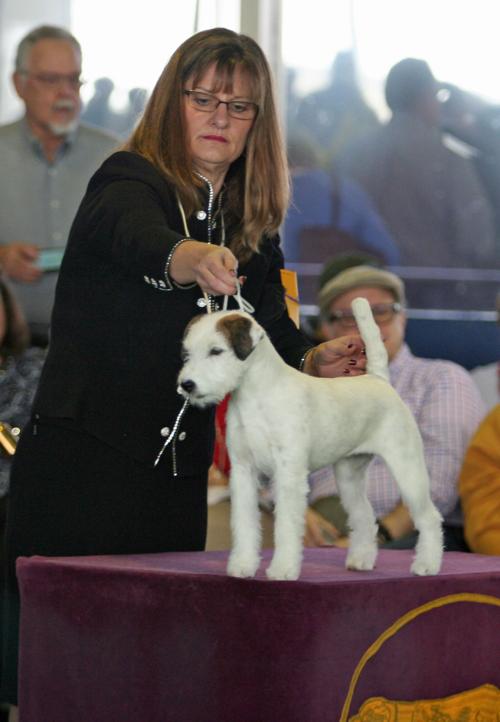 Compared to the rest of her four-legged family, Jinx was a difficult dog for Tricia Stanczyk to train.
"My boys are very eager to please, and they're very much wanting to do everything I ask," she said. "But Jinx is a little bit more on her terms. It kind of has to be more her idea, and I kind of feel like I'm her servant."
But Stanczyk, who lives in Garland, and Jinx's hard work paid off, as the 6-year-old Parson Russell terrier won Best of Breed at the Westminster Kennel Club Dog Show in New York City on Tuesday.
Stancyzk started showing Jinx at the beginning of 2018, after Jinx's brother, Taser, was retired from the show ring.
Jinx accompanied Stancyzk when going to Taser's shows.
"Then all of a sudden, I'm asking her to (show), and she thought, 'Hmm, I don't know about this,'" she said. "But she sure has come around and come into herself, and I think she's really been having fun."
Stancyzk first started showing dogs in 1995 after she got an English setter from a kennel in Lincoln. Eight years later, she started showing terriers.
Since then, she's had dogs win ribbons at Westminster, but had never won Best of Breed before.
Jinx goes with Stancyzk to Jacobson Veterinary Clinic in Lincoln, where she works as the office manager. 
"I don't know that I'd necessarily call her the clinic greeter, but maybe more of a mascot," Stancyzk said. "She's always in the back and usually sound asleep in her kennel eight hours a day, then goes home."
You have free articles remaining.
Stancyzk and Jinx practice every day and Stancyzk spends eight to 10 hours a week keeping Jinx's coat in show condition. They usually go to a couple shows a month, which has taken them across the country. Stancyzk said every time they go into the ring, they learn more.
"So it's a process," she said. "I think it's not something you just decide you want to do and go and do it. It's constant working."
Their efforts over the past year helped Jinx rank first in female Parson Russell terriers, qualifying her for Westminster, something Stancyzk called "every dog show exhibitor's dream."
Dogs are judged according to American Kennel Club standards. That includes an examination of their teeth, movement and even expression.
The terrier class was narrowed to five dogs, and the exhibitors were instructed to walk their dogs one final time.
"And as we were going around, he (the judge) did make his final point and pointed to (Jinx) for Best of Breed," Stancyzk said. "And I think I jumped in the air. It was pretty exciting."
Although Jinx didn't end up winning the terrier group to go on to compete for Best of Show, Stancyzk said she was still happy with the result.
"It's something I'll never forget, being there with top handlers and other dogs that are very, very good," she said. "But (Jinx) came up, she showed really good, she was happy, she had fun and it paid off."
Stancyzk plans to enter Jinx in the Great Western Terrier Association competition in Los Angeles next month. She said she may also try training Jinx and Taser this summer for Earthdog trials, which involves seeking rats underground.
But whatever the future may bring for the two, Stancyzk said she'll ultimately stand by what Jinx wants.
"If there ever comes a point where she acts like she doesn't want to do it, then we don't do it," she said. "She's a pet, first and foremost."