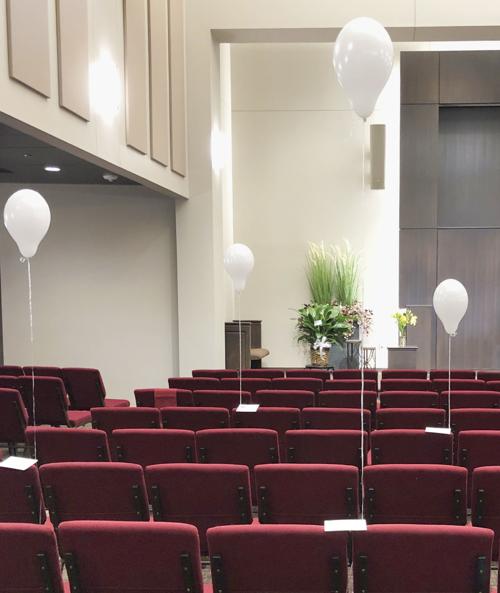 The weekend before the governor issued the order — no gatherings larger than 10 people — Tom Roper was at a funeral in North Platte.
"Everyone was hugging each other and kissing each other."
But by the time the president of Roper and Sons returned to work a few days later, the coronavirus changed everything.
"We're still trying to wrap our heads around the whole thing."
They're adjusting, he said.
"Last week, I think all of our funerals were in the chapel. Earlier this week, all of them were at the graveside."
On Wednesday, they livestreamed two services so mourners could watch from home.
The practice of social distancing to slow the spread of the pandemic is apparent on the newspaper's obituary pages. Celebrations of life delayed until a later date. Staggered visitations. Facebook Live services.
"We are noticing that a lot of people — in the 90% range — are doing a burial now with the option of doing a memorial service down the road," said John Love, vice president of Butherus, Maser and Love.
People have been understanding and cooperative, the funeral directors said.
"Our heart goes out to the families," Love said. "It doesn't help them go through the grieving process any easier."
This week, he's watched a daughter dealing with the death of her mother with two sisters in far-away states with high rates of COVID-19 who can't return.
Her father has dementia and lives in a nursing home, Love said, and it's unclear whether he will be able to attend his wife's graveside service.
"It might just be the daughter and her son."
At Colonial Chapel, families have also been very understanding of the situation, said funeral director Christian Biester.
On Tuesday, they extended a visitation to seven hours.
"So people could flow in and out while keeping the 10-person limit."
Colonial Chapel is also offering livestream funerals through YouTube with a link on its website.
"We are saying you can be at the funeral at home, just like churches are doing for Sunday services," Biester said.
More pre-funeral planning is being done over the phone, he said, and, if people are sick, they are asked to stay home.
"We work with a lot of elderly, and people are wanting to protect themselves as well."
The change affects staff members, too.
At Roper and Sons, half of its employees work one week and half the next to protect their safety and the safety of others.
Ropers has also started a "Hugs from Home" program. Friends and family can log onto the Roper and Sons website and leave a message, which is attached to a white helium-filled balloon and tied to chairs in the chapel.
"At least they have a visual that shows people care."
Roper and Sons has been in Lincoln since 1901, here during the flu pandemic of 1918.
Photos of the founding generations line a wall at the funeral home, Roper said.
"I walk by, and I'm watching their eyes and wondering what they've experienced in their lifetimes compared to this."
Photos: The scene in Lincoln with much of the city shut down