From the archives: Killer Sandoval says he has changed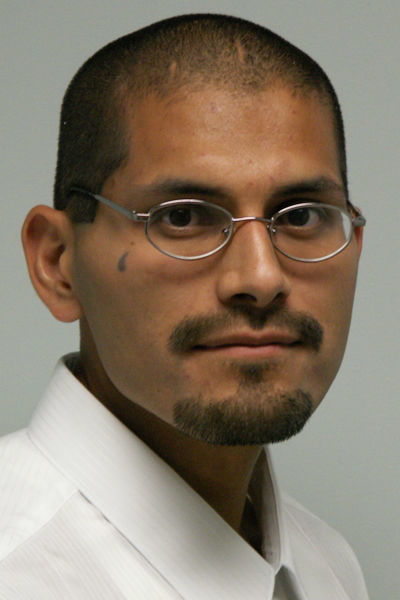 Originally published Sept. 21, 2008
TECUMSEH -- After all of the gunsmoke, bullets and blood, five innocent people lay dead in a Norfolk bank. Within hours on the morning of Sept. 26, 2002, authorities arrested three gunmen. One stood out. Jose Sandoval smiled at news cameras and flashed a gang sign as police led him from a courthouse.
In the ensuing months, he emerged as the leader, the one who planned a robbery that took not a cent from the bank but claimed so much from five people and their families. At trial, the prosecution showed a photo taken at Sandoval's jail booking. The 23-year-old looked at the camera and gave a full-face smile, practically on the verge of laughter.
Sandoval appeared gleeful just hours after taking part in possibly the most brutal bank robbery in the nation's history. The image cemented him as the face of evil that reigned in that Norfolk bank. But that was six years ago. He has changed, he insists. Once he carried out a mission of terror, violence and death. His new mission is life, he says. And he has a message for those who hate him: You must forgive.
He walks into an interview room at the Tecumseh State Correctional Institution. He wears an oversized white dress shirt, buttoned to the top, blue jeans and spotless white tennis shoes. Small, oval glasses somewhat obscure his eyes.
The shoulder-length hair is gone; he sports a basic-training buzz cut. His face looks almost gaunt, but the teardrop tattoo still hangs on his cheek.
During Sandoval's trial, the sheriff girded him with a 50,000-volt stun belt that threatened to hit him like a linebacker if he acted up. Eight officers stood guard inside the courtroom and three more outside, holding assault rifles, in case Sandoval somehow made it that far.
Now, as he takes a seat in a plastic chair, he looks more like a Buddhist monk than one of the state's most notorious killers.
He made news again in July when he pleaded guilty to two additional murders that occurred months before the bank shootings. One victim was Travis Lundell, a former roommate; the other was Lundell's friend Robert Pearson Jr. Bodies of the men, who disappeared about six months apart in 2002, were found in shallow graves near Norfolk.
Despite being advised it was not in his best interest, Sandoval asked for and received two life sentences for the killings.
And he pledged not to appeal the sentences.
"I did this because it was the right thing to do," he says.
Was it a calculated act by a manipulator who still wants to pull the strings or was it evidence of a profound, personal change? He scoots close to a microphone connected to a digital recorder. He says he requested this interview to glorify God through Jesus. He smiles, but his face no longer takes the mask of a killer. He looks, believe it or not, like a man at peace. He once was a leader. Now, he says, he's a follower.
Practically all of the 10 men on Nebraska's death row call themselves believers, Sandoval says. But that means nothing. "Anybody can say it," he says. "You have to actually walk it." He's walking, he says.
The journey started after his arrest in 2002, but it took nearly four years for true change to take hold, he says. In the meantime, he couldn't let go of his savage reputation.
He thought showing the change would make him look weak, which, in prison, is like hemorrhaging before sharks. But the change came anyway, he insists. It was born of a prayer 1½ years ago, which, Sandoval believes, begat a dream in which he heard God's voice. After the dream, he says, he knew he'd never be the same.
He has renounced drugs, which he says prisoners can get, even on death row. He's given up pornographic magazines and self-gratification, he says. He quit the Latin Kings, the gang he joined while serving five years for breaking into a Madison grocery store as a 16-year-old. He has renounced violence, he says. For now, he will protect himself only to ward off a rape attempt.
Before the change, Sandoval cared about nothing and no one.
"I was a heartless, selfish, egotistic, sarcastic, prideful, bad seed," he says. "I was a thief, a liar, an ex-con, a hustler, a Latin King, a drop-of-a-dime fighter, a person who swore a lot, a robot, a monster.
"A scary-looking, sadistic killer."
Now he says he spends his days listening to Christian radio and oldies, instead of the violent, sex-imbued rap that formerly played like a soundtrack to his life.
When he watches TV in his private cell, it's news or PBS. Get this: He professes to like Masterpiece Theater, especially Jane Austen serials.
"I don't know if you've heard of her," he says, sounding a little embarrassed. "I like that stuff. You know, there's a lot of things that are still sort of bad with anything, but I'd rather watch it than 'Hellboy' over here or 'Terminator' over here, talking about killing. I don't need that."
What he needs is time to read and contemplate "the Word." He says he's on a spiritual quest in a city of concrete walls and sliding steel doors.
The quest involves the study of various Christian denominations, searching for the one that most closely matches the teachings of the Bible.
"I want the citizens of Nebraska and all those in the prison system in Nebraska and all those in ear range to believe that Jesus is working in me," he says. "I am a walking miracle -- a living testimony."
Hours of what he says is selfguided Bible study led him to a stunning realization: He, of all people in the world, can help the loved ones of the people he killed.
"I hope that all the victims, in time, will forgive me from their hearts," he says.
If they don't, according to his reading of the Bible, they could very well end up in hell.
While he could very well end up in heaven.
What do others think about the self-described new Jose Sandoval?
Prison officials declined to discuss the matter or answer questions about Sandoval's conduct. A prisoner's misconduct or segregation record isn't public, said Dawn-Renee Smith, spokeswoman for the institution.
Norfolk attorney Ronald Temple has represented Sandoval since his 2005 sentencing.
Temple says he has no reason to believe the conversion is not genuine. Although he declined to offer details, he says the man he represents now is different from the one he met in 2005.
"I have my reasons for believing his transformation is genuine," he says. "And I have no reason to believe it's done for ulterior motives."
Madison County Attorney Joe Smith, who put the bank killers on death row, remains skeptical. For now, he'll leave it to God to judge the authenticity of Sandoval's conversion.
He confirmed Sandoval volunteered to show the location of Pearson's body. But he also said one of Sandoval's stipulations for pleading guilty was that he be sentenced to life rather than death for Pearson and Lundell.
"He's been convicted of seven murders, that's the change," Smith says. "What do you expect me to say? I saw the five dead bodies in the bank and I've seen two bodies dug up since then."
Sandoval isn't the first inmate to claim a death row conversion.
Joanie Brugger, the victim-witness advocate for the Madison County attorney's office, has worked closely with the families since the bank shootings. All of them, she says, are strong Christians who don't need Sandoval to give them spiritual guidance.
"The really sad thing is the majority of inmates who find Christ while they're incarcerated also lose Christ as soon as they're released," she says.
What Sandoval needs to understand, she says, is that juries and judges selected a punishment that will ensure the public never has to worry whether he has truly changed.
He makes a grim accounting of his supreme sins.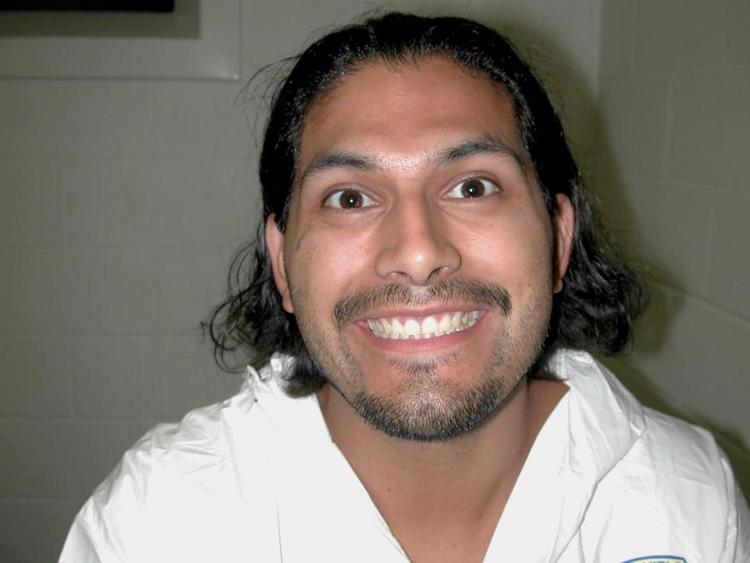 "I take full responsibility for my actions and for the effect it might cause," he says, reading from a typewritten statement. "For I am the cause of the death of ALL my victims."
On the bank's surveillance video, Sandoval can be seen shooting tellers Jo Mausbach, 42, and Samuel Sun, 50, as well as customer Evonne Tuttle, 37. Another gang member killed assistant branch manager Lola Elwood, 43, while a third shot and killed personal banker Lisa Bryant, 29.
He admits he was the ringleader, the one who pressured Jorge Galindo and Erick Vela into participating in the crimes. Therefore, he accepts responsibility for the lives they took as well.
Additionally, he takes the blame for getting his brother, Gabriel Rodriguez, involved. Rodriguez is serving five life sentences for casing the bank, reporting the positions of those inside via walkie talkie and giving the "go" signal.
Finally, Sandoval lays claim to the murders of Lundell, Pearson and the death of Nebraska State Patrol Trooper Mark Zach. The trooper, apparently distraught over a mistake a week before the murders that he thought might have prevented the killings, took his own life.
Sandoval sets aside the written statement.
He thinks about the victims' families, he says. How they're living without parents and children, brothers and sisters, aunts and uncles, everyone they loved.
He also worries about the indirect wounds he has inflicted, or so he says.
"They've got their anger, they've got their hatred, they got sorrow, they got pain, they've got things I can't even imagine they're going through."
But he won't talk about what he did -- about what happened in the bank or to Lundell and Pearson -- in any detail. But if their families want to know, he says, he'll tell them face-to-face at the prison.
He refuses questions about what happened in the bank out of respect for the families, he says. Why would they want details about what befell their loved ones reported in the newspaper?
Sandoval testified in court that he took LSD on the morning of the bank shootings and he saw blue Smurfs behind the teller counter. He no longer stands behind that testimony.
"I don't stand by any of my past actions," he says.
Those who want proof that his change is genuine need look no further than his recent guilty pleas in the Lundell and Pearson cases, he says. Additionally, Sandoval initiated contact with authorities more than a year ago and showed them where Pearson's body was buried. Not the actions of the old Sandoval, he says.
"Would never show nobody no dead body," he says. "Would never pled guilty to two counts of first-degree murder and would have accepted no plea deal to two life sentences. And on top of that, who am I going to manipulate? Am I going to make parole? No."
As for his death sentence, he took contradictory positions.
As the law of the land, he says it was just, and he deserves to die for his crimes. But he opposes the death penalty in general because, he believes, Christ does not endorse it.
By the same token, he is continuing to cooperate with his state-mandated automatic appeal. He admits he would like to see his death sentence vacated so he can spend the rest of his life in maximum security.
Prison affords him nothing but time to study the Bible and try to grow spiritually. Facing execution, even though it's years away, gives his study a special urgency.
If not for getting caught and being sentenced to death, he likely never would have changed, he says.
"You know what, being on death row is the best thing that ever happened to me."
When Sandoval arrived on death row in 2005, he had a score to settle.
Jorge Galindo, one of the other gunmen, had testified against Sandoval's brother. It wasn't a question of whether Sandoval would mete out retribution to the man he calls "George," but when and how.
Then Sandoval got into a fistfight with Michael Ryan, the former religious zealot who killed two members of his own cult. Word around the prison says Ryan handled Sandoval pretty well, but Sandoval refused to discuss the fight's outcome.
Sandoval got 45 days in the hole for the fight, he says. It gave him time to plan revenge.
When he got back to death row, he says, he made arrangements to obtain a couple of homemade knives. Then he offered Galindo the chance to wipe the slate clean by stabbing another inmate Sandoval wanted dead. He figured Galindo would go away for a long time and he'd essentially eliminate two enemies.
But the guards got wind of the plan. They shook down Sandoval and Galindo and found the shanks in the commons area on death row, he says.
Back in the hole, Sandoval says, he spent his days working on his appeal. For the first time, he says, he started questioning the wisdom of retaliation.
When he got out of the hole in late 2005, another inmate urged him to act. But Sandoval felt conflicted.
"That's when I felt I have two people in me," he says. "One's a bad guy who's very prideful -- he wants to keep that reputation. He wants to be the bad guy. But the good guy over there, the little voice, he keeps saying it's not even worth it anymore. Give up, it ain't worth it no more."
So he says he got down on his knees.
"I mean it was probably the most heartfelt, really real, real prayer I prayed in my whole life," he says. "It seems like I prayed my whole spirit and my whole being into that prayer."
He asked God: Should he kill Galindo?
A couple of weeks after the prayer, he had the dream -- the most vivid and realistic dream he's ever had, he says.
He's sitting shotgun in a car speeding down a road outside of Madison. His older brother, Gabriel, is driving. As they barrel toward a collision at an intersection, Sandoval thinks,"Are you saved?" He prays aloud, asking God to save them. They miss the crash by inches. They continue down the road, still barely in control. Their speed climbs as they approach a dead end. The speedometer reads 100 mph. Sandoval prays again, begging for God's mercy. The car stops, without screeching or sliding, inches from certain death.
It comes from the sky and it says, "What are you going to do with your second chance? Are you going to go back to your old ways, or are you going to change it?"
The next morning, he told the dream to Carey Dean Moore, a death row inmate who already had converted to Christianity.
Over the next few weeks, his faith deepened, he says. When Galindo returned from the hole, Sandoval asked to talk.
"I told him, 'I forgive you.' Then my forgiveness became even stronger and, you know what, I forgive him completely. I said, 'You know what, man, I don't care anymore. None of that means anything to me anymore. I'm going to try to help you out. You want to talk about the Bible? Let's talk about God.'"
Forgiving your enemies is a central message of Jesus. Sandoval cites scripture passages in which Christ says as you forgive others their trespasses, so will the Father forgive you.
In court back in July, Janie Heuson, the mother of Travis Lundell, told Sandoval she hopes God forgives him because she doesn't.
Sandoval says he believes it will be incredibly difficult for the families to forgive the man who killed their loved ones.
"I know for a fact that no one can mention God and yet have unforgiveness in his or her heart," he says. "I know they can pray for help to forgive those that have hurt them, but to wish me further harm and then ask for mercy is wrong."
What of the victims' families, the people for whom Sandoval says he fears, what do they think?
"I actually feel sick to my stomach," says Joan Sun upon hearing Sandoval's offer to meet. "The thought that he would be trying to help me get over that is sickening to me."
Even though she and Samuel Sun were divorced, she maintained contact with him in the best interest of their two boys. The 53-year-old Norfolk woman wanted to share two anecdotes so others could understand her revulsion.
The first involved court testimony about the Smurfs. She took it to mean that Sandoval equated the father of her children with a cartoon character. He refused to even accept that he had killed a living person and shattered the lives of real people who loved Sun.
"It was so offensive to see him minimize Sam's life," she says.
The second story involved her youngest son, who tried to attend Sandoval's trial in 2003.
A teen at the time, Ben Sun wanted to see what would happen to the man who killed his father. But after the first day, as sheriff's deputies led Sandoval out of the courthouse and loaded him into a cruiser, Ben Sun saw Sandoval laugh before "boogying down" to a song in his head.
Joan Sun says the display of utter remorselessness was more than her son could bear.
"It disturbed him to such a degree I had to take him home."
Joan Sun says she is a Christian, a strong believer. She saw Sandoval in court this summer and agrees he looked different; he acted more respectful toward the judge.
She thinks it's possible Sandoval has changed and she is aware of Christ's teachings on forgiveness.
But she has no interest in meeting with the killer.
"I'm fairly certain he can't help me."
Vivian Tuttle sat through all four trials. In each one, she watched the surveillance video that showed Sandoval put a gun to her daughter Evonne's head.
In that instant, three of her granddaughters lost their mother. When the 10-year-old granddaughter comes to visit Tuttle at her home in Ewing, she always wants to know if the doors are locked at night.
"She still lives in fear that there are bad people out there who want to hurt her."
Tuttle, 66, recently heard her pastor preach about forgiveness. She will never doubt that someone, even Sandoval, can change because she knows the power of God, she says.
Sandoval sent a letter to one of Evonne's sisters, informing her she faced eternal damnation if she didn't forgive him. Does he have any idea how incredibly insensitive that sounds? Vivian Tuttle asks.
Another thing the trials taught her is that Sandoval loved to be in control. She thinks that's what this is really about.
"I don't need to meet Sandoval," she says. "I don't need to talk to him.
"We don't need to talk to him and tell him whether we forgive him or not."