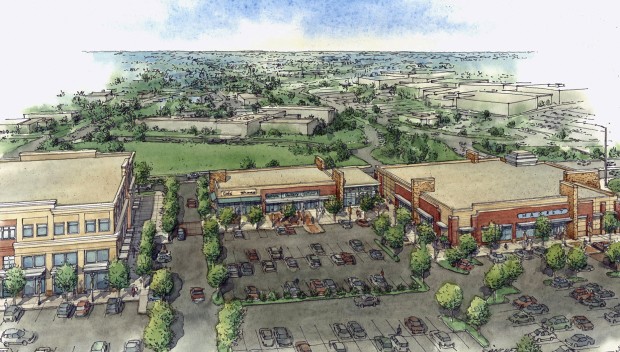 A men's clothing store, a Mexican restaurant, a mattress store and a therapeutic massage franchise will join Whole Foods as the businesses sharing space with the new Lincoln Public Schools administration building.
Dan Murphy, a principal with the Denver-based developer working with LPS on the 59th and O streets site, said leases have been signed with JoS A. Bank, an upscale men's clothing store; Chipotle Mexican Grill; Massage Envy; and Select Comfort.
"We expect that all of those stores will open simultaneously in mid-fall, and none of them want to be more specific than that," Murphy said.
Whole Foods already has been announced as the anchor tenant, but there had been no official word yet on the businesses that will occupy the 11,600 square feet of retail space between Whole Foods on the northeast corner and the district's headquarters on the northwest corner.
Murphy said the four businesses will open a few weeks before Whole Foods, in an effort to phase in the openings so there will not be too much congestion at the site.
The district office building will open first, on July 1.
These will be the first Massage Envy and JoS A. Bank stores in Lincoln.
Massage Envy, a Scottsdale, Ariz.-based company, provides therapeutic massage and spa services at nearly 800 locations in 45 states.
Select Comfort, a Minneapolis-based company that sells Sleep Number mattresses, has a store in Gateway Mall. Chipotle Mexican Grill has a downtown store and one near 28th Street and Pine Lake Road.
Gateway marketing director Ryan Bouc said he was not aware of plans for the Select Comfort store to move.