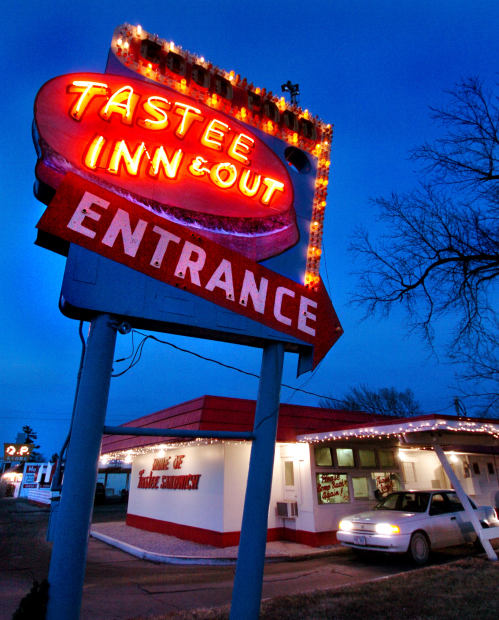 Not much remains of the former Tastee Inn & Out on North 48th Street: A closed sign in the window, tables and chairs in the dining room and the towering neon-and-steel sign planted out front. But a few months after the 65-year-old drive-in closed, the sign might soon disappear, too.
---
The very last customers to squeeze inside Tastee Inn & Out were ordering more than onion chips.
They were stripping the restaurant of its souvenirs.
The Lincoln landmark's announcement it was closing late last year triggered a run on its loose meat Tastee sandwiches. In its final few days, the 65-year-old drive-in was doubling its batches but still selling out in just a few hours.
But the end of its era also stirred pangs of nostalgia, and the same long lines that emptied the kitchen also picked the dining room clean.
"It was all sold while we were still open," said owner Steve Murphy. "Everybody was grabbing signs and menus, everything that had Tastee Inn on it."
Everything but the sign outside.
The sign that has so many light bulbs, nearly 400, and so much neon it has its own electrical meter. The sign that is so big and bold it likely wouldn't be allowed under today's zoning laws. The sign that now has potential buyers in three states.
He's fielded interest from a collector in Atlanta, a restaurateur in New Mexico and "Speedy" Bill Smith of Lincoln's Speedway Motors, Murphy said.
"I didn't know a sign would generate so much popularity."
Not just any sign would. This isn't the plastic they pulled from the downtown Applebee's. This is a spindly legged, towering slab of steel — blue, red and yellow — with a giant sandwich in the middle and an arrow pointing toward the restaurant's wrong-way drive-through, which stretched drivers across the seat to give their money and get their grease.
But that arrow also pointed back, to the dawn of the car culture and the decades after that.
"It's a good example of the roadside architecture and art that followed World War II," said Ed Zimmer, the city's historic preservation planner.
It jumped out. It was supposed to. Roadside signs served a different purpose than pedestrian signs downtown or in the Haymarket. And in Lincoln, no sign did its job better than Tastee's.
"It carries its message. It's bold and fun. I think those are all things it was meant to be," Zimmer said. "I think I'd be hard-pressed to say there's a superior example of those roadside signs in Lincoln."
But it needs work. Most of its bulbs are burned, broken or missing. The paint is cracked and faded and a few welds have failed; in a stiff wind, the sign bucks and groans. The motor that cycled the lights died, but Murphy had paid $300 for a new one before he decided to close the restaurant. He'll throw it in with the sign.
He's also trying to sell the building, though he wouldn't say how much he wants. By comparison, the former gas station next door is listed with the same commercial property firm for nearly $500,000.
But Murphy has no idea what kind of price to put on the sign. Or what it would take to uproot it.
"I don't know what it's worth," he said. "Whatever the market will bear."
None of its suitors mentioned a price.
The Atlanta man has a connection to Lincoln, so that makes sense to Murphy. The New Mexican, not as much.
"How people in New Mexico would know about it, I don't know."
Mike Tavlin, chief financial officer for Speedway, said his company has expressed an interest in attempting to acquire the sign.
Murphy hopes it does, so the longtime sign can stay home.
"It belongs to Lincoln, I think."
Get local news delivered to your inbox!
Subscribe to our Daily Headlines newsletter.