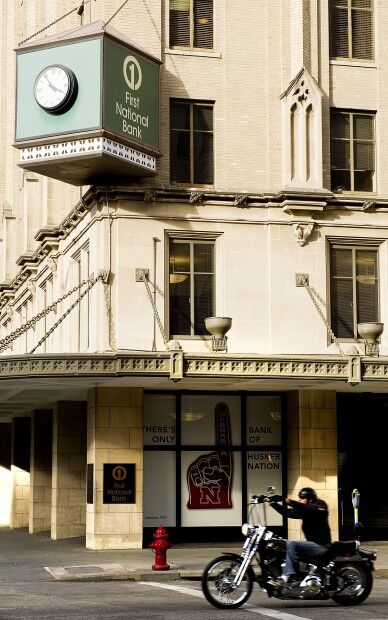 First National Bank of Omaha's plans for a new branch in the West Haymarket will spell the end of its other downtown Lincoln locations.
The bank, which is Nebraska's largest, notified customers in a letter this week that it will close existing downtown branches at 1340 L St. and 134 S. 13th St. Suite 100, which is in the Federal Trust Building.
That branch was First National's first in Lincoln when it entered the market in 2000.
First National Bank spokesman Kevin Langin said the bank made a "business decision" to close the two branches at the end of April because of plans for the new branch in the West Haymarket.
That branch is scheduled to open May 3 in the Canopy Lofts building at 601 R St. The branch will have a full retail operation as well as a drive-thru and will host the bank's commercial, wealth and mortgage divisions as well as its insurance affiliate Harry A. Koch.
First National, which closed a branch office at at 8633 Andermatt Drive in August, joins a growing list of larger banks that have been closing and consolidating locations in Lincoln.
U.S. Bank closed three Lincoln branches in November and another one in January. CIT Group, which bought Mutual of Omaha Bank in 2019, closed its only Lincoln branch last year.
After the closing of the two downtown branches and the opening of the new one at 601 R St., the re-branded FNBO will have three Lincoln branches. The others are at 6600 S. 27th St. and 1501 N. 84th St.
"We are confident that we can effectively serve the Lincoln community and continue to grow our business with our existing branch network," Langin said.
TALLEST LINCOLN BUILDINGS: