A foot of new snow fell in the Panhandle on Wednesday, while rivers and creeks already swollen from melted ice and snow jumped their banks across eastern Nebraska.
State officials urged Nebraskans to stay put in areas where heavy snow and high winds have made travel dangerous, and asked those threatened by flooding to heed evacuation warnings and to avoid water that has spilled over roads.
The weather system — which Gov. Pete Ricketts and other state officials alternately described as "unprecedented," "significant" and "prolonged" — flooded several communities and caused the interstate to be shut down for hundreds of miles.
Ricketts made an emergency declaration, authorizing the Nebraska Emergency Management Agency to activate its emergency operations center, allowing state officials to coordinate responses with local emergency management coordinators across the state. 
Approximately 3,400 members of the Nebraska Army National Guard and Nebraska Air National Guard are ready to assist at Ricketts' request, Adjutant General Daryl Bohac said.
All 20 National Guard facilities in the state are on standby with winter-readiness kits, including sleeping bags, blankets and cots, if they are tapped to open as temporary shelters, he added.
Those who must travel should ensure they have a full tank of gas, warm clothes, food and a fully-charged cellphone, officials said.
Explaining the bomb cyclone
Meteorologists say the storm raging across the West and Midwest was caused by a sudden and severe drop in air pressure called a "bomb cyclone" or "bombogenesis."
Low air pressure is how meteorologists measure the strength of a storm, and it was the strongest in Colorado since at least 1950, the Associated Press reported. Dodge City, Kansas, reported the lowest air pressure in more than a century.
Pressure readings such as those are similar to what's seen in Category 2 hurricanes.
In Colorado Springs, Colorado, winds gusted to 97 mph, and a gust near Hemingford in Box Butte County on Wednesday was recorded by the National Weather Service at 89 mph.
Whiteout conditions have closed all state-managed roads in the Panhandle, officials said.
Floodwaters rising
Where rain fell and snow melted Wednesday, residents in multiple communities were asked to leave in order to escape floodwaters.
Cedar Rapids and Belgrade, both along the Cedar River in Boone County, were evacuated, while several Broken Bow residents were also asked to leave their homes.
Lynch, along the Niobrara River in the northeast part of Nebraska, was also evacuated, while the communities of Pierce, Burwell and Verdigre asked those living in low-lying areas to seek higher ground.
Flooding was also reported in Randolph, Osmond and Nickerson. Highways closed by flooding included U.S. 81 north of Columbus, U.S. 275 from Hooper to West Point and O'Neill to Clearwater, U.S. 20 near Osmond and U.S. 77 near Walthill and Homer.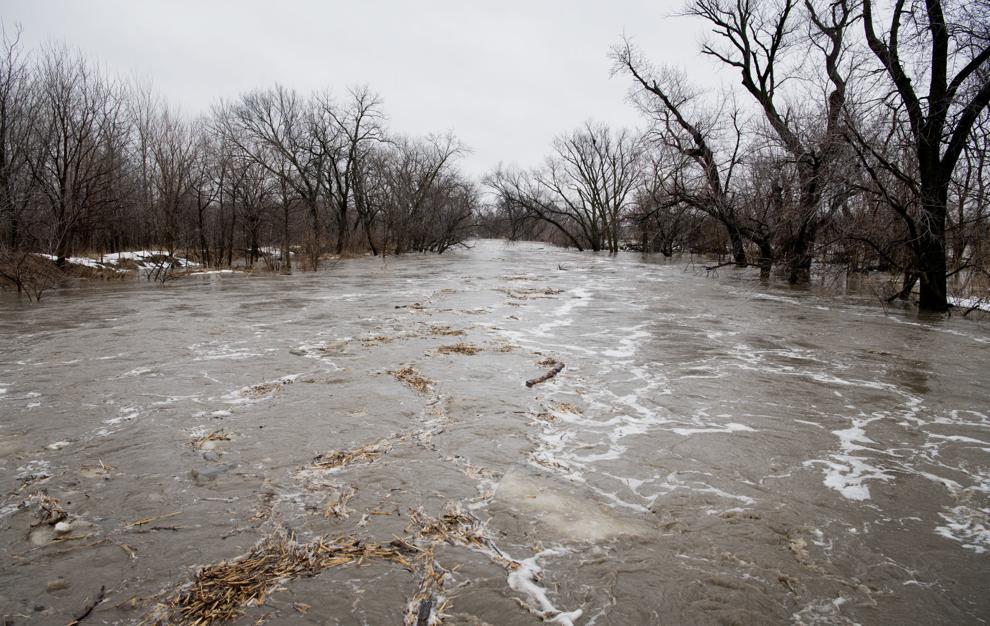 Nebraska Game and Parks officials used a small boat to rescue two people stranded on top of a vehicle stalled in water near Pierce on Wednesday, the Nebraska State Patrol said.
"If you see running water, standing water on a roadway, do not take the chance, do not cross the roadway, you are putting yourselves in jeopardy," Col. John Bolduc said.
A whiteout, a creek and trapped calves
The narrow ribbon of water south of Chadron is normally just a few feet across, and no more than a foot deep.
But fed by heavy rain, Dead Horse Creek roared to life overnight Tuesday, trapping the cow-calf pairs owned by father-son ranchers Ron and Cody Scherbarth.
Before bundling up to go help midday Wednesday, Cody's girlfriend, Robin Ferguson, described the scene out the window.
Which wasn't much, because they were deep in a whiteout. "I can barely see the shop, which is about 20 yards away."
But beyond the shop was the creek, and beyond that, the calving pasture, with about 60 cows and their newborns now at risk in the weather. The creek isn't usually a problem, but it was running so full and fast Tuesday the ranchers couldn't even get across in their tractor, she said.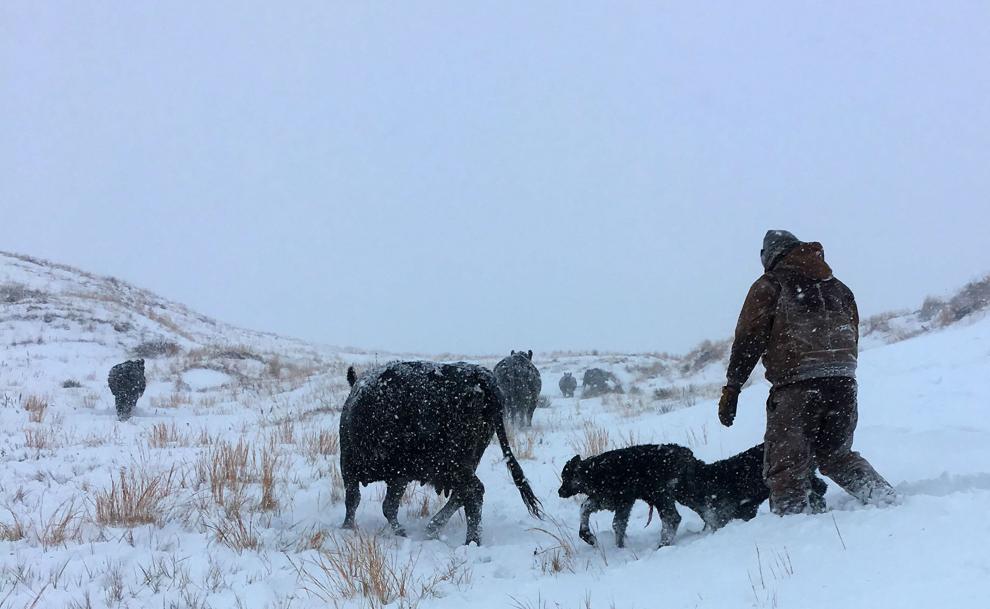 So they were planning to rescue the pairs by taking the long way. What should have been a quarter-mile trip was now a mile and a half of hills and draws and heavy snow and 40 mph winds that sting like shards of glass, she said.
Once the cows and calves were safe, the ranch work wouldn't be done. They still needed to retrieve enough hay for food and bedding, and that would require multiple tractor trips back to the calving pasture.
"It's going to take most of the day," Ferguson said, before heading into the whiteout to find a four-wheeler and help bring the cows home.
Pierce isolated by floodwater
The 1,700 people who live in Pierce remained cut off Wednesday afternoon, with water topping the highways and county roads leading in and out of the small city north of Norfolk.
The flooding was apparently from the rain and snowmelt and not the North Fork of the Elkhorn River, which flows past the city's east edge. But officials were taking precautions, opening the high school and elementary school in a voluntary evacuation of much of the east side of town.
Karen Meyer, who co-owns a service station with Mayor Tom Meyer, had lived in Pierce for three decades and couldn't recall floodwaters stranding the town, though she heard from customers who remember worse.
Outside of town, Sheriff Rick Eberhardt said the water was still rising, and he was helping get the voluntary evacuation news to rural residents.
But he didn't have time to talk. The water had swept a car off the road.
"And we're trying to get a boat out to them," the sheriff said.
Plans to break jams
NEMA has been granted permission to apply coal ash on two segments of rivers to help break up ice jams, a process known as "ice dusting."
The first is at the confluence of the Loup and Platte rivers east of Columbus, while the second is along the Platte from Columbus to where it flows into the Missouri River.
"Our plan is, at this point, to commence those operations on Friday if the conditions warrant it," NEMA assistant director Bryan Tuma said.
Local officials from the Natural Resource Districts and county emergency management agencies can deploy dynamite to break ice jams, if deemed necessary, Tuma added.
In some cases, flooding is expected to worsen through the weekend, especially along the Missouri River.
The Army Corps of Engineers increased the amount of water it released from Gavins Point Dam near Yankton, South Dakota, from 17,000 cubic feet per second to 27,000 cubic feet per second Wednesday.
It's possible floodwaters from the Missouri could top Interstate 680 just east of the bridge from Omaha, and Nebraska 2 east of Nebraska City.
Water has filled ditches and begun to cross roads surrounding the Cooper Nuclear Station near Brownville, although it's not deemed dangerous at this time, officials said.
Why the interstate closed
By Wednesday morning, state officials had already talked to counterparts in Wyoming and Colorado, and those states had made the call: They were closing their eastern interstates in advance of the coming storm.
And before the snow started falling, Nebraska followed — the gates swinging across Interstate 80 west of Ogallala at first, and later, west of Kearney.
"We don't like to close the interstate," said Jeni Campana, a spokeswoman for the Department of Transportation. "It's something we do with a lot of forethought and a lot of caution."
The state prefers to keep the interstate open as long as safely possible, she said. But this storm looked too dangerous to try keep travelers on the road.
"This is such a big event that's coming through with a lot of snow and a lot of blowing," she said. "We don't want people stranded on the roadways."
Adding to the stress
It's the peak of calving season in the Sandhills, and Adam Johnson expects more than 1,100 new calves to be born on his ranch just across the South Dakota state line north of Cody.
This storm, with rain, snow and high winds, is taking an already stressful period and ratcheting it up.
"This is what the old-timers call a 'calf killer,'" Johnson said of the storm, which started as hours of cold rain before turning to snow late Wednesday morning.
"As a stock man, it's the most stressful thing you can endure."
Johnson and other ranchers in the Sandhills have worked to bring as many of the pregnant heifers as they can to the barn to calve. That's been the easy part, he said.
But it's the one- or two-week-old calves who follow their mothers out into the storm that are at the biggest risk.
"You get them tucked in in the best protection you can find," he said, "bed them and hope they don't drift away."
Johnson said he'll make patrols on horseback looking for lost cow-calf pairs that have wondered away into the blinding storm, pulling a sled behind to bring the calves back to safety.
It would be easier — and likely warmer — to do the work with a tractor, he added, but the risk of running over a cold calf buried underneath a snow drift is too high.
This year's calving season has already taken a toll on cattle herds and ranchers alike, said Haley Bredthauer, a veterinarian in Wheeler County.
The combination of weeks of bitter cold, heavy snow and blustery winds have claimed more newborn calves than usual, Bredthauer said, while also taking a toll on adults in the herds.
"Mature cattle that otherwise have been in good condition almost don't have the energy to have their calves," she said, "or they are having trouble producing milk for the babies because their energy stores are so depleted."
And now with the weather conditions rapidly changing, the situation is becoming dangerous.
Near her home in Ericson, Bredthauer said the Cedar River has swept across a gravel road, cutting off travel for many.
"In seven years as a veterinarian, I've never seen anything like this," she added. "My husband is a fifth-generation rancher, he's never seen anything like this, and my father-in-law told me a little while ago he's never seen our river this big."
Flooding updates
The Associated Press contributed to this report.