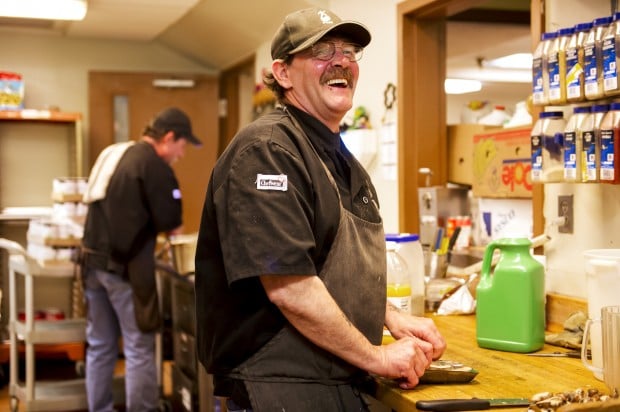 Randy Hand has been a line cook, grilling steaks and smoking ribs at the Lazy K Bar Guest Ranch in Arizona.
He's been a sous chef, plating fresh seafood in Shenandoah National Park in Virginia.
He's run a fryer and bused tables, a wayward kid working at the round-heeled restaurants his dad owned in small Nebraska towns.
He's been the man with wild hair and a wild streak, who cooked his way through decades of hard living -- cooking drunk, cooking to drink -- fired from one kitchen and then the next and the next and finally from the kitchen of a Perkins on O Street.
To become the man most people looked right through. Sleeping under bridges, holding out a hand for half a sandwich, standing in line for a meal.
And finally, 15 years later, the man sharpening a knife in yet another kitchen, preparing to feed the hungry.
Randy trims fat from the outside of a ham like he's peeling an apple.
The 49-year-old slices and cubes, dark hair sticking out under his ball cap, a graying mustache, glasses, blue jeans and a black chef's smock.
Today's lunch: veggie and ham stir-fry with sweet and sour sauce.
Randy tosses chunks into a stainless steel tub, grabs another ham from the cooler.
This is his late shift in the People's City Mission kitchen, 8 a.m. instead of the four hours earlier start when he's on for breakfast.
He's finished a pot and a half of coffee, a bowl of Honey Nut Cheerios and a chocolate frosted doughnut.
Randy has a sweet tooth, says Craig Dave, pointing out the smudge of frosting on Randy's lower lip.
Craig is a cook-in-training; Randy is his trainer -- and friend.
"I'm following in his footsteps in the kitchen. He knows what he's doing."
Craig and Randy live at the mission's Curtis Center.
Randy moved to the men's transitional living program in spring 2011 after a year of treatment at Cornhusker Place.
These kitchen jobs are a stepping stone to permanent work in the community. Most guys find apartments and other careers. Baby birds out of the nest and on their own.
Randy's graduated from the Curtis Center and signed a lease on an apartment, but he's staying here. He'll be one of two paid permanent kitchen staff members.
He's innovative and reliable, says the other, kitchen manager Edna Pickett.
The mission appreciates what he brings to the kitchen. His people skills and his cooking skills.
Like leg of lamb with mint sauce and roasted potatoes. Chicken stir-fry. Taco salad every Wednesday.
"He makes excellent macaroni and cheese," Craig says.
"I'd say beef stroganoff is his signature dish," says Paul Brown, a volunteer slicing peppers for the stir-fry.
The mission goes through 800 pounds of food a day, every day of the year -- chicken, ham, beef, fish sticks, hot dogs, eggs, rice, potatoes, green beans, broccoli, cauliflower, lettuce, spinach, apples, oranges, cupcakes, rolls, bread, muffins -- half of it donated.
And all of it hefted and stored, washed, peeled, chopped and mashed, seasoned, filleted, fried, baked and boiled and scooped into warming trays for mission guests to be ladled out by volunteers morning, noon and night.
More than 500 meals a day.
Randy's new job means new hours, more responsibility.
"I've done everything -- prep cook, line cook, roundsman, a sous chef. I've always been feeding people."
But for a long time, he didn't feed himself.
Then finally, he was hungry.
Hungry for a normal life.
"I got tired," Randy says, finished with his fourth ham and moving on to slicing onions.
He started drinking when he was 8, living with his mom and stepdad in Kansas City. They were middle class, an accountant and an underwriter. Good people, Randy says.
But he was a messed-up kid. In with the wrong crowd. Partying, breaking into houses, running toward trouble.
He ended up with his dad and stepmom in Nebraska when he was 13. His dad owned a restaurant and bar in an old hotel in David City, and later he opened another place further north in Madison.
"I knew how to steal, and it was easy to steal the booze because it was always there."
He got kicked out of a group home, kicked out of the Job Corps.
He married, had a baby girl. Divorced. Drank his way through restaurant jobs all over the country and closer to home.
That last job at Perkins.
Then a dozen years on the streets. Homeless in Texas, in Arizona, in Missouri, always landing back in Nebraska. In Lincoln, he was arrested more than 100 times between 2000 and 2009 -- trespassing, public intoxication, resisting arrest.
"I stayed 90 days at Cornhusker Place Detox in 2003 and walked out: 'To hell with them. I want to get drunk.'"
Seven years later, he went back. That time he stayed.
"Something clicked in my head."
He wipes his knife with a red rag.
Treatment lasted 14 months. He wanted to leave several times. He did leave once. He started walking, sat down, smoked a cigarette.
"I thought, 'You idiot.'"
He went back. He ended up here.
All those people who worked at Cornhusker: "A blessing to anyone who needs help."
The people here: "No matter what, they treat you like a human being. They give you hope."
He's still in a recovery program. He takes his sobriety seriously, one day at a time.
"Randy is a giver," says Phil Tegeler, executive director of Cornhusker Place. "He's a caring guy, and service is important to him."
When he was drinking, he gave himself over to alcohol. Beer, whiskey, mouthwash, rubbing alcohol, whatever.
Food came second, if at all. He'd find a soup kitchen or take a slice of pizza, part of a sandwich offered by someone passing by.
"I was not grateful at the time. It was your duty to feed me and take care of me."
"My job is an opportunity to help people who are in the situation I was in -- and could, still could, be in tomorrow."
What can he do? Craig asks.
Paul has finished slicing peppers. Another volunteer has chopped veggies for the salad bar. Randy is ready to start his sweet and sour sauce.
"I'll tell you what you can do, you can start the rice. You remember how to do the rice?"
Craig will be fine, Randy says. He's here to help him learn.
Randy holds back a bowl of the rice today. He'll make a special dish without ham for "a little lady who stays here." He knows she has dietary needs. If people don't eat pork because of their religion, or have to stay away from fat for their health, he'll do what he can.
Randy is very resourceful, Edna, the kitchen manager, says. He uses spices and herbs to season dishes. Today, the sweet and sour sauce is his own -- apple juice, orange juice, cranberry juice.
Randy seasons the rice, tossing in pepper, garlic powder, pouring soy sauce and Worcestershire, tasting, adding more.
He tastes everything before he puts it out.
"It reflects back on me. It reflects back on the City Mission."
He stirs the sauce, he stirs the rice, keeps an eye on the ham and veggies.
"Craig, will you go in that freezer and get me a bag of peas?"
It's nearly 11. The first wave of guests will come through the line soon.
Steam rises from the stove and the exhaust fans hum. Randy's cap is cock-eyed. He sticks his tongue out, stirring the rice again, mixing in the peas. Adding water chestnuts to the stir fry.
He won't sit down to eat. A pair of Pop Tarts is waiting with his name on it.
He fills the warming trays. He helps Craig carry them to the dining room.
At 11:15 a.m. he's on the intercom, inviting guests to eat. "Staff and single women without children, it is now lunchtime …"
The men will eat next, in from the cold, from the streets, from work, from their rooms.
"I see myself when I look out there, people down on their luck and not knowing where to go."
Now he's the one putting food in people's bellies.
"It's the best feeling in the world."