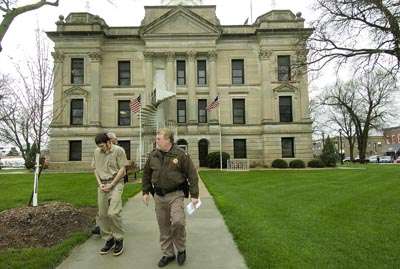 SEWARD — They found the body of Trista Michelle Peterson long after midnight, wrapped in a blanket, and wearing a fresh diaper and one-piece pajama gown.
Details of a criminal investigation released Tuesday suggest the child's body had lain in a shallow grave on an abandoned Butler County farmstead for more than three months, from Jan. 4, the day after her death, until April 12, when her father, Lucas J. Peterson, led law enforcement officials there.
Later Tuesday, Seward County Attorney Wendy Elston pointed to preliminary autopsy results that showed evidence of "severe, multiple, blunt force trauma to the head, neck, and trunk" and charged Peterson with his 11-month-old daughter's death.
Led into a Seward County courtroom in wrist and ankle shackles and khaki prisoner attire, Peterson stared hard at the table in front of him for virtually all of the 10 minutes he spent in front of Judge Curtis Evans.
Seward County Sheriff Joe Yocum was part of courtroom security Tuesday and also part of the law enforcement team that found the baby's body in the darkness of April 13.
"You could feel the officers' anguish, the sense of loss," Yocum said later Tuesday. "We had hoped, against all odds, that she was alive somewhere and that somebody was taking care of her."
Peterson shook his head softly as Evans began to read a list of allegations that included child abuse, death of a child and tampering with physical evidence. He declined an opportunity to speak on his own behalf and answered the judge's questions with quiet "yeses" and "no's."
Evans granted Elston's request to set Peterson's bond at $1 million and ordered him to appear for a preliminary hearing May 22 at 1:30 p.m.
The criminal charges connect to an April 16 autopsy in Lincoln. "I just wanted to cover all the bases and file the appropriate charges," Elston said earlier in explaining the eight days between the autopsy and the first stage of prosecution.
In a related affidavit filed Tuesday, Seward County Chief Deputy Sheriff Dan Hejl said Peterson admitted to him he was the last person to see his daughter alive.
Hejl's statement put the scene of the death at Peterson's Pleasant Dale apartment, where, according to Hejl, "the defendant admitted to being angry and picking up Trista Michelle Peterson.
"The defendant then threw her into her play-pen, which also served as a bed," Hejl said. "The defendant left the bedroom and when he returned, Trista Michelle Peterson was not breathing and dead."
According to court records, Peterson allegedly took the baby's body from the apartment, "drove north through Seward County and ultimately chose a location in Butler County," where he buried the body.
In an 11-point statement, Hejl cited "the severe injuries" discovered by a medical examiner in Lincoln as "not consistent with the report of the defendant."
Peterson had been sitting in a Seward County jail cell, on unrelated charges, from March 28 until April 12, when he abandoned his claims that his daughter was in safe hands and led authorities to a grove of cedars about three miles off Nebraska 92 near Brainard.
Trista's grandmother had reported her missing in January.
The child's mother, Jennifer Williams, 25, began serving a one-year sentence for theft and writing bad checks Dec. 20. A spokesman for the Nebraska Correctional Center for Women in York said Tuesday that Williams continues to decline comment about the circumstances of her daughter's death.
Williams' mother, Arlene Williams of Milford, sat at the rear of the courtroom to watch Peterson's appearance.
The elder Williams met briefly with County Attorney Elston afterward and left the Seward County courthouse afterwards with a hurried "no comment."
Elston emerged from that session with eyes glistening to answer a few questions, including one about the basis for the charge of tampering.
"Basically, he covered up the evidence" of a crime at his Pleasant Dale apartment, she said.
Yocum said the moment when Trista's body was lifted from her grave was one of the toughest in his 23 years in law enforcement in Seward County.
"We couldn't have asked for better hands handling her than the members of the major crimes unit with the State Patrol. Those guys are true professionals," he said.
"We go home and we hug our kids, just like everyone else does," Yocum added. "And I know our guys did that at the end of this one. They held them a little bit closer."