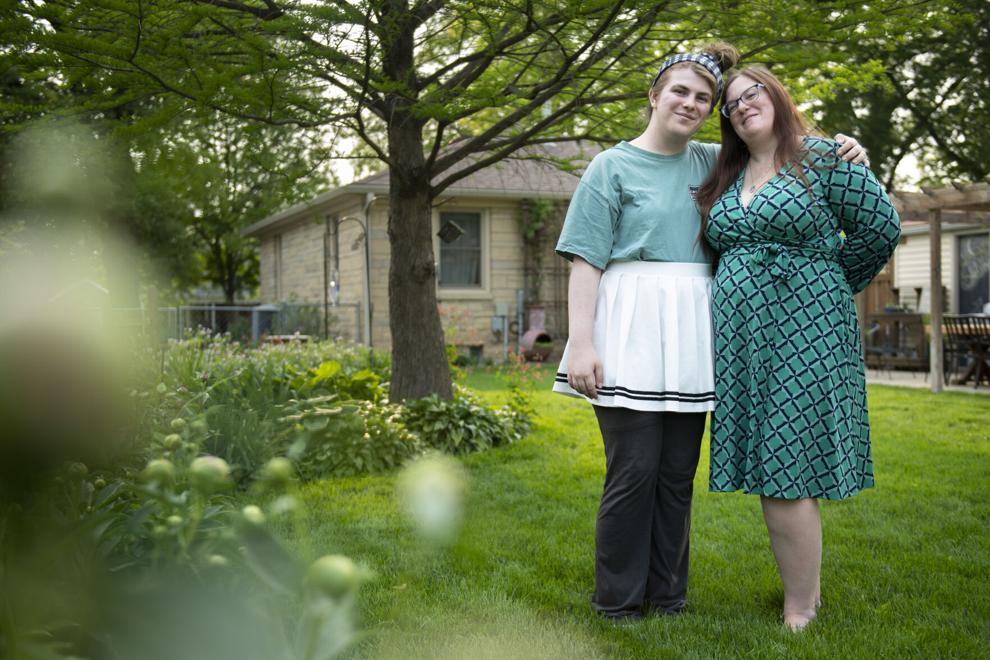 Like thousands of high school juniors across Nebraska, Nola Rhea will make a big decision about her future in the coming months.
The 17-year-old is enrolled in the academically rigorous International Baccalaureate program at Lincoln High School. She participated in debate and played the part of Israel in the Model United Nations. This spring, she scored a 33 on the ACT, putting her in the 99th percentile nationally on the college entrance exam.
A resume like that would likely qualify Rhea for a Regents Scholarship at the University of Nebraska-Lincoln, allowing her to attend what she described as her long-time dream school tuition-free to pursue an education in political science.
But Rhea, who is transgender, plans to give all that up.
With the passage of LB574 last week, the puberty blockers and hormone therapy Rhea has been taking since she began her transition more than two years ago could soon become illegal in Nebraska.
An amendment to the bill from Sen. Ben Hansen of Blair, added during an intense and emotional third and final round of debate earlier this month, removed the prohibition on medications from the bill and instead put regulating those treatments under the purview of the state's chief medical officer.
Opponents of the bill raised concerns that the rules put in place by a gubernatorial appointee will likely put those medications out of reach for transgender youths like Rhea after Oct. 1, when the bill goes into effect.
The uncertainty has led Rhea and her mother, Heather, who have tracked the bill's progress from its introduction in January to a marathon committee hearing in February to the final floor debate on Day 81 of the Legislature last week, to reassess their lives.
Should they make arrangements to leave the state together? Could Nola live for a year with family in Colorado or friends in Minnesota while she finishes high school? Or would it be possible to stock up on enough medications that would last until Nola turned 19?
Even then, with conservative lawmakers promising to continue pushing for more restrictions for transgender-related health care, would Nebraska even be an option?
Rhea said the fact that her family has had to have those discussions illustrates the bill's immediate impact since its introduction.
"It's not about the medication, it's about the message," Rhea said. "The message is, 'You are not welcome here.' I think that's the thrust of it, and I think that's the thing that gets me so worried about the future here."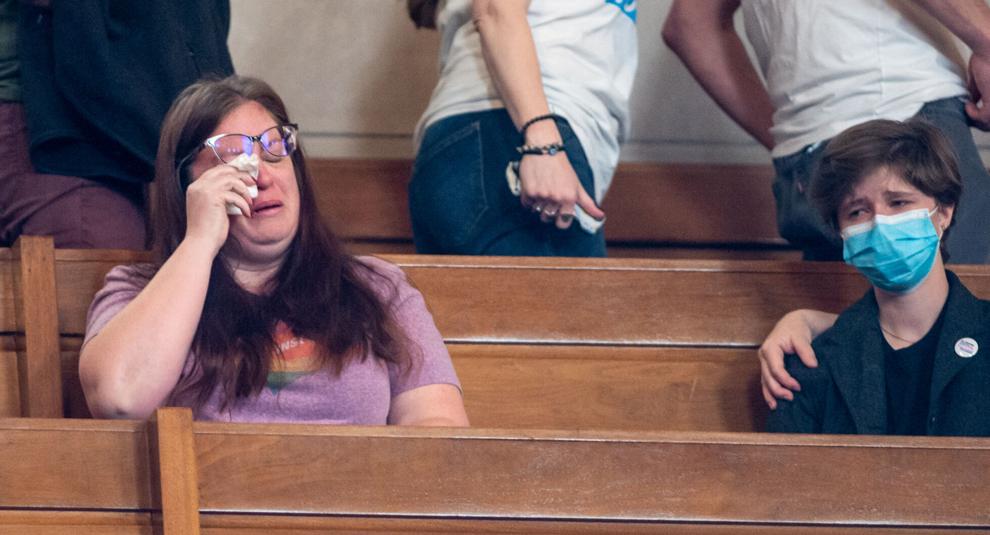 For Heather Rhea, who watched tearfully from the balcony on several occasions as the Legislature debated LB574, the fear of what comes next is just as palpable.
She dreads her child backsliding into the deep depression she was experiencing before beginning her transition, when she learned Nola had been making — and hiding — suicidal gestures.
"As a parent, I feel like I'm in a place where I can't protect my child," she said.
Abbi Swatsworth, executive director for OutNebraska, said the advocacy group for LGBTQ communities in Nebraska has fielded more questions from parents about what states might be more welcoming for trans teens as the debate over LB574 continued.
Currently, OutNebraska is encouraging parents to consult with their health care providers and watch as the rules and regulations for hormone replacement therapy are developed, Swatsworth said.
No one has advised anyone to move, but it is something several families have been exploring, she added.
"I think parents always want to do what's best for their kids and their family," Swatsworth said.
"They want a safe environment, an environment where their family is affirmed and not compared to the devil," she added, referring to a comment made by Gov. Jim Pillen at the signing ceremony for LB574 on Monday.
Pillen said the bill will prevent parents from getting "duped into the silliness" that, if they help their teens transition, they will become happier.
"That is absolutely Lucifer at its finest," the governor added.
"I am appalled he would characterize parents using that language," Swatsworth said. "I wish I could demand an apology, but I don't think we're going to get one."
Heather Rhea said comments like Pillen's misunderstand what trans youth and their families experience by having access to care and only serve to increase hostility to people like Nola.
Before LB574's introduction, Nola had never had any issues at school after coming out as transgender. There was no bullying. Nobody in the broader community of Lincoln ever approached her with a nasty comment.
"Her life hasn't been harder because of it until now," Heather said.
The transition
Before she hit puberty, Nola Rhea said she would often go to bed wishing she would wake up as a girl.
"I had no clue there was anything wrong with me," she said. "It didn't seem unusual at all."
But once her body began to grow and change, hair growing on her arms and legs, her voice deepening, Nola said her desire to wake up as someone else turned into an intense self-loathing.
She hated her appearance, tucking her arms all the way inside the sleeves of her sweatshirt and pulling the hood as far over her face as it would go so no one could see her at school.
When Nola spoke, she put on an affectation to hide the changes to her voice from her family and friends.
"I was horrified at what was happening to me, I was not happy at all and became depressed," she said. "I didn't want to be perceived at all because I didn't like who I was."
Nola would later determine she was likely suffering from gender dysphoria, the feeling that her biological sex and gender identity did not match, but the self-diagnosis only focused her depression further.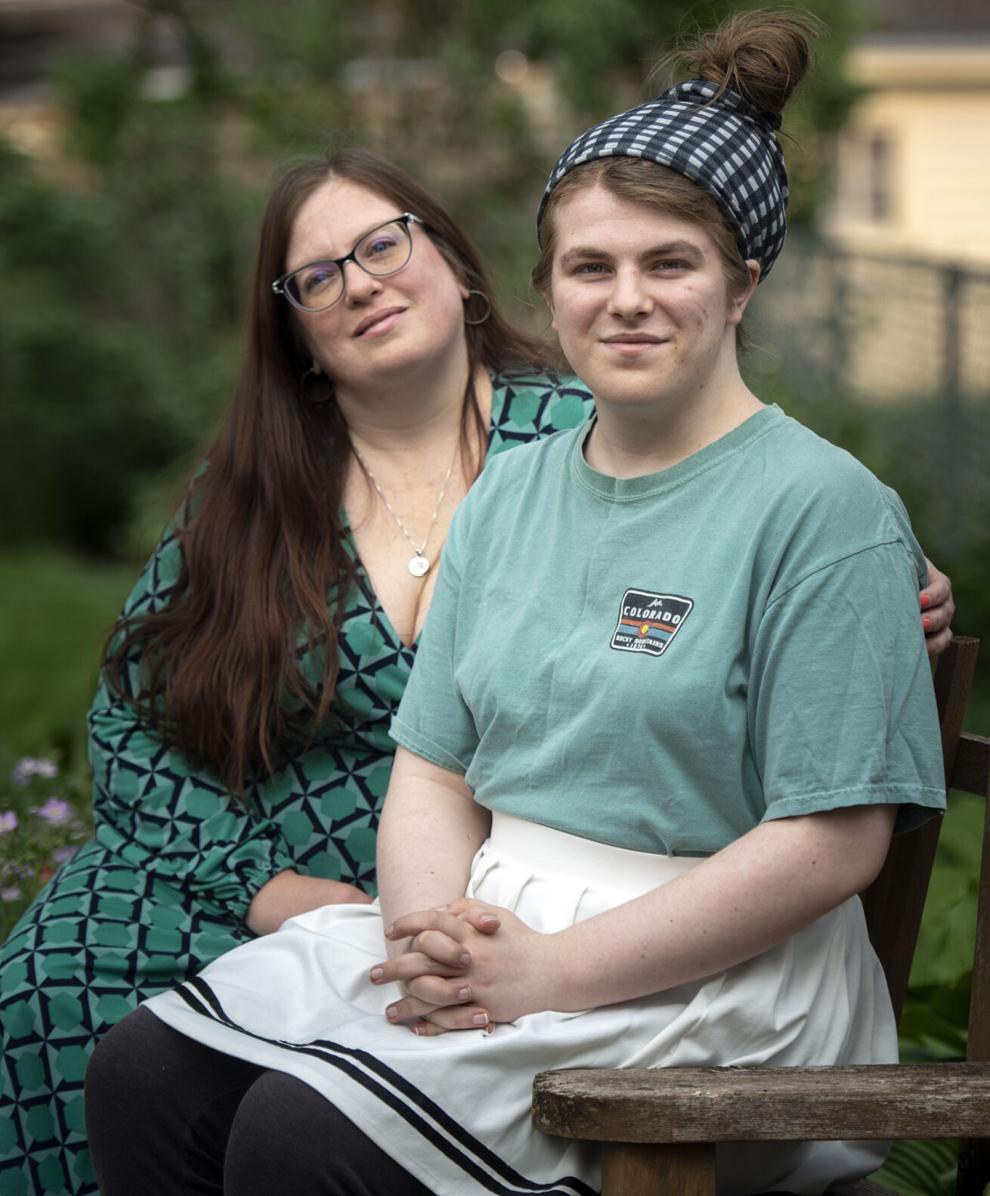 As she descended into depression, Nola began to harm herself, which she was able to hide from her mother until friends told school officials that Nola, then in sixth grade, was expressing thoughts about suicide.
It was a terrifying revelation, Heather Rhea said. Her child was so smart, so kind, and so loved. Heather and her family refused to leave her alone or to quit on her.
Gradually, Nola began to emerge from the darkness. After seventh grade, she floated the idea that she was a girl to her mother — and found acceptance.
"I was like, 'OK, what's your name?'" Heather recalled asking.
Nola and Heather began attending therapy in the fall of 2019 at a clinic in Lincoln, where they each filled out a lengthy questionnaire and watched informational videos about gender transitions and the effects of hormone therapy.
As she grew in confidence and understanding of who she was, Nola told a friend, testing the waters ahead of a full social transition, when she would tell her family and teachers and peers at school in the spring of 2020.
Everyone Nola told was supportive, including family members and long-time friends. To a person, they just wanted Nola to be happy.
"I would say she did a pretty good job of advocating for herself," Heather said.
Once she came out as trans, and before she started gender-affirming care, both Nola and Heather noticed an incredible difference. No longer did she feel the need to hide, she said, feeling more comfortable in her own skin.
Months of therapy and counseling always ended with the two being sent home to think through the options and consider how they wanted to proceed as doctors and multiple clinics reviewed Nola's case file, Heather explained.
Once she was deemed a good candidate for gender transition, Nola finally began hormone therapy in October 2020, just weeks before her 15th birthday.
Nola was given a regimen that included spironolactone, a testosterone blocker that was long used by medical professionals as a blood pressure medication.
She was also given estradiol — the hormone estrogen — and once doctors were satisfied that the two were well-balanced in her system through a series of monthly blood draws, she was also prescribed progesterone a year later, to help further her transition.
For the Rheas, the information and care provided by medical professionals through a slow, deliberative process saved Nola's life.
Nola's personality hasn't changed, nor has her wry sense of humor or her kindness, her mother said: "Now she's who she was supposed to be."
Instead of putting in so much effort to be something she's not, Heather said Nola has been able to channel her energy into school and extracurricular activities and friends.
Nola said she hasn't considered suicide since.
'I don't think it will stop there'
Included in the final version of LB574 was a "grandfather clause," a provision allowing transgender youth who began using "puberty-blocking drugs, cross-sex hormones, or both" before the law goes into effect to continue doing so.
That likely means Nola would be able to continue obtaining her medications for the next year or so when she turns 19 and would no longer be subject to the language of LB574.
But both Nola and Heather say the uncertainty around how the law will be interpreted by doctors and clinics that specialize in gender-affirming care is cause for worry.
They also empathize with the transgender youth who are in the same situation they found themselves in nearly four years ago, before she was able to get help from doctors and therapists.
"If it's illegal to get that medication for people who are under the age of 19, people who really want it and really need it are going to get it extra-legally (illegally)," Nola said. "And there's not going to be doctors prescribing it, there's not going to be people testing your blood to make sure your potassium levels are OK.
"The medical oversight that is there is going to disappear. People already do this in a lot of places; they get them online and self-medicate, and that's not good," she added. "That's dangerous."
Nola also said Kauth's "Let Them Grow" act included what she referred to as "a less-intuitive flaw" that many lawmakers didn't consider before pushing their green button to advance the bill.
Yes, it's true that young people make mistakes and their brains don't fully develop until the age of 25, she said, as was repeated dozens of times during floor debate.
Puberty blockers might slow down the changes to the body, resulting in a lower bone density or stunt an individual's height somewhat, but they also don't stop a person from going through puberty if and when they decide to do so, she said.
"Why can't we, at a minimum, delay puberty until they are old enough that they actually want to make that decision (to go through puberty)," Nola said. "Really, it is forcing people to go through normal puberty that may, for people like me who are trans, be a painful experience."
Heather said while she and Nola will likely be fine when the new law takes effect, she added her heart breaks for the parents who don't yet know their kids are transgender.
"Their options will be so limited and so much harder," Heather said. "It's already not easy."
Like the Rheas, when that day comes, they may also take a serious look at their options, both in Nebraska and elsewhere.
Nola says she would prefer not to leave Nebraska, where she once envisioned a career working on public policy and hoped to one day run for public office — "I think politics is the best avenue for making the world a better place for people like me" — but the changing climate for transgender individuals and youth in particular has changed her perspective.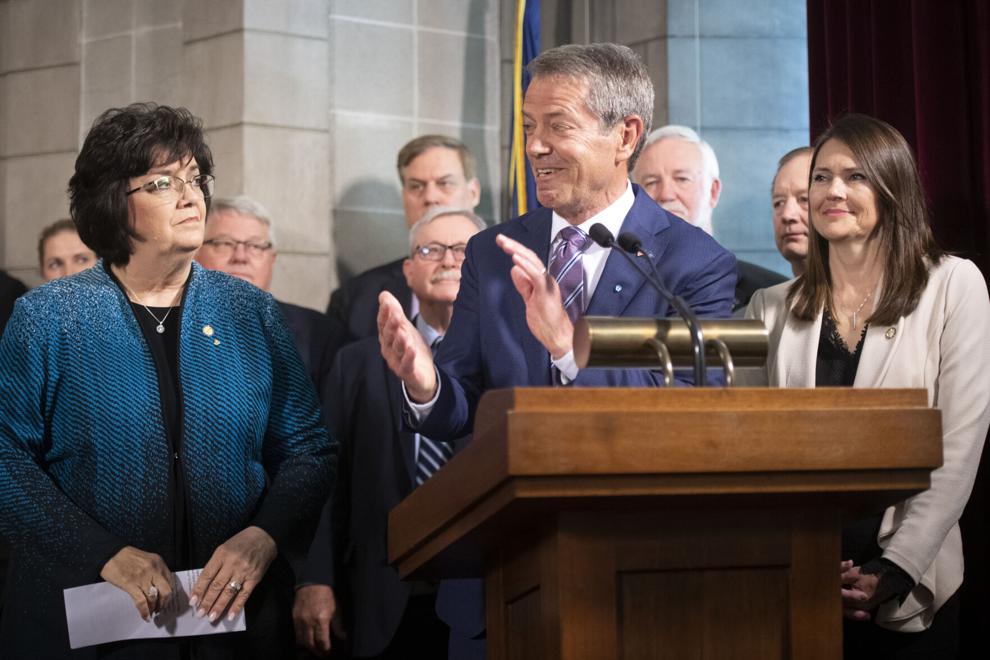 At the signing ceremony for LB574 earlier this week, Pillen and Kauth both suggested further legislation targeting transgender youth could come before lawmakers next year.
In a tweet on Tuesday, Pillen said "LB574 is just the start."
Nola agrees with the governor and senator's assessment, and said it has led to her decision to pursue higher education, and potentially a life beyond, in a different state.
"I don't think it will stop there," she said, "so I don't want to wait around here and see how bad it gets."