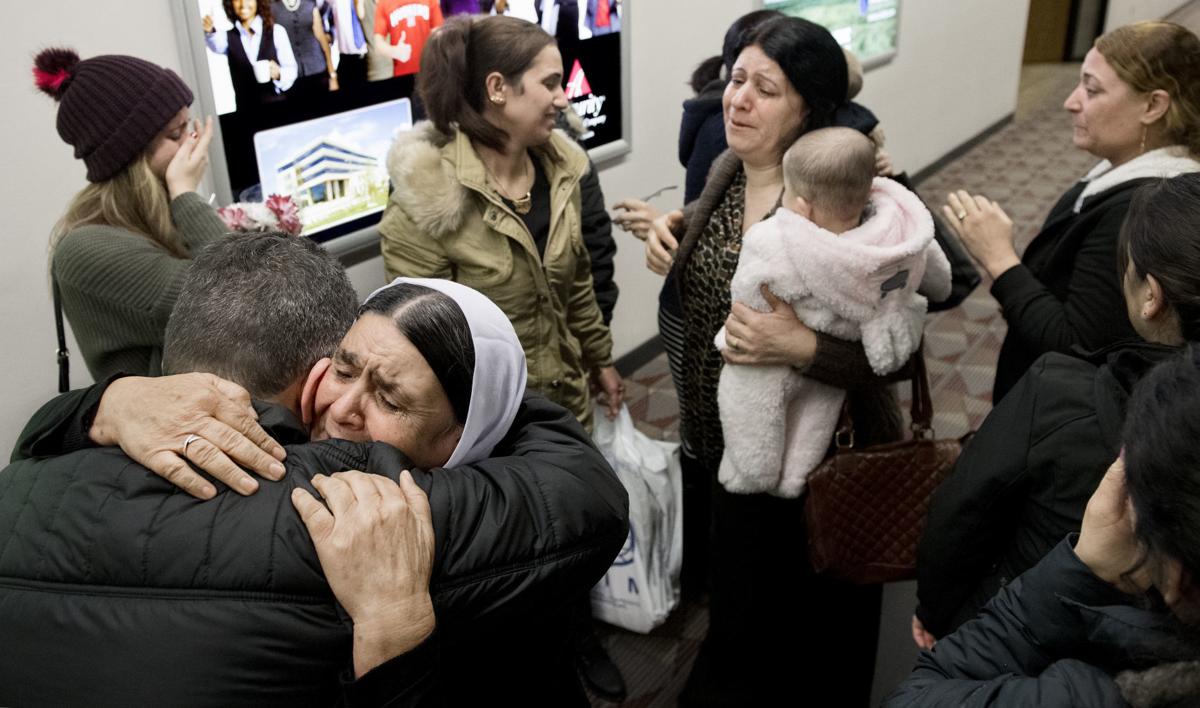 It was a routine patrol for Iraqi police and their U.S. 10th Special Forces Group attachment to enforce a nighttime curfew west of Mosul in September 2007.
Hadi Pir, one of the Yazidi interpreters working with the unit, was preparing to join the mission until Barakat Al Bashar, known to the 10th as Andy, returned to base, less than a week after his wife had given birth to the couple's first child, a son.
"I told him 'Stay a few days more,'" said Pir, who now lives and teaches in Lincoln.
But the duty-bound and mature 24-year-old Andy insisted. It was his turn, he told Pir.
During the mission, the two Black Hawk helicopters carrying Andy, a dozen Iraqi police and eight U.S. soldiers intercepted a vehicle driving across the desert near the Syrian border.
As the patrol approached the stopped vehicle on the ground, the driver reached for his shoulder.
They saw and felt the flash.
A half-dozen Iraqi police instantly hit the ground. So did three U.S. soldiers, struck by ball bearings blown outward by a suicide vest.
Hit by four pieces, Staff Sgt. Jay McBride survived, but beside him lay Andy, covered in blood, body riddled by shrapnel.
As if coordinated, the bomb signaled gunfire from a nearby village, pinning down the coalition forces. McBride was struck two more times in the leg as he helped his fellow soldiers and Andy get into the helicopters for an evacuation.
It was a 45-minute flight to a military hospital in Mosul. Doctors there found a shredded artery on Andy's left side.
Andy knew it wouldn't be long, McBride told Stars and Stripes, the U.S. military's news service, earlier this year. He turned and made a final request.
"He said, 'Take care of my son. Take care of my wife,'" McBride said.
The warrior poet
News of the suicide bombing sent Hadi Pir racing back to the base.
He and Andy were both from Khana Sor, a town of roughly 40,000 Yazidis north of Mount Sinjar in northern Iraq, and attended the University of Mosul, where they studied English.
But it wasn't until they were assigned as interpreters to the 10th Special Forces Group that the men would become friends.
Losing his father to the war between Iraq and Iran in the 1980s, Andy developed a moral code that made him rigid, even standoffish, Pir said: "Everything had to fit in a place."
Andy wasn't interested in youthful pursuits, and rarely showed emotion.
His focus was always on his family, said his younger brother, Aziz Al Bashar. Andy stepped up to become his family's father figure following his father's death.
Deep underneath that serious, even standoffish exterior, however, was a poet and an artist.
Pir said as he came to know Andy on long walks inside the walls of the military base, where they were tasked with translating Kurdish and Arabic into English, he learned Andy was an outstanding conversationalist.
They would talk about the stories Andy wrote describing the gossip spread across Yazidi neighborhoods, Pir said, or else "we would just talk about life."
"Sometimes, the other American soldiers, even a captain, would join, just to hear what we had to say," he added.
Aaron Libby, then an Army staff sergeant, said he often would sit with Andy in the mess hall "and just talk about stuff," switching between several languages.
"I knew Arabic, and his English was excellent, so we could speak both," Libby said. The pair even tried their hand at French.
"He got along with everybody in the camp," Libby added. "He was a good worker and there to support the mission. Both he and Hadi were solid local interpreters."
Word of Andy's death rattled the 10th Special Forces Group, as well as Yazidis living throughout the region.
"Death was a part of our daily life, but that was different," Pir said.
First as a volunteer translator and later as a contractor, Andy was working to earn a special visa to bring his family to America.
His immigration paperwork, the chance for his young family to escape the danger and bloodshed faced by Yazidis for centuries, had just come in, shortly before his death.
"He saw the chance," said his brother, Aziz.
At the funeral, Pir asked Andy's widow, Adiba Badal, brother Aziz and mother Tekoz, if they still wanted to emigrate to the U.S., but they declined the offer.
"The whole family was in shock," Aziz said, and the journey to America with a newborn baby seemed too difficult without Andy leading the way.
Deciding to stay, and accept a compensatory payment of $10,000 from the U.S. government for Andy's death, they moved on with their life.
Danger returned once again, though, just a month before baby Kinan was set to celebrate his seventh birthday.
That's when the so-called Islamic State began its genocide against the Yazidis.
Danger renewed
IS came for the Yazidis living on the Nineveh Plain stretching between Iraq and Syria, driving some 200,000 from their ancestral homelands.
Deeming the religious minority heretics, the Islamic State's persecution of Yazidis marked the 74th genocide against their people dating to the 13th century.
Separated from the onslaught by Mount Sinjar, the refuge thousands of Yazidis took from the Islamic extremists, Andy's family made a hard choice just a few days after the initial assault.
Because of Andy's work with U.S. forces, the family was sure to be targeted by IS fighters for death or enslavement.
Aziz said the family was able to gather only a few things, leaving many of its possessions behind in Khana Sor as it fled to another Yazidi town near Dohuk where his sister lived.
Left behind in the rush out of town were Andy's paperwork detailing his service to U.S. forces, however. When Aziz returned later, the bag containing Andy's proof of work and other documents was missing.
Andy's family was stuck, until his former comrades started a letter-writing campaign to bring awareness to the situation.
Pir, who became a tireless advocate for Yazidis around the world after immigrating to the U.S., said Andy's insistence to take his place on that September 2007 mission still haunts him.
"He came and replaced me and got killed," Pir said. "That was supposed to be me; that feeling will never go away. I cannot let it go."
He contacted others who had worked with and become close to Andy, asking for their help to bring the family to the U.S.
Libby wrote a letter of recommendation in October 2014, saying Andy's "sense of duty and selflessness will never be forgotten."
"I was not personally on this mission but was told that Barakat's sacrifice made it possible for many people to make it home," he wrote.
Sgt. 1st Class Michael Swett wrote Andy "never faltered in his commitment to help American forces in Iraq, even after his family was threatened and their names were placed on a list that was circulated around the region," according to Stars and Stripes.
"I would have absolutely no hesitation recommending Barakat's family be granted citizenship, as they truly epitomize the sacrifice that so many have made during these troubling years of war in Iraq," Swett added.
Finally, hope
Years went by without any progress, while Aziz and the rest of the family remained displaced with thousands of others.
The contractor Andy worked for, L3, no longer had record of his employment there.
Letters and phone calls went back and forth until, finally, the U.S. Army Intelligence and Security Command located paperwork that Andy had been declared dead in a U.S. Army hospital while employed as a linguist.
The case was forward to immigration authorities. Aziz and the other family members were interviewed by the International Organization for Migration in April. Then again in November.
Finally, Andy's relatives' special visas had been approved. His family was cleared to immigrate to the U.S. in December.
Libby, who found friendship with Andy in the Iraqi desert, said the family will make the most of the chance at a new life. "It's the best news I've heard in a long time," he said.
United Airlines flight 4842 from Chicago, the last flight on a 22-hour journey that began in Erbil, Iraq, landed shortly before 11 p.m. on Dec. 19.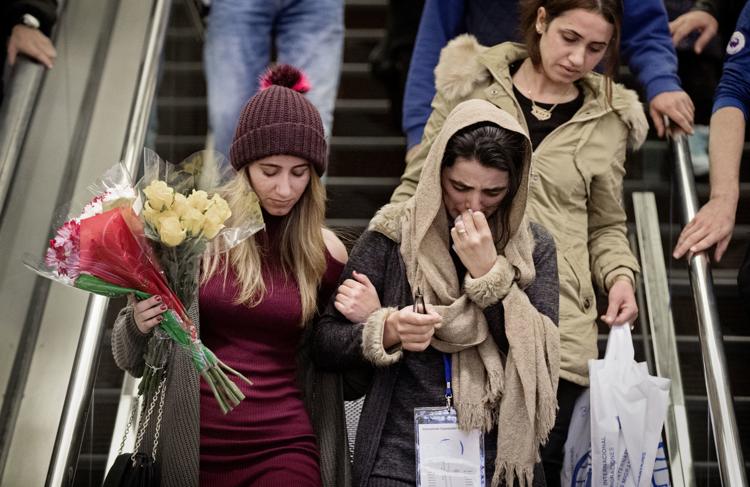 On the plane was Adiba, Andy's wife, and the couple's now 11-year-old son, Kinan, tall and skinny, bearing the same serious disposition of his father.
So, too, was Aziz, Andy's brother, along with his wife, Aliefa Avdi Rasho, their 4-year-old son Andy, a bouncing bundle of energy named for his uncle, and 5-month-old daughter Karen.
Andy's mother, Tekoz, led the family out of the terminal and into their new home, meeting a barrage of hugs, kisses and tears.
Relief washed over the family, a bittersweet relief. They had achieved Andy's dream of relocating to America, where they could be safe and prosper, find work and educate their children.
Andy's sacrifice meant he couldn't be there to share in his dream with them, no matter how much they wished it.
"I dreamed when I landed I would see my son," Tekoz said, crying in Pir's embrace.
For now, though, they are going to make the most of their opportunity. While they are staying with Pir in his northwest Lincoln home until they can find their own place, Aziz said he expects the family will soon put down roots among the largest community of Yazidis in the U.S.
Fighting back tears, he said the family will remember his older brother Barakat — Andy to his friends — every day for the rest of their lives.
"I'm glad we are here," Aziz said. "That was his wish."
Get local news delivered to your inbox!
Subscribe to our Daily Headlines newsletter.