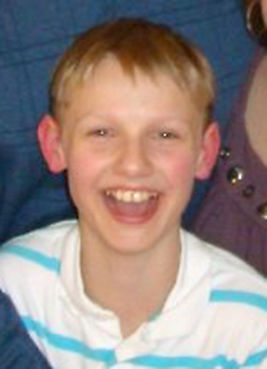 Kids picked on Ben Lewis because he was different.
They always had, his family said, but it was worse since he and his mom had moved to Lincoln from Omaha in October.
But nobody was expecting what happened Saturday, when the 15-year-old boy with Asperger's syndrome found a pistol, went near the shed in his grandparents' backyard and shot himself.
Ben's family took him off life support and decided there was a message in his death: Put resources behind antibullying policies like the one at Lincoln Public Schools.
"Schools preach about their commitment to strict antibullying policies, but what goes into the policies? What should parents do?" said Dan Green, one of Ben's uncles, said Monday. "There's got to be someone who parents can reach out to."
LPS policy prohibits bullying and encourages positive behaviorm, but Green thinks schools across the country need to do more.
Schools should give parents specific steps they can take, including access to non-school resources such as a counselor or therapist to work with families, he said.
Family members said they had no problem with Lincoln High School, where Ben had been since October, and doubt teachers or administrators knew kids were picking on him.
"We're not saying they didn't do their part," Green said. "They have been there for the family."
Principal Mike Wortman said school officials weren't aware Ben was having problems. When they do find out about bullying, school officials talk to all students involved and try to find a solution, he said. And the school focuses a lot of attention in general on how students should treat each other.
Ben's family said because of his Asperger's, Ben had trouble communicating. Even when he mentioned problems to family, he'd quickly change the subject and offer few details.
He'd mentioned several times to family last week that kids were picking on him and that they were meaner here than in Omaha, Green said.
When he mentioned it Friday to his uncle, Jeremy Bibelheimer, who lives in San Diego but was in town for a family wedding, Bibelheimer tried to cheer him up and told him kids only do that because they're insecure and want to make themselves feel better.
He got Ben to smile before he left, not a difficult task.
"He was so innocent," Bibelheimer said. "There was such an innocence about him."
Ben and his mom moved to Lincoln so she could look for work. His dad was still in Omaha because he worked construction there, but the family was thinking about relocating to Lincoln.
But Ben told his grandma Friday that he wanted to go home, that it was easier dealing with kids at his old high school. Green said family members thought  the transition from the familiar was tough.
Then on Saturday, he and his grandma went out for breakfast, went shopping, took Ben to get his chickenpox vaccine. It was a good day, his grandma Deanna Bibelheimer said, and Ben seemed happy.
But after they got home and Bibelheimer went downstairs to take a nap, Ben apparently found a gun they'd forgotten was in the house, hidden on a high shelf in the back of a closet.
The neighbors heard the shot, called 911 and alerted the family.
Family members didn't find a note, but they did notice something different. 
Ben had taken all his clothes out of the closet and packed his suitcases, ready to go home.