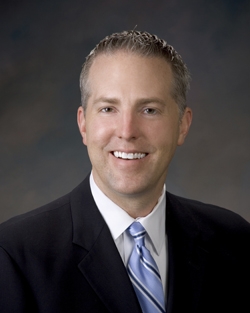 FREMONT — Nebraska Republicans on Saturday chose Lincoln attorney Mark Fahleson as their new party chairman and urged the Legislature to repeal the state's split-vote presidential electoral vote system.
GOP leaders also signaled their opposition to huge federal expenditures as the proper response to a deepening economic recession.
Rep. Lee Terry of Omaha suggested tax breaks, including tax credits for small businesses, are a better way to stimulate the economy.
"We need not to grow government, but to grow business, which grows jobs," the 2nd District congressman said.
State Auditor Mike Foley said Republicans need to oppose "piling trillions of dollars of new debt on the backs of our children and grandchildren."
Fahleson, who was elected to the party chairmanship by acclamation, said it appears President-elect Barack Obama's "yes, we can" promise may actually be "yes, government can."
Obama has proposed a $775 billion economic stimulus package fueled by spending on infrastructure development and tax cuts as the best means to arrest the economic slide.
Responding to earlier federal spending measures designed to rescue financial institutions and U.S. automakers, the GOP's state central committee approved a proposal to ask the Republican National Committee to oppose any further federal bailouts.
That resolution has been drafted by Republican National Committeeman Pete Ricketts of Omaha.
Looking ahead at approaching Democratic control of both the White House and the Congress, Rep. Adrian Smith said there is early evidence of "a little overreach by the left already."
Smith pointed to proposed legislation that would empower workers to gain union representation without a secret ballot if a majority sign cards seeking representation at their workplace.
Fahleson, who will succeed Mark Quandahl of Omaha, said Republicans need to "roll out the welcome mat to new voters" and begin to build for the future.
"We need to reach out to young voters," he said.  "And we've got to win the technology war" by communicating along new electronic avenues.
Republicans will appeal to voters with a message of fiscal responsibility and economic opportunity, Fahleson said.
The resolution encouraging the Legislature to repeal Nebraska's system of dividing its presidential electoral votes was approved on a standing vote with only a scattering of opposition.
Nebraska awards one vote to the winner of each its three congressional districts while handing its remaining two electoral votes to the statewide victor.
In November, Obama broke a 44-year Republican hammerlock on Nebraska's electoral votes by snaring metropolitan Omaha's 2nd District vote.
Gov. Dave Heineman, who will seek re-election in 2010, challenged the party to recapture its voter registration advantage over Democrats in Douglas County as it gears up for the next election cycle.
The Obama campaign overturned the GOP lead in Nebraska's largest county with a massive grassroots voter registration drive aimed at capturing an electoral vote.
Heineman said Nebraska is "in a good position to weather the coming fiscal storm," but warned the state will not be spared.
"I know it's coming," he said.
"We've got to tighten our belts."