She calls it Randy's Ride Home From Work, and when Christy Gibson is out on her own bike, she sometimes heads to the Haymarket to retrace his route.
Her tires follow his tracks, from his office alongside the O Street overpass and onto Eighth Street, jogging west on N Street and turning south again on Seventh — past an old fruit warehouse and then out of downtown.
He was a fixture on his bike, commuting religiously for nearly two decades. "Every day," she said. "I only gave him a ride once or twice."
Randy Gibson didn't get to see the warehouse razed, or the dirt work that followed the demolition of the nearby scrap yard — all of it preparation for what will become the city's newest park.
And Christy Gibson has been busy and occupied and trying to cope — dealing with the sudden grief of her husband's death two years ago, and the criminal case against the drunk driver who killed him while he was biking on West Sprague Road, and the post-traumatic stress disorder that can make it difficult for her to focus, and learning how to be a single mother of two.
"I was left with quite a legal mess," she said. "There were a lot of details to have to sort through."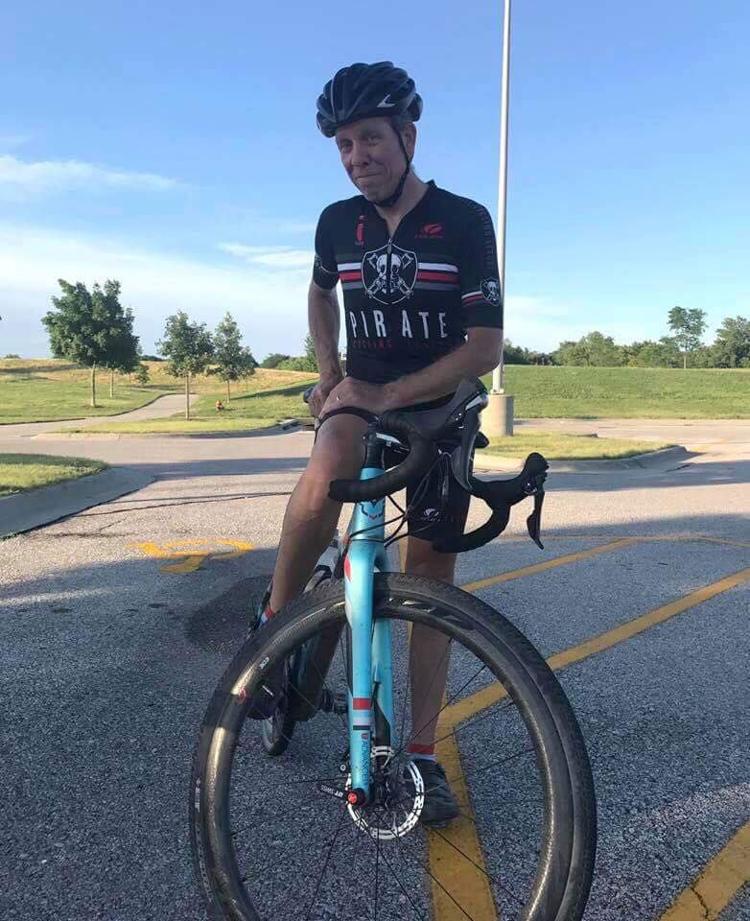 But she knew it was time to do something in his honor.
"He gave a lot to the community and was a big presence in the Haymarket and Lincoln area. And when he was killed, we were given a lot by the community," she says. "It just feels right to have something that's big and gives back to the community."
Something bigger than a trailside bench. Something he'd approve. Something that paid tribute to who he was.
She talked with the city. She talked with the Lincoln Parks Foundation.
And a plan started falling into place. If she could help raise enough money, the Parks and Recreation Department could build a shaded rest area along one of Lincoln's trails.
They talked about where, and she considered the list of options. Near the bridge that will connect the Rock Island Trail with the Jamaica North Trail and Wilderness Park? Or at Stransky Park? Or behind the former Shopko near 27th Street and Nebraska 2, where the Boosalis Trail meets the Rock Island?
The last location? The new park and plaza planned for the south edge of the Haymarket, which will connect three trails.
And that was perfect, she said. Everyone in the Haymarket knew her husband, so he should be honored there, within view of his office.
"I immediately thought it was all exactly how it should be. It felt right."
You have free articles remaining.
Keep reading for FREE!
Enjoy more articles by signing up or logging in. No credit card required.
Then they talked about possible designs. The city could install a memorial bench for $1,600, but that wasn't enough. Then she saw a plan that used a steel shipping container — open on both ends, with a long bench and tables and windows and a bike rack outside — and that seemed perfect, too.
Randy Gibson was a designer, and he had an interest in shipping container architecture, she said. He'd study them, make her watch YouTube videos about them.
"That's just another component, a perfect fit for representing who he was."
The estimated cost — $10,000 to $15,000 — didn't scare her. An online campaign by the Lincoln Parks Foundation has already raised about $3,000 and she'll enlist friends to help organize fundraising events if she has to, she said.
The city is in the earliest stages of designing the park, said J.J. Yost, planning and construction manager for Parks and Rec.
It could start some work this winter, repairing and replacing and moving sewer lines beneath the park, but it hasn't even started planning the final design details, he said.
The trail work — extending the Jamaica North from J Street to meet the N Street and Haymarket trails — could begin next year.
And a shaded trailhead enclosure honoring Randy Gibson will be part of that connection, he said.
But the final design will depend on how much money is raised.
The possibilities ranged from shade sails, trees, overhead structures and, with enough funds, a repurposed shipping container. That would provide a fitting connection to the nearby train yard, he said.
"All those things are on the table. It will depend on what kind of budget is available, what fits in that budget, and what meets her desires and wishes," Yost said.
But Christy Gibson can't see herself settling for anything less than the shipping container idea near the route Randy rode for so many years.
"I probably won't. He just wasn't a regular guy, he was a one-of-a-kind guy."
How to help
To make a tax-deductible donation, go to lincolnparks.org and search "Gibson" or call 402-441-8258