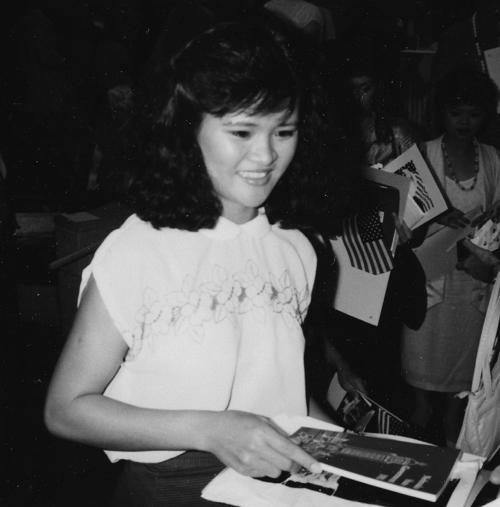 The 17-year-old girl braces against the winter wind. Having lived in the tropical climate of Cambodia, she shunned the idea of a bulky coat. Now, as she marches from her apartment at 14th and F streets to Lincoln High School, Channy Chhi Laux wishes she had one.
But as she pushes past the green doors that mark the halfway point in her journey, hot air flushes her face. Inside she walks under stone archways of a building that has come to symbolize the people of her new home and the hope of her new life.
"This is my statue of liberty," she says more than 35 years later, gesturing to a picture of the state Capitol.
In the book-lined library at Lincoln High, about 70 English language learner students lean forward in their chairs, listening to her share experiences of surviving genocide, living as a refugee in Lincoln and finding strength to make good on her second chance at life.
Event organizers hoped Chhi Laux's story would be a signal to students, many of them immigrants and refugees themselves, about the possibilities they too could achieve.
That theme is on display in Chhi Laux's new book, "Short Hair Detention." Across 545 pages, she details how she survived the communist Khmer Rouge — a military organization that starved and executed 1.7 million Cambodian people, roughly Nebraska's present population, from 1974 to 1979. Chhi Laux was only 13 when the killing began.
She escaped with her mother and sister in 1979. After arriving in Lincoln, she graduated from high school and college here before moving to California, where she engineered fighter jet cockpits and state-of-the-art biotech software.
Paula McClung, library media specialist at Lincoln High, said sometimes it's easy to take education for granted. Speakers such as Chhi Laux show its importance, as well as what's possible with a tenacious approach to life.
"It's an inspiration," she said.
It's a message Principal Mark Larson thinks will resonate deeply with students at Lincoln High.
"I was hoping that our kids could in some way see themselves in her," Larson said.
Because, while Lincoln High students come from 51 different countries and speak 34 different languages, Chhi Laux's story isn't unlike many of their own.
Chhi Laux cemented those connections as she shared stories from the genocide. As she starved in a Cambodian work camp, she told herself many times not to die yet.
"Wait until you can feel the comfort of your mother," she remembered telling herself.
A few rows from the front, a girl lets out a broken sob. Fingers with long, maroon-painted nails wipe tears from her eyes.
"I know how she feels about that," said LHS student Tania Rameriez.
Rameriez moved here three years ago from Mexico. Her mother stayed behind with family, though, and the 16-year-old said it's made life harder in her new home.
Other students have left war-torn countries to start over in Lincoln. Sharing these stories can only strengthen the community, and McClung said they hope to have Chhi Laux back sometime in the spring for a school-wide assembly.
It's a powerful story, considering Chhi Laux had to make her way on her own, said Thomas Christie, multicultural school/community administrator with Lincoln Public Schools who also taught Chhi Laux in the early '80s. When there are few people who look like you and have had success, setting and achieving goals can be an intimidating process, he said.
Hopefully, seeing how someone such as Chhi Laux endured and thrived will encourage students that they can do the same.
To Chhi Laux, it's also about finding strength in each other. Family pushed her through starvation and family motivated her to succeed as she started life over in Lincoln.
But a different kind of family began to motivate her in America.
She sees them in the faces of this crowded library where students speak different languages and have different stories, but know too well what it means to struggle, sacrifice and survive.