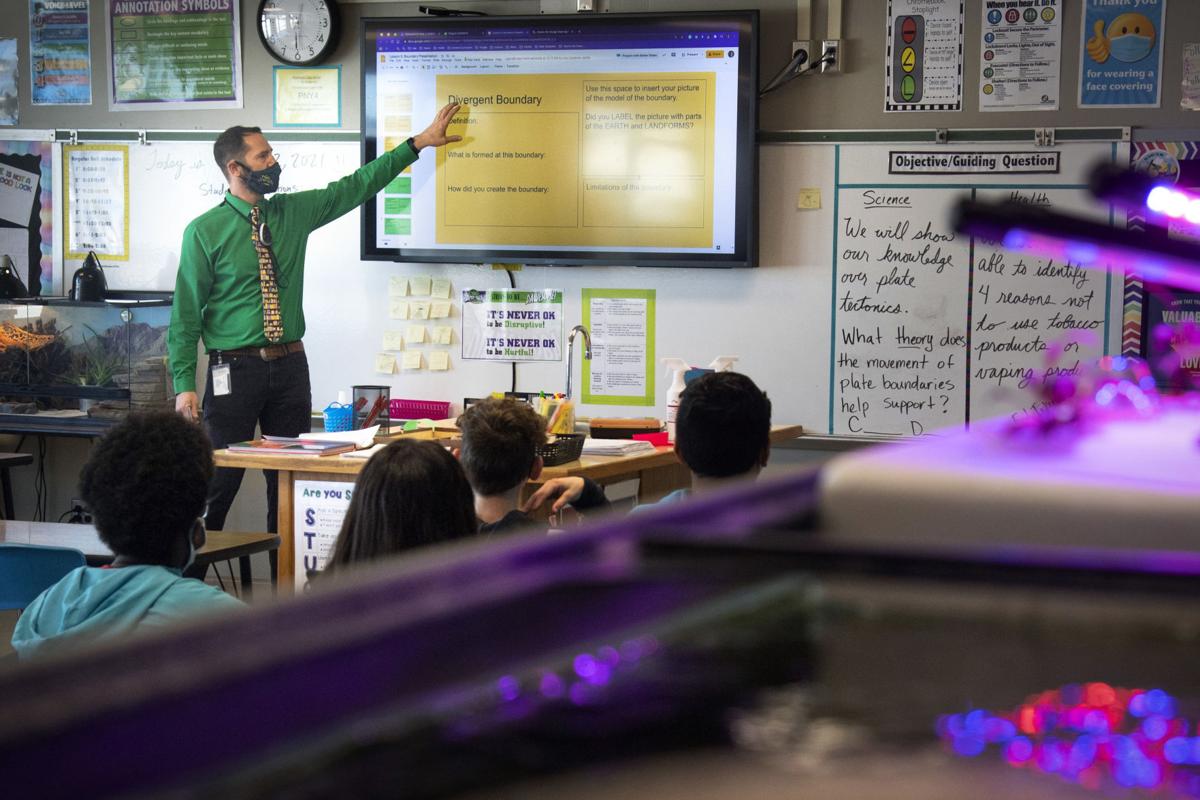 With Lincoln schools set to open in less than a month and health experts sounding the alarm about another coronavirus surge, there's one data point that remains elusive.
Just how many K-12 teachers have been vaccinated?
If you're looking for a hard-and-fast number in Nebraska, good luck. 
At Lincoln Public Schools, officials don't collect that data. Teachers, instead, are asked to follow the honor system — if you're vaccinated, masks are optional; if you're not, mask up. An Omaha Public Schools spokesperson said its district does not collect those records, either.
"We had an awful lot of teachers wondering when the vaccine was going to get here; my hope is that that correlated to a high percentage getting the vaccine," said Superintendent Steve Joel when the district first rolled out its draft back-to-school plan earlier this month.
At the state level, that number remains a mystery — the Nebraska Department of Education, for one, isn't asking teachers about vaccination status, a spokesperson said this week. 
And the Nebraska State Education Association, the statewide union representing more than 28,000 teachers, isn't asking that question, either, although it is encouraging its members to get the jab. The Lincoln Education Association also does not keep that data, President Deb Rasmussen confirmed.
Teacher vaccinations are seen by some as critical to opening schools safely, although mandating the shots while they're still under emergency use authorization is legally tricky, as detailed in an Education Week piece from March. Requiring teachers to disclose their vaccination information also poses privacy issues that many district leaders seem reluctant to probe.
NSEA President Jenni Benson said vaccinations numbers are presumably higher in urban areas -- like Lincoln and Omaha -- where more people are getting inoculated.
"I think when school starts, if we start seeing an uptick of COVID cases, we're going to know where teachers are not getting vaccinated," she said.
Younger Joel now working in Iowa
Derrick Joel, son of LPS Superintendent Steve Joel, stepped down as superintendent of Raymond Central Public Schools to take a job in Iowa this summer.
The younger Joel, who has been at Raymond Central since 2017, will serve as the superintendent of the Fort Dodge Community School District.
In his place is Lynn Johnson, a former school official from Harlan, Iowa, who will serve in the Raymond Central role on an interim basis this year. Johnson previously was superintendent in Arlington for 10 years.
Before joining Raymond Central, Derrick Joel served in various roles, including as principal and assistant principal in Iowa and as a teacher at Tri County Schools in DeWitt.
He earned his master's and doctorate from Drake University in 2017. Like his father, he received his undergraduate degree from Doane University.
Nation's pediatricians weigh in
Back to the COVID and schools discussion.
That same day, U.S. pediatricians weighed in on the matter.
The American Academy of Pediatrics recommended Monday that schools institute universal masking for students this fall, regardless of vaccination status, as the more infectious delta variant of COVID-19 sweeps the U.S. That's a step up from the CDC's guidance, which only recommends masks for unvaccinated students age 2 and up (although the federal agency says tighter restrictions may be needed in places with low vaccination rates).
Rauner said universal masking would be a better solution than requiring masks only for some students, which critics have claimed could lead to ostracization and bullying within the student body.
Under LPS' current plan for the fall, masks are optional for all students, but strongly recommended for the unvaccinated. Vaccines are only available to those 12 and older, meaning elementary students won't be inoculated come August. 
Certainly something school officials are thinking about.