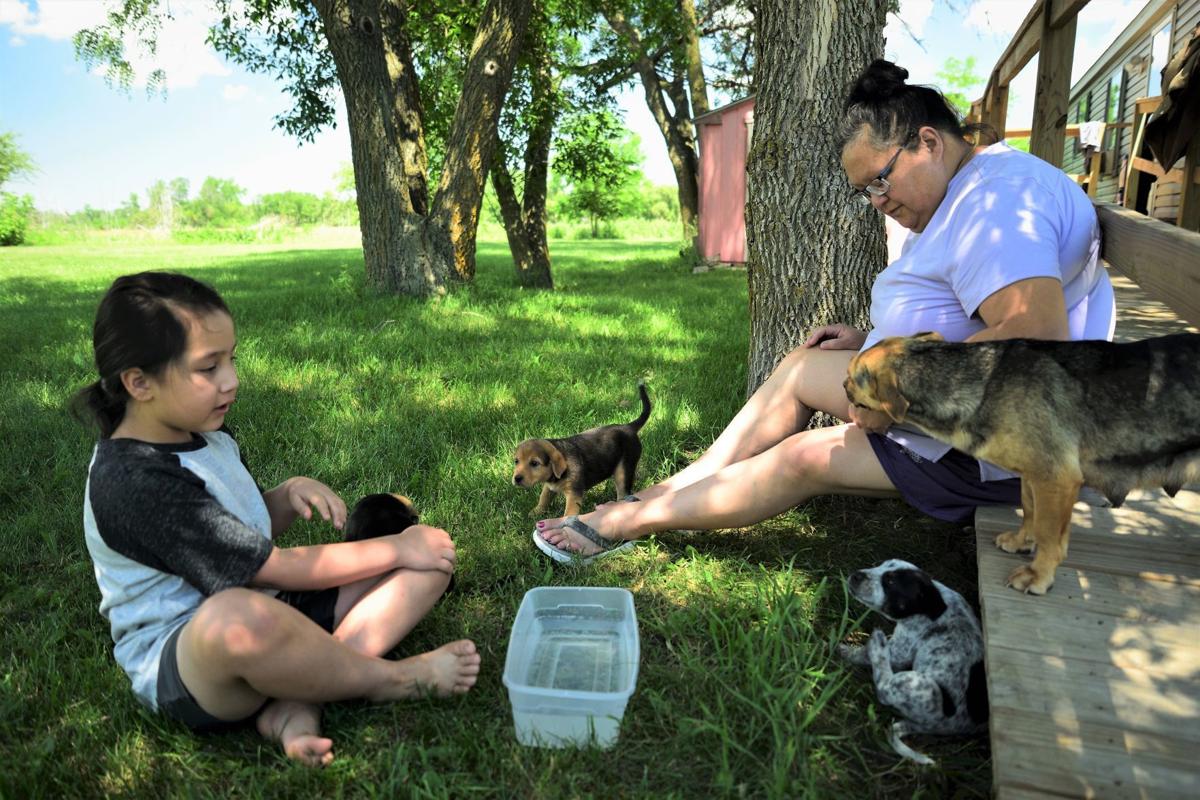 Lani Samqua's internet service is as fickle as Nebraska weather.
On a nice, cool day, it works, she said. Anything else — rain, heat or cold — and the internet at her home on the Omaha Reservation near Macy gets temperamental.
For her son, Wakonda Oo Kea, who attends the Omaha Nation School, reliable internet is more than a convenience — the success of his education next school year could depend on it.
"It gets frustrating for a 7-year-old to try to read a book or do these little assignments that they provide for him. His frustration level gets high at times when the internet service isn't so great."
When schools across Nebraska closed to blunt the COVID-19 spread, suddenly the importance of internet took on another dimension.
Tribal leaders and educators in northeast Nebraska are pursuing an ambitious plan to remedy the problem on tribal lands.
Nebraska Commissioner of Education Matt Blomstedt emphasized the problem last week to members of the U.S. Senate's Health, Education, Labor and Pensions Committee. He asked for more federal support in providing broadband access to the homes of students and teachers.
"Although I know that broadband is not in the jurisdiction of this committee, it is apparent that lack of broadband access is a huge inequity for many of our students and households," he said.
But if COVID-19 forces students to learn at home again, the internet will once again become a crucial bridge to connect teachers and students — and uneven internet access was a key challenge anyway.
The Rural Broadband Task Force reported that 12% of Nebraska children younger than 18 lacked a home internet subscription, but that percentage does not fully capture the barriers many students face.  
The pandemic abruptly brought the problem into focus.
When the Federal Communication Commission made wireless bandwidth available to tribes last winter, it piqued the interest of Mike Oltrogge, president of the Nebraska Indian Community College.
"Then COVID hit," he said, "and the wireless broadband spectrum came screaming to the front of the pile."
By tapping into wireless bandwidth available exclusively for tribes, they hope to launch their own educational internet service through a partnership between tribes, colleges and school districts to bring reliable, inexpensive internet to students on the Omaha, Winnebago and Santee reservations.
For families, internet access depends on several factors: Is internet available? Is it fast enough? Can they afford it? Do they have a device to make use of it?
Many school districts throughout the state have one-to-one computer policies that allow kids to take devices home. Some of those districts, like Westside Community Schools, had to provide hot spots to families so students could take advantage of remote learning.
Cullen Robbins, director of communications for the Nebraska Public Service Commission, said his agency has known for a while that some students have the school-issued computer but not the broadband to operate it.
"If they don't have broadband at home, then it's essentially a paperweight," Robbins said.​
Broadband internet coverage statewide is "like a checkerboard," he said.
Several smaller rural carriers have built up broadband in their areas, he said. Other areas are served by larger companies that lag behind in terms of availability. ​
At Grand Island Public Schools, the pandemic accelerated work on a pilot project to repurpose old, unused broadcast TV channels to deliver internet to students without it.
Channels that once upon a time delivered "I Love Lucy" or "Dragnet" to living rooms will be used to deliver a wireless internet signal. The FCC has encouraged using such channels, known as white space, to serve rural and remote areas where it's expensive and difficult to deliver high-speed internet.
District officials have teamed with Microsoft on the project to erect a transmission tower on an elementary school and transmit the school's internet signal to needy families, who will pick up the signal on antennas at their homes.
Cory Gearhart, the district's executive director of information technology, said the project got started as a way to ensure every student could utilize the district-issued computers. The district has a one-to-one computer policy.
The system could serve 50 to 100 families, he said.
Surveys conducted by the U.S. Census, the Nebraska Department of Education and others indicate that low-income households are more likely to lack internet and devices.
Natives are least likely among racial groups to have internet access, according to the Census.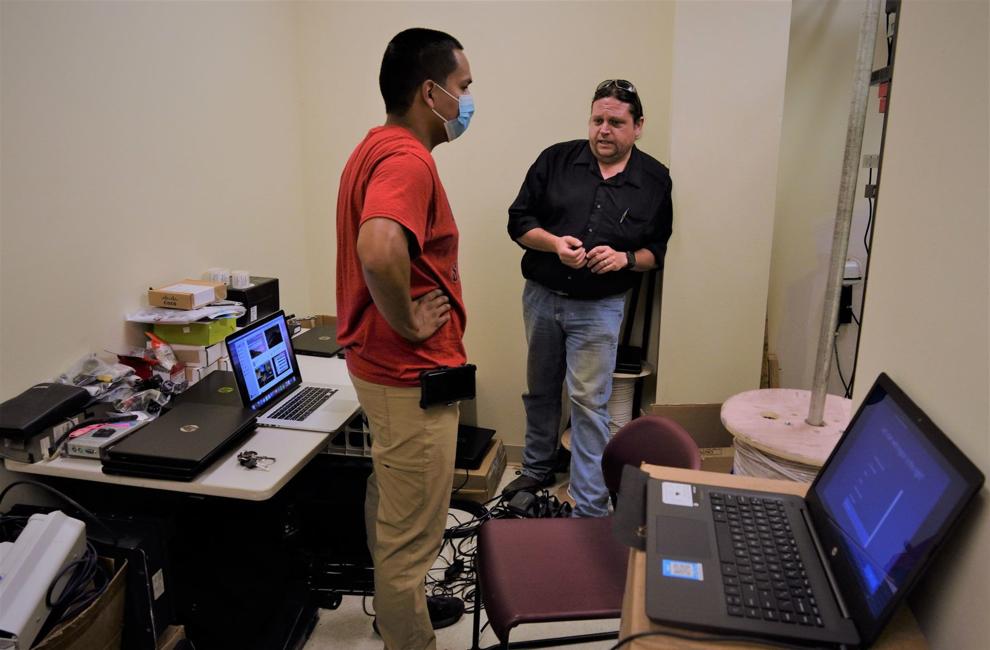 Misty Frazier, who teaches dual-credit Dakota language at Niobrara schools through the Nebraska Indian Community College, said rural residents don't have a lot of options for internet service.
"Out in the rural areas where we live, it's kind of hard. There's very limited companies that even offer internet access out here," she said. Cellphone service is "hit and miss," too.
Where she lives, connectivity depends on the time of day.
"Sometimes my internet's real slow. They said it's kind of like a hose, and the internet is going through that hose, and more and more people are using it, and I'm at the tail end of it."
More than a dozen families had internet that was too slow to use for remote learning or didn't have it at all in Doniphan-Trumbull Public Schools. Superintendent Stan Hendricks said his district worked with a local internet provider to get it for the families.
The company paid for the first month of service and the district paid for the remaining months of the school year. Hendricks expects the federal coronavirus aid bill approved by Congress will help school districts like his pay for some of the additional costs.
The most recent census estimates show that Thurston County, where the Omaha Reservation is located, had the state's lowest percentage of children younger than 18 with internet at home: 63.9%.
By comparison, in Douglas County, 89.3% had it. Sarpy County was 97.2%.
Drilling deeper into the Census data, the correlation to income levels is apparent. While more than 9 of 10 children are likely to have home internet in the more affluent suburban areas of west Omaha, that drops to as low as 7 in 10 in the higher poverty areas of eastern Omaha.
The Learning Community of Douglas and Sarpy Counties offers a variety of programs serving about 500 low-income families in Omaha Public Schools through centers in north and south Omaha.
Jamalia Parker, director of family engagement services for the Learning Community, said every family in both centers has phones. But in most of those families, the phone is their only device.
It's their lifeline, she said.
Last summer, the Nebraska Department of Education surveyed state teachers about access.
A third of OPS teachers who responded said that more than 4 of 10 of their students lacked sufficient internet to complete homework. Statewide, 12% of teachers said so.
Earlier this year, OPS surveyed families about access. Asked if they had internet access via a device other than a cellphone, a quarter of respondents said they had access only half of the time or less.
Immigrant families can face an extra barrier to internet access.
In the Schuyler Public Schools district, many families are immigrants who work at the Cargill meat processing plant.
Susana Oliva, family facilitator for the Family Literacy Program in Schuyler, said some recent immigrants know virtually nothing about computers.
The district started a program this year to teach parents how to use electronics, but also teach them English and let them know about services in the community.
The program provided iPads to parents, which they could take home.
"Some of them have never used an iPad in their lives. So that was a big challenge. Another one was how to even navigate an application or a program that we have installed in these iPads for reading with the children. Even how to download an application, they don't know these things. They've never done them."
Yousif Zandinan, his wife and their six children fled persecution in Iraq and came to Lincoln three years ago, he said. The family is Yazidi, a non-Islamic religious minority, and came to Lincoln where his brother-in-law, who translated for the U.S. Army, lives. 
Zandinan had to quit school in Iraq to help support his family, and so he's always stressed the importance of getting an education to his children — even if a pandemic means they can't be in the classroom.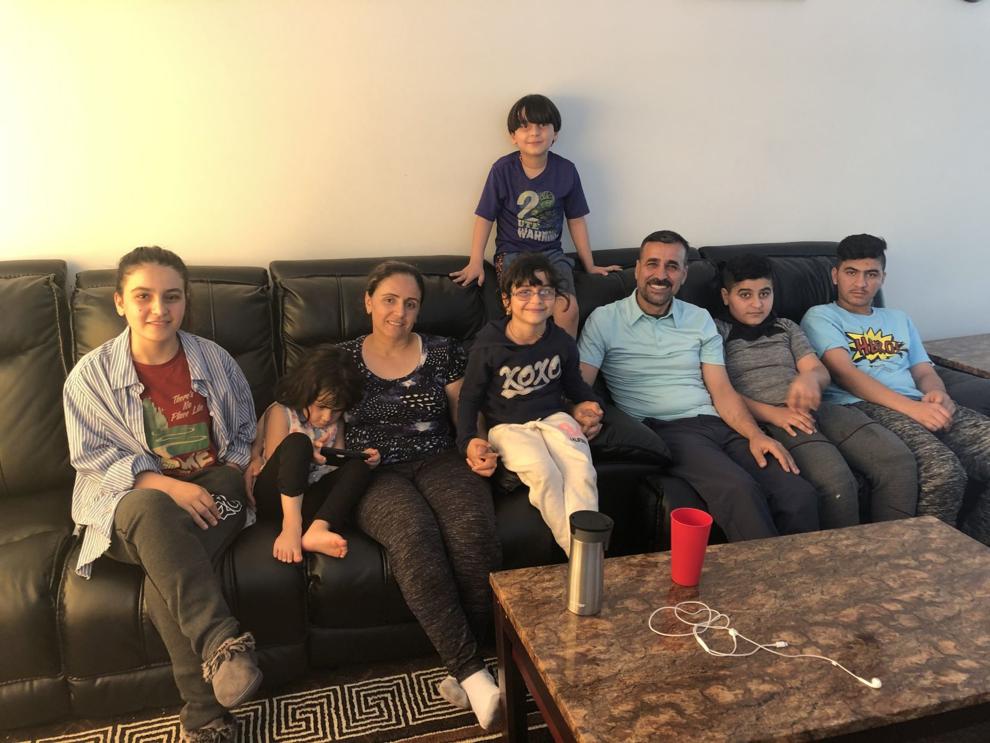 The family has internet service but it's not very strong, so his children's video calls kept freezing or cutting out, especially when he was also on Zoom with family literacy classes through the district.
Despite the connection problems, Zandinan said he's appreciative of the teachers who helped with technical issues.
Blomstedt said Nebraska has done a good job of purchasing fiber and access and building it out to schools.
"To the school, we're probably as good as any state," he said. "What schools did on the inside of their buildings is a different story, and what happened, whether or not there was access beyond that, is the other question."
In his own hometown of Central City, the internet is not ideal for his big family, he said.
"Our internet's great for the occasional time you need to do something. But if I've got five kids who need to be on a school activity, on different school activities, there's not going to be enough bandwidth."
Schools sometimes have the right devices for their environment, but not always for home use, he said.
T-Mobile will be the data provider for the iPads the district will deploy to students this summer and fall. The company will provide unlimited 4G LTE data services for the iPads and 300 mobile hot spots.
A federal program helps schools and libraries pay for internet, but Blomstedt said it won't help cover OPS's data costs.
Blomstedt said the data services provided to OPS by T-Mobile are not eligible for the federal "E-Rate" discounts on vendor services.
He is among a number of educators who say federal officials should change the rules to allow for E-Rate discounts on vendor services to cover the cost of equipping students with home internet.
In March, with the impact of the pandemic on schools coming into focus, 7,664 educators from around the country signed a letter urging the FCC to make E-rate available for providing students with home internet.
The greatest number of signers in Nebraska were from the small school district of Pender, also on the Omaha Reservation in Thurston County.
Superintendent Jason Dolliver said that if the tribal effort works, his district would make use of the system.
When COVID-19 hit, all but about 20 houses in his district had what they considered to be a reliable internet connection. His district is one-to-one with computers for students.
"Some people who think they have reliable internet connection, when they are relying on that internet connection for an educational purpose, that connection all of the sudden becomes not reliable at all," Dolliver said.
"I think we have a lot more families that need a better service at their house," he said.
Samqua, the mother who lives on the reservation near Macy, said her bill for phone and internet is about $118 a month.
Money is short, and it's hard to make that payment, she said.
"I think I'm within $20 or $30 of making $24,000 a year to provide for two children and take care of a house, and pay for bills and electricity," she said.
Alayiah Langston was on track to finish her senior year at Lincoln High School this spring, despite being a single mom and working weekends at McDonald's.
Then the pandemic hit and gave her still more to deal with: Working from an apartment full of family — her parents, four siblings and her own son, having to care for her son during the day, and unreliable internet.
The family didn't have Wi-Fi service, though until the pandemic they'd been able to access their neighbors'. Once students and adults were working from home, that didn't work, Robinson said. Langston had a hot spot on her phone, but it offered spotty coverage in their basement apartment.
Sometimes Langston and her two younger siblings would pile into the car and drive to a city park or church parking lot to get internet access.
But she wasn't able to be on any of the Zoom classroom meetings, or work on her Chromebook with any regularity — and motivation to keep going was becoming a problem.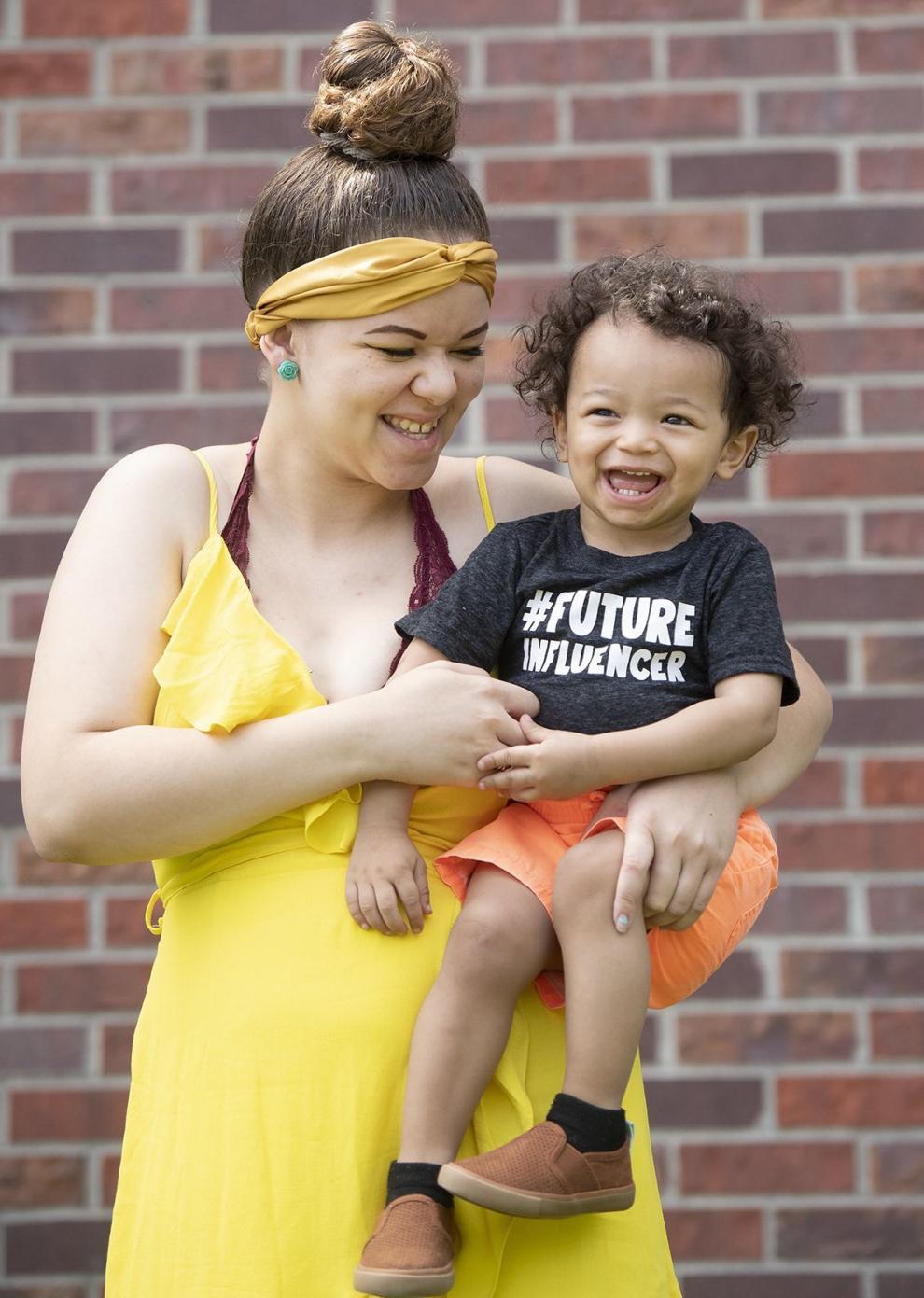 About a week after she got her Chromebook from school, Langston called her teachers and told them she didn't have Wi-Fi. The district had received 1,000 phones with two months of data from AT&T Mobility Holdings for students with no Wi-Fi access.
A Lincoln High administrator drove one over to Langston's home.
In mid-May, Langston went to the school, returned her Chromebook and picked up her cap and gown. 
Journal Star reporter Margaret Reist contributed to this report, which is a collaboration of Lee Enterprises Nebraska newspapers.