WAVERLY — About 80 Waverly High School students stood in windswept silence for 17 minutes Wednesday morning outside their school, linking arms or holding hands to remember those who have died from gun violence.
Then they filed back inside and congregated in the library. They talked — and listened — to each others' diverse opinions, part of a national youth-led movement.
"I mainly wanted to do this because we pick and choose what voices we want to listen to and to target," said senior Sydnee Woznick. "I feel just focusing on one thing is not going to change things. We focused on change because change looks different to everybody."
Thousands of students around the country, including those from numerous Nebraska schools, walked out of class Wednesday to protest gun violence and advocate for gun control legislation on the one-month anniversary of the shooting at Marjory Stoneman Douglas High School in Parkland, Florida, that left 17 dead.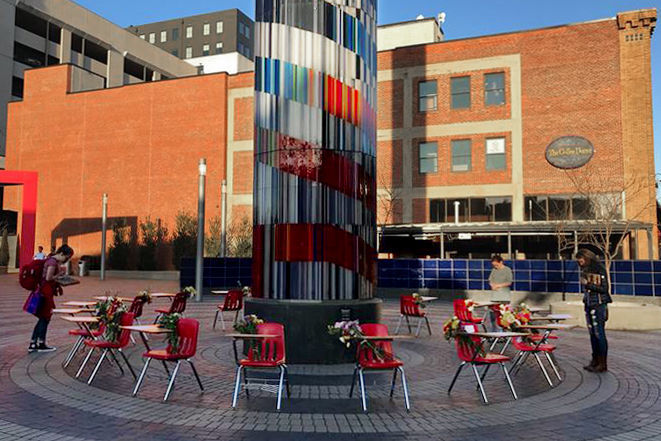 Many of the walkouts occurred at 10 a.m. and lasted 17 minutes in honor of the Florida victims.
There were no walkouts at either Lincoln Public Schools or Omaha Public Schools, because both districts are on spring break.
Students from at least four of Lincoln's six public high schools are planning events April 20, the anniversary of the shooting at Columbine High School in Colorado. A Lincoln East High student is planning a March 24 event to involve students from all high schools and area colleges. About 100 Irving Middle School students walked out last week, and district officials said similar walkouts happened at several other middle schools, though they didn't say how many.
About 130 students at Norris middle and high schools walked to the school's east stadium, where student organizers recited the names of the Florida victims, said Superintendent John Skretta. He had agreed in advance to excuse students for the 17 minutes planned by many groups, and students kept their event within those parameters. 
No students walked out at Lincoln Pius X, but they will participate in a schoolwide prayer session March 26, said Principal Tom Korta. Several Omaha-area Catholic schools held similar events Wednesday.
"The kind of violence that gets headlines are school shootings, but we want to broaden our prayer and have kids reflect on and pray for an end to all kinds of school violence," Korta said.
On the University of Nebraska-Lincoln campus, the Lincoln chapter of March for Our Lives set up a temporary memorial to the Parkland victims, which included 17 school desks, each with a bouquet of flowers and a piece of paper with a victim's name. The desks were later moved to Tower Square at 13th and P streets.
At Waverly, students and administrators focused on encouraging civil and productive discussion on a polarizing issue.
They also wanted to talk about broader issues surrounding school safety: bullying and school culture, building trust and dealing with mental illness.
Principal Ryan Ricenbaw said he figured students would stage a walkout whether he approved or not, and wanted them to do it in a way he could support.
"I wanted to know, is there a possibility of doing this together? It can't be about one side or another. I don't want to polarize things even worse," Ricenbaw said. "This is an alternative we feel is unifying, more productive and a great learning opportunity we can take advantage of."
Woznick had gotten some backlash after encouraging students on Twitter to participate in a walkout, but liked Ricenbaw's idea and wanted to push ahead.
Ricenbaw sent letters to parents explaining what they were trying to do, but was inundated with emails and phone calls from parents who were upset, frustrated or felt it was an inappropriate use of school time.
In the end, he hopes they understand what he was trying to do and that students will continue the discussion. 
"If you push back the layers what I hope you see is a process we are proud of," he said.
Before the event, Woznick talked to several U.S. Constitution classes and encouraged students to attend.
Senior Tristan Graff was among them.
"When she first came in the room I was ready to hear her say 'This is a chance to stand against guns' — to express a very one-sided view," he said. "It was not that at all."
So he gathered in the library Wednesday, as did others with varying viewpoints.
Travis Sondgeroth came with his daughter Emma, who didn't want to participate because she thought it would become too volatile. 
Her dad thought it went well.
"It's good kids are able to express opinions," Sondgeroth said. "I think it's good to listen to other people. ... It encourages them to think about solutions. Whether I agree with them or not is not the issue of the day."
Junior Colter Tietjen, who supports arming teachers and is a strong supporter of the Second Amendment, said he was glad he got to share the research he'd done on the topic.
Graff said he hopes his classmates learned to listen to each other a little more Wednesday, without being "blinded by passion" of the issues. 
"I believe the discussion we had today, I don't think we made a change for the country, I think we understand each other more," he said. "I wanted today to be more of a learning experience than creating change."