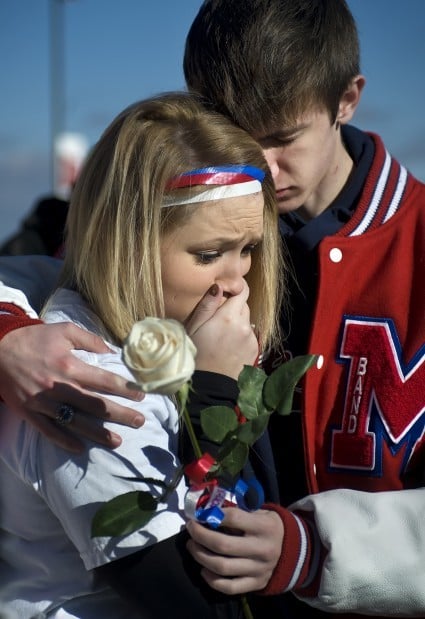 A Millard South High School senior's decision to shoot two administrators at his school Wednesday, killing one of them, before killing himself has left many unanswered questions about what caused Robert Butler Jr.'s eruption and what could have been done to prevent it.
Three local mental health professionals said Friday it's important for parents to communicate with children in order to be able to understand when a child's behavior is possibly changing for the worst. And two of those professionals said the evidence presented so far in the shooting doesn't suggest Butler suffered a psychotic episode before opening fire at his school.
"I'm doubting we have a case where a kid has early onset schizophrenia," said Jerry Bockoven, chair of the psychology department at Nebraska Wesleyan University. "It sounds like a kid who was having some difficulty making some transitions."
Usually, when people suffer breaks with reality as a result of schizophrenia or some other disorder, they act violently only because they believe they are being threatened by someone or something, Bockoven said. From law enforcement officials' and friends' descriptions of Butler and his actions Wednesday, it doesn't appear Butler believed he was being threatened by someone or something, Bockoven said.
In addition, a Facebook message Butler posted just before arriving at his school suggested a presence of mind and ability to articulate himself that people suffering from a psychotic break don't usually demonstrate, Bockoven said. Butler's Facebook post read:
"Everybody that used to know me I'm sry but Omaha changed me and (expletive) me up and the school I know attend is even worse ur gomna here about the evil (expletive) I did but that (expletive) school drove me to this I wont u guys to remember me for who I was b4 this ik I greatly affected the lies of the I families ruined but I'm sorry. goodbye."
Omaha Police Chief Alex Hayes said Thursday that Butler didn't have any history of mental health problems.
So what causes a student many people have described as outgoing, funny and happy to walk into his school and fire on two administrators?
Hayes said Butler had recently been transferred from Lincoln Southwest High School to Millard South by his parents and had moved from his mother's Lincoln home into his father's Omaha home. Hayes said Butler's move to Millard South might have been prompted by disciplinary problems Butler was having at Lincoln Southwest.
He said Butler may have been having problems getting to school on time and listening to his mother. He said the family might have thought Butler's father, Robert Butler Sr., an Omaha police detective, could better help him address those problems.
Nancy Mize, psychologist and outpatient services director for the Child Guidance Center, which provides mental health services to Lincoln youth, said Butler likely was struggling with the transition to a new school and home and might not have completely understood the consequences of his actions.
You have free articles remaining.
"Adolescents are impulsive and to some extent they haven't reached that developmental stage where they realize death is permanent," she said.
Both Bockoven and Mize, as well as Seward counselor Jonathan Metschke, said it's important for parents to communicate with their children in order to be able to recognize when a child's behavior is changing for the worst. Changes in behavior parents should watch for include:
* Increasingly aggressive behavior at home or school.
* Becoming increasingly anti-social and isolating themselves.
* A switch to darker, moodier music or clothing.
* A change in sleeping or eating patterns.
Metschke said parents should monitor their children's use of Facebook in order to see any changes in attitude or potentially risky behavior. They also should not fear being tough with their children and setting boundaries.
"It's so important for parents to be a parent, not a friend," he said.
He said parents who are unable to address their child's behavioral or psychological problems should get help from mental health professionals, either at their child's school or in their community.
Bockoven said explosively violent behavior often appears to occur with little warning, but usually those warning signs are simply misinterpreted or missed altogether.
He said Butler's disciplinary problems at school certainly should have been warning signs of potentially more destructive behavior.
"You can see him driving the car as a warning sign," he said, referring to Butler's suspension for damaging the school's football field with his car. "He was breaking rules. He was coloring outside of the lines."