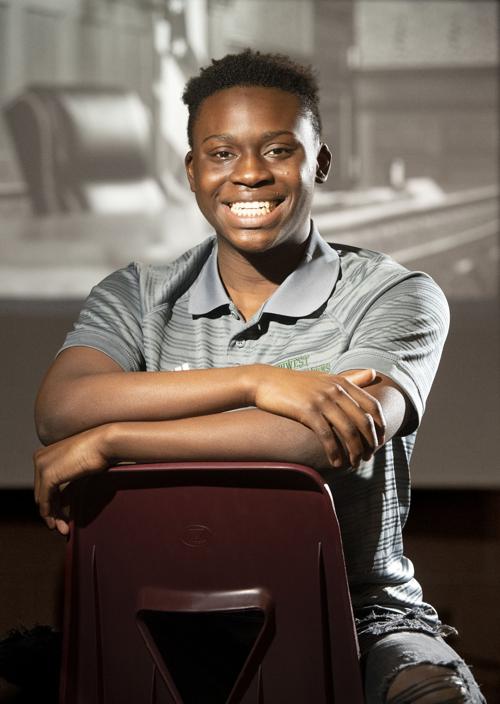 When Daniel Turner steps onto the dais, for a moment he is not the Lincoln Southwest High School junior with a knack for public speaking, but an attorney standing in a packed Alabama courthouse.
The 18-year-old pauses for a moment, settles his feet. Then the words start flowing as he raises his hands, looks around the room.
It's easy to see this case as one man trying to prove his innocence.
But when you put a Black man and you put him on death row a year before his trial ...
And excluded Black people from serving on his jury ...
Turner is in the Lincoln Public Schools board room last Tuesday rehearsing a monologue from a scene in one of his favorite movies, "Just Mercy."
In the scene, Michael B. Jordan, who portrays real-life defense attorney Bryan Stevenson, delivers a passionate closing statement asking a judge to overturn the wrongful murder conviction of Walter McMillian — played by Jamie Foxx.
When any evidence proving his innocence is suppressed and anyone who tries to tell the truth is threatened, this case becomes more than the trial of just a single defendant ...
It becomes a test of whether we're going to be governed by fear and by anger, or by the rule of law.
McMillian's appeal was successful, and in 1993, he walked free.
Turner doesn't know how many times he's watched the speech that he'll deliver Jan. 17 during the 27th annual Martin Luther King Jr. Youth Rally and March, which will be presented virtually for a second straight year because of the coronavirus pandemic.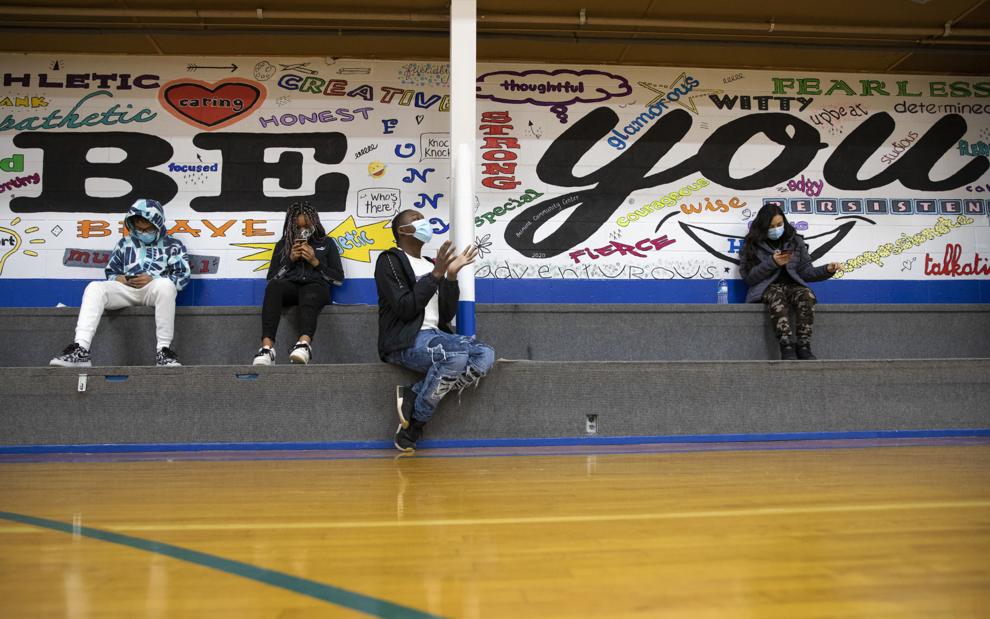 He's watched speeches by King and John Lewis, studied the way they spoke. He's absorbed the collective mood of a nation healing from the wounds of racial injustice and protests. He's plumbed the depths of his own soul, the experiences he's had growing up Black.
Like when he worked at a Walmart during the protests and riots following the police killing of George Floyd in May 2020.
"I was scared to death because I was a Black man working at a white Walmart," he said. "I remember all the eyes and the looks I was getting that day.
"All I could think about is like George Floyd, it could be me." 
He's put his own spin on the speech. He mentions Floyd, Emmett Till, Breonna Taylor, the Central Park Five, "all little Black, Hispanic, Asian and Native boys and girls of promise," who like McMillian, faced injustice.
"I'm bringing the feeling of what we had to survive through two years ago and what we're going to go through today," he said. 
Turner, a former Belmont Elementary School TRACKS scholar, has been involved in the MLK rally for years and has served as role model and friend to other students involved in the youth-driven program.
"What I do is, I find the joy in everybody," he said. "I find the peace and the happiness. Because not a lot of people can see that through someone's heart. But I can see. Why sit there in complete silence when you can sit next to that person and crack a joke?"
The rally was the brainchild of late civil rights activist Leola Bullock, who wanted to make Martin Luther King Jr. Day a day of empowerment for young people in Lincoln. 
The program — which features reflections, speeches, music and a call to action toward "civility, justice, equity and kindness" — is entirely youth-driven. Adults, like Pete Ferguson and Jake Kirkland Jr., serve as advisers, helping continue the legacy of Bullock through the students' own voices.
"Many of our young people, they leave with something more than what they came with," said Kirkland, a friend of Bullock's who's been involved since the start.
This year's theme is "Walk Together: It's Up to Us to Take the Steps." It will be livestreamed from the Nebraska Union on UNL's City Campus.
Ferguson, a youth development coordinator at LPS, has known Turner since he was a TRACKS scholar and has seen him grow as a key voice in the rally, even despite taking a year off.
"But what impressed me the most is though after that moment, he took that time, he came back," Ferguson said. "And that doesn't always happen."
Chajuana Bateman encouraged her son to get involved in the rally when he was in middle school and watched him blossom as a young person, as someone with a voice worth hearing.
His parts in the rally are more than reciting lines from memory, Bateman said.
"He's very powerful speaking," she said. "That is just a gift from God. ... I'm really proud of him."
Said Ferguson: "He has always done a phenomenal job, has always brought the house down with what he's done."
Emily Koopmann came back as an adviser after being a part of the rally herself as a student at Raymond Central. She remembers the impact the rally had on her, and now gets to see other students — like Turner — share in that experience.
"Daniel always shows up," she said. "It's so great to have a leader among leaders."
Last Tuesday, after a lunch of chili and cinnamon rolls, students involved in the rally gathered in the board room to practice their speeches. It was clear there was more work to do before the big day, more time needed to practice and memorize lines. For Turner, more chances to study that moving speech.
But there is no doubt in his mind he and his peers will be ready on Martin Luther King Jr. Day.
"When we deliver them on that day," he said, "We deliver them perfectly."
Five uplifting stories in another challenging year for schools
So long, Zoom. Hello again, masks. Schools are still adjusting to a new normal, but the resilience of teachers and students hasn't changed. K-12 education reporter Zach Hammack sums up his favorite uplifting stories from the classroom in 2021.