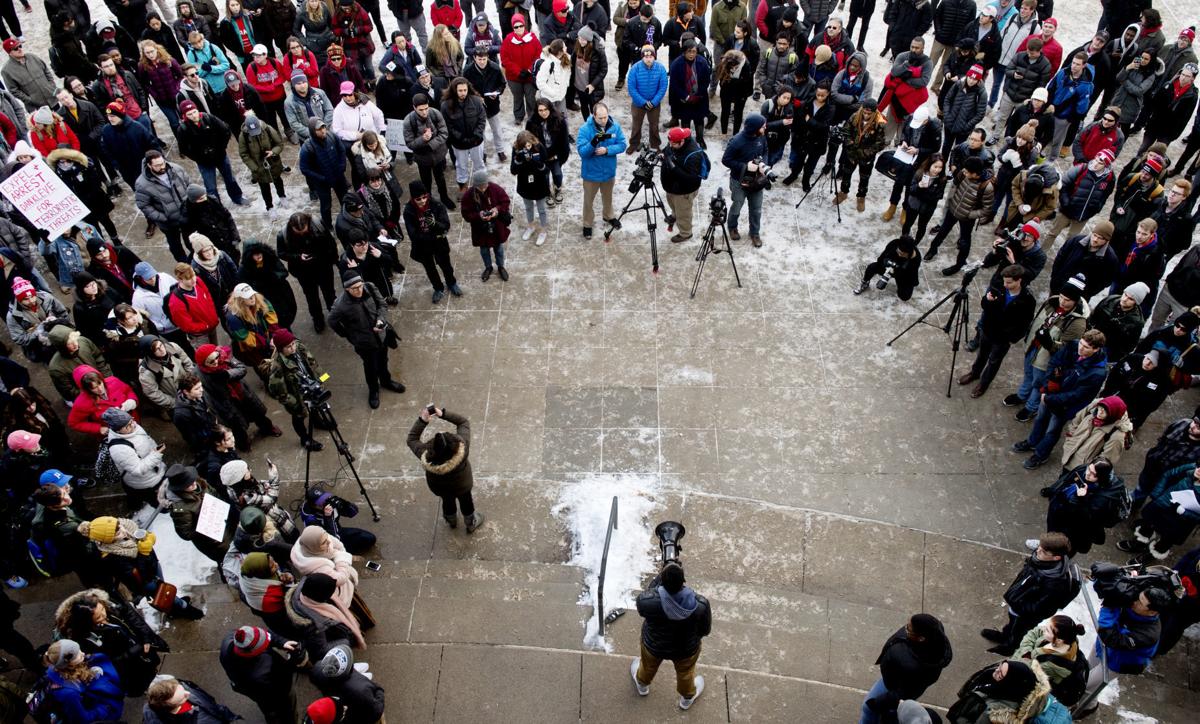 The University of Nebraska-Lincoln won't expel a student claiming to be "the most active white nationalist in the Nebraska area," Chancellor Ronnie Green said Thursday, saying UNL would respect Daniel Kleve's right to free speech.
"The student's viewpoint — however hateful and intolerant it is — is also protected by the First Amendment," Green wrote in a statement. "That is the law, even if we disagree."
UNL Police, responding to video of Kleve that surfaced earlier this week depicting him discussing his desire to commit violence in a Google Hangout with other white nationalists, said there is little evidence that students are in danger.
"We don't feel there is that threat to the campus," UNL Police Chief Owen Yardley said.
Kleve later said in another video posted to YouTube that his comments had been edited to misconstrue his meaning and that in fact he was telling other white nationalists and white supremacists to refrain from committing violence to achieve their goals.
But anger over the initial video has continued to simmer on campus this week, particularly among students of color, even as administrators and safety officials have sought to assure students that they reject Kleve's ideology and put student safety at the forefront.
On Thursday morning, a handful of administrators led by Executive Vice Chancellor Donde Plowman, hosted a listening session for students to voice their concerns, and in many cases, their frustrations at the situation.
Unek Langford bluntly asked the administrators gathered in the Kauffman Residential Center on campus if they cared about the fear that had rippled through the student community.
"I feel like we're making every excuse not to solve the issue," said the junior from Omaha. "We're going in circles, we're going around and around and around, we're not hitting the target."
Since the video of Kleve was shared on Tuesday, Langford said she had been walking around campus each day "telling my friends to be safe."
"You didn't have to do that," she added.
Other students like Bryanna Schade, a senior from North Platte, also asked about where the university would draw a line between respecting a student's right to free speech and ensuring the safety of students.
"I want you to know it's my life, it's her life, it's his life, it's our lives that are on the line," Schade said. "Is it going to take a black martyr for you to finally take action?"
Bianca Swift described a phone call she had earlier this week, where her mother living in Omaha said that despite the cold, the freshmen student shouldn't wear a coat in case she needed to flee a violent act.
Swift said she believed that had another student on campus who was of a different religion or race made similar statements to Kleve, "this would already be over."
Joel Waddell, a sophomore from Michigan, recited the UNL Student Code of Conduct and noted that the university has jurisdiction to sanction students for conduct determined to "adversely affect the University community, its members, its reputation or the pursuit of its objectives" both on or off campus.
He also pointed to another part of the code that prohibits: "Physical abuse, verbal abuse, threats, intimidation, harassment, coercion, and/or other conduct that threatens or unreasonably endangers the mental or physical health, safety or reputation of any person or oneself."
Referring to images showing Kleve apparently readying to strike a protester at a white nationalist rally in Charlottesville, Virginia, in August, as well as images of Kleve at a restaurant where white supremacists assaulted a biracial couple, Waddell asked when those actions would violate the student code.
A team of attorneys reviewed those incidents, but determined it did not meet the threshold needed to apply the code of conduct, said Laurie Bellows, interim vice chancellor for student affairs.
Graduate faculty said students in their classrooms have turned to them seeking assurances and advice this week.
"I have concerns, very, very grave concerns about how I or any other faculty member are to effectively create a safe learning environment for any student in my class, especially students of color who feel threatened by someone expressing these views," said Jessie Jamison, a grad student from Tennessee.
Jamison said grad students feel additional pressure following another high-profile free speech controversy at UNL last fall, when a lecturer was filmed protesting a conservative student organization and later removed from her teaching duties.
"I feel like this all being a First Amendment issue is appropriate, but you can bring up instances where First Amendment rights stop when those rights and expressions infringe on the rights of others," she added.
Plowman acknowledged graduate students are "walking a difficult line" and said she was working with other administrators to provide them additional resources.
Devanee Lasley, a graduate student from Kentucky, said one of her students told her he wasn't surprised at UNL's lack of response "because that's not the first time something like that happened here."
"And his words to me were, 'I know the university isn't going to do anything to handle it,'" Lasley said. "That hurt me."
Administrators mostly listened, allowing those present to voice their concerns or offer suggestions on how to best create a healthy and safe campus for all students in the future. A second listening session is scheduled for Friday morning.
"We want students to know that we're with you, more so than just in this room and in this thinking," said Charlie Foster, the director of the Jackie Gaughan Multicultural Center. "This is an opportunity for us to come together."