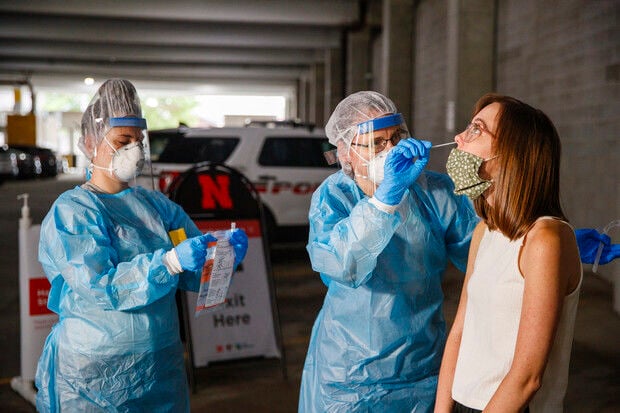 To get back to competition, the Nebraska athletic department announced Thursday it had secured 1,200 rapid antigen tests capable of telling Husker athletes if they have contracted the coronavirus within an hour.
The Big Red's testing plan, developed in conjunction with the University of Nebraska Medical Center, uses a front-of-the-nose swab to gather samples and will allow the athletic department to test entire teams in a short amount of time.
Meanwhile, the University of Nebraska-Lincoln continues to rely on the state's $27 million coronavirus testing program, Test Nebraska, to provide free COVID-19 testing for students who fall sick or may have been in contact with someone who is, as well as the Nebraska Medicine-run University Health Center.
Both testing sites available to students rely on the longer nasal swabs run through a polymerase chain reaction, which looks for traces of the virus' genetic material in samples.
But as it formed its plan to safely bring students back to campus this summer, UNL officials heard a pitch from experts on campus for a preemptive, saliva-based rapid testing option similar to what's in use at other universities across the country.
The saliva tests, which were given emergency-use authorization by the Food and Drug Administration in August, require students to simply spit in a plastic tube to be turned over to health professionals, making them less invasive than the swabs.
They can also be processed with equipment commonly found in most university labs using chemical reagents easier to obtain than those needed for the tests done by Test Nebraska.
The University of Illinois at Urbana-Champaign said the testing method has allowed it to identify students who have contracted COVID-19 within three to six hours of a test, while the University of Utah found the results were as accurate at detecting the coronavirus through nasal swabs.
Colin Meiklejohn, an assistant professor in UNL's School of Biological Sciences who studies evolutionary genetics, said a white paper about a saliva test developed by a team at the University of Colorado-Boulder caught his eye earlier this year.
The saliva test requires little more than a tube, pipettes, a heating source and an enzyme mixture that alerts the user if the virus is present by changing colors.
Colorado deployed the test to 7,500 students before they moved back to campus in mid-August as part of its "unique, multi-pronged campus surveillance program being built from the ground up" by university scientists and researchers.
Meiklejohn said he followed the approach developed by the Colorado researchers and ordered a kit from a biotech company to test its effectiveness.
The test took 60 minutes from sample to result, he said. In all, he estimated the university could administer the tests for as little as $5 and "possibly much less if things were done at scale."
Meiklejohn showed his results to Michael Herman, the director of the School of Biological Sciences, who also specializes in genetics, and explained the potential benefits of mass rapid testing, as well as the limitations of his expertise.
"I can envision the science part of the testing, because that's what I know," Meiklejohn said at the time, adding the details of how to get approvals for the test, how to pay for it, as well as how it would work in conjunction with UNL's other COVID-19 response plans would still need to be worked out.
Herman said he was sold on the idea and agreed to pitch it to administrators.
"I read this thing and I said, 'I think we can do this,'" Herman said. "We can do it using instrumentation that we have in most molecular biology labs."
If UNL could harness the machines needed to run the samples that were scattered across campus, as well as secure enough of the "easily obtained" reagents, Herman estimated the process could yield as many as 1,000 tests per day — five times the daily capacity of the Test Nebraska site on campus.
"We weren't inventing anything, just applying technology others had developed," Herman said. "We've all been concerned about testing and having adequate testing, and all of us in the community want to pitch in and help as much as we can."
But by the time Herman put the proposal in front of UNL's "Forward to Fall" planning committee in late July, including a plan to have the School of Biological Sciences and the Nebraska Center for Virology run the test samples, he found it was too late in the process.
The dean of UNL's College of Arts and Sciences, Mark Button, followed up with Amy Goodburn, senior associate vice chancellor and dean of undergraduate education, and Bob Wilhelm, the vice chancellor for research and economic development, soon after in an email obtained by the Journal Star through a public records request.
"I understand the testing protocols for campus are still in progress and I have heard you each say that you are confident that Test Nebraska will provide us with sufficient testing capacity to go along with the rest of our layered intervention strategies," Button wrote.
"I am just writing to see if you think there would be any benefit in exploring ways that (School of Biological Sciences) and (Nebraska Center for Virology) faculty might add another layer to our campus public health strategies," he added. "They certainly seem willing and eager to help."
In a reply, Goodburn said the university was nearing an agreement to bring a Test Nebraska site to campus. The state-funded program could be scaled to meet the needs of 30,000 students, faculty and staff at no extra cost to the university, a spokeswoman said.
Goodburn added UNL also hadn't received a go-ahead to do saliva testing from the health experts it relied on to build its COVID-19 response plans.
"Baseline saliva testing hasn't been recommended by (Lincoln-Lancaster County Health Department) or our UNMC consultants, but many other campuses are rolling it out so it's good to know we have expertise on this campus in case we head that direction," she wrote.
"The situation is ever evolving and it might be a possibility to explore in these changing conditions," Goodburn added.
As of Thursday, more than 3,200 students at UNL have been tested since the on-campus site opened Aug. 12, with 545 testing positive. Since classes began, UNL students have accounted for nearly half of all new cases in Lancaster County.
Chancellor Ronnie Green has said UNL is looking at how it can implement surveillance testing on campus after clusters have occurred in several Greek houses and residence hall floors, but no firm plans have been announced.
Deb Fiddelke, UNL's chief communications officer, said the university is watching the breakthroughs in various testing methods taking place across the country and will try to remain flexible in its approach to its public health guidelines as it can.
"Before we can roll something out on campus, we need to see something go from 'we really believe this can be done' to 'we absolutely know this can be done,'" she said.
Herman said the scientists and researchers on campus are willing to pitch in where they can.
"This is super important, and if we can shift gears to help out with it, we will," he said.
Milestones in state's coronavirus fight
Milestones in Lincoln and Nebraska's coronavirus fight
See the top stories on coronavirus in Lincoln and Nebraska since the pandemic first affected the area in March.
Concerned about COVID-19?
Sign up now to get the most recent coronavirus headlines and other important local and national news sent to your email inbox daily.