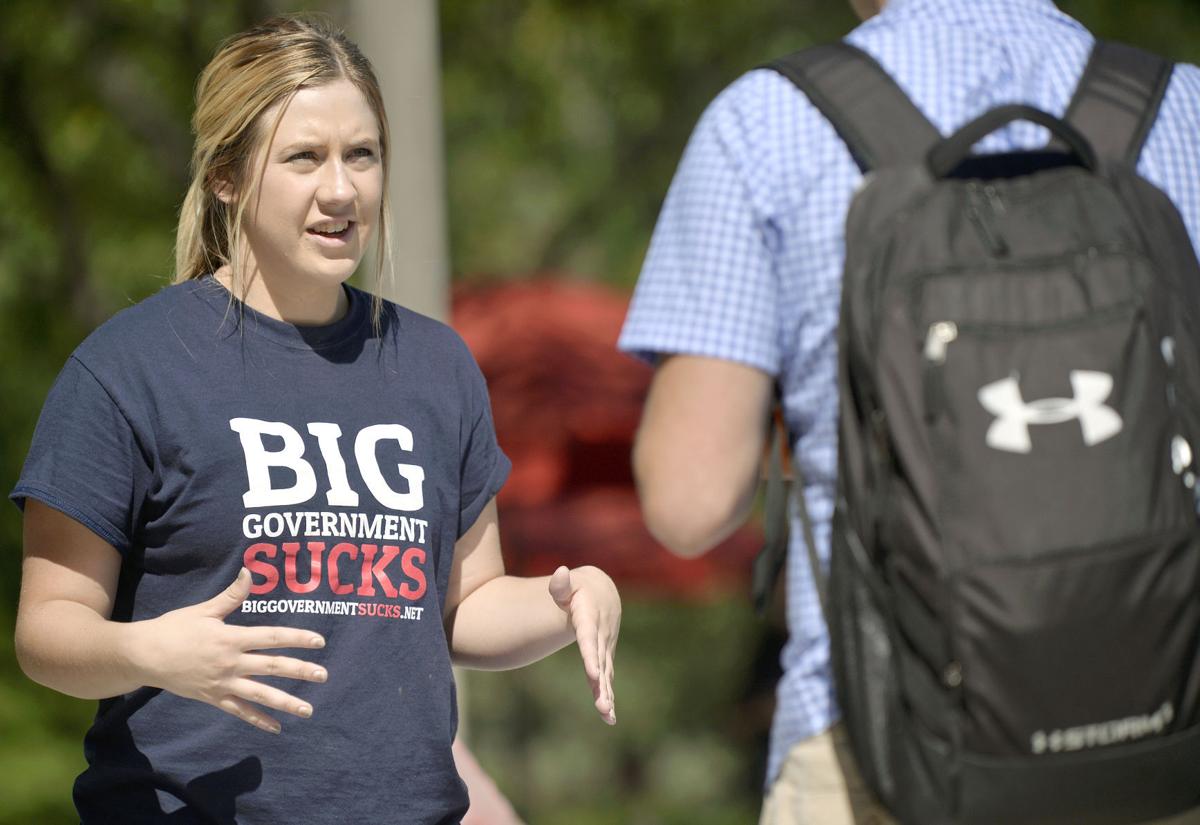 After simmering on social media and conservative news sites for a weekend, images of University of Nebraska-Lincoln employees protesting a student recruiting for Turning Point USA drew to a full boil by the following Monday.
The email inboxes of NU's top administrators began filling with indignation and disgust Aug. 28, messages aimed at a handful of university employees who protested the conservative student organization.
Thursday, UNL said it had reassigned Courtney Lawton, a graduate teaching assistant in the English department, to nonteaching duties following the school's internal investigation and external reaction to the event.
Video and photographs taken by student Kaitlyn Mullen on Aug. 25, showcasing what the sophomore said depicted harassment and intimidation by Lawton and others, were shared thousands of times on  social media accounts. 
In one of the videos, Lawton can be seen referring to Mullen as a "neo-fascist" advocating for the destruction of public schools and universities. An accompanying photo shows Lawton extending her middle finger while holding a sign that reads "Just say NO! to Neo-Fascism."
Turning Point USA, which has more than 400 college chapters in the U.S., also maintains a "Professor Watchlist" that lists faculty it says "discriminate against conservative students and advance leftist propaganda in the classroom," according to its website.
UNL spokesman Steve Smith said the university would not discuss specific actions taken against personnel, but that Lawton was reassigned "because of safety concerns raised by this incident."
"Our expectations for civility were not met by the lecturer in her behavior toward a student, and not representative of a university where the robust free exchange of ideas takes place 24 hours a day, seven days a week," he added.
The statement did not mention any other employees, although approximately six participated in the protest of Mullen's recruiting event.
Tuesday, Lawton said she met with a university administrator who told her she was being reassigned within the English department.
"Executive Vice Chancellor Donde Plowman told me I was being removed from the classroom due to a security threat to me and to my students after Turning Point USA publicized the protest and released a troll storm upon the university," Lawton said in a brief phone interview.
Lawton added the university "received many hostile emails and threats" to her safety after the Aug. 25 incident at the Nebraska Union went viral through social media.
"(Plowman) stressed to me my reassignment of duties was due to the security concerns, the social media posts, and not disciplinary in any way," Lawton said.
Thursday afternoon, Mullen responded to Lawton, saying neither she nor Turning Point USA was responsible for the emails threatening the safety of Lawton or others.
She also questioned the university's approach in reassigning Lawton for safety purposes rather than to discipline her conduct.
"I would like to make it clear that I believe that professor should not be allowed to harass students," Mullen said. "I hope UNL will set an example by removing her from campus so she can't do this to any other students."
Emails express disappointment, disgust
Emails received by NU President Hank Bounds and UNL Chancellor Ronnie Green, turned over to the Journal Star as part of a public records request, provide some context for the pressure NU found itself under following the confrontation.
One email sent to Bounds from someone who described himself as a retired U.S. naval officer chided the university in vulgar terms.
"I'll be looking for those who wrought this evil on America; every single Liberal-Communist professor and administrators of our public school system through the (National Education Association), public colleges and universities to hold you (expletive) accountable for what you've all done.
"Sic Semper Tyrannis!" it concludes, a Latin phrase meaning "thus always to tyrants!"
Others expressed disappointment and disapproval with the actions by university employees.
"I am troubled, disgusted and saddened by the treatment received yesterday by the young student at the Turning Point booth outside the student center," wrote one person, who demanded "a public apology for the behavior" on UNL's campus.
Another said that "IF" they let their children consider attending NU in the future, "they will NEVER…NEVER take a class from this instructor. Please consider this immature response her breach of contract to uphold University standards."
The emails also targeted a second UNL faculty member, Amanda Gailey, an associate professor of English who was photographed by Mullen holding a sign that read "Turning Point: Please put me on your watchlist."
The watchlist maintained by the conservative group serves to intimidate university and college faculty across the country, critics say. Some faculty ask to be put on the list as a show of solidarity.
According to an independent witness of the Aug. 25 incident, Gailey did not engage with Mullen until the student became upset.
Gailey defended herself in an email to a local TV station that was later forwarded to university administrators. "I did not harass a student. I talked with the student only to express compassion for her as a person. Any statement that I harassed a student is defamatory."
Reaction from elected leaders
State lawmakers and political advocates also voiced disapproval of the actions taken by university employees, according to the records search.
State Sen. Laura Ebke of Crete shared the news from the Turning Point USA website, as well as a tweet from its founder, conservative activist Charlie Kirk, with each of her 48 colleagues in the Nebraska Legislature on Aug. 29.
"I'm not a fan of the concept of 'free speech zones' on college campuses — I think that Universities should be a safe place for a broad exchange of ideas," Ebke wrote. "That said, I understand that in today's environment, colleges need to try and maintain some level of control over their environs."
Ebke added: "I AM concerned about the University employees/instructors being actively engaged in counter-protests against University students on campus. It seems to me that at the very best, this violates some ethical codes of conduct."
The Libertarian state senator's email was shared with Bounds' office shortly after by Sen. Tom Brewer of Gordon.
"Sir, This event is being watched very closely by the Unicameral. Please keep us updated on (what) your [sic] planning to do," Brewer wrote.
Sen. Steve Erdman of Bayard, writing in an open letter on Sept. 1, cited statements made by NU Regent Hal Daub of Omaha indicating Gailey was part of "a premeditated and organized effort to intimidate and shut down" Mullen before calling for Gailey's firing.
"Unless Amanda Gailey is fired, a double standard will exist at the University of Nebraska between students and staff and between liberals and conservatives," Erdman wrote.
Doug Kagan, president of Nebraska Taxpayers for Freedom, wrote to multiple regents on Aug. 28 that the organization "has become increasingly concerned and irate over the utilization of our tax dollars by Nebraska universities."
"We are especially irate at the conduct of some university personnel, whose salaries and benefits our tax dollars pay," Kagan wrote. "There appears a large deficit of protection for and encouragement of free speech, especially on the UN-L campus."
Kagan asked the Board of Regents to establish "a strict code of conduct with mandatory penalties" for university employees, prohibiting harassment and bullying of other employees and university students, as well as to "eliminate the tenure system, thereby making it easier to terminate employees who refuse to follow the new code of conduct."
Regents Tim Clare of Lincoln and Rob Schafer of Beatrice forwarded Kagan's email to Bounds, other regents and administrative staff.