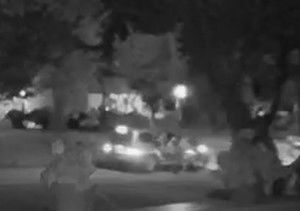 A University of Nebraska-Lincoln fraternity is under investigation for a potential "bias incident" after members were caught on camera stealing Black Lives Matter yard signs from several homes in the East Campus neighborhood last month.
Security cameras captured the scene in the early morning hours of Aug. 27 as an SUV stops in front of several homes on North 37th Street and multiple people jump out of the vehicle and scamper into front yards.
"Black lives on the left!" a male voice yells over the laughing of others, according to a video of the incident obtained by the Journal Star, as a fraternity member rushes into a yard and returns a few seconds later with a sign.
Soon after, another male voice calls out "over there!" and someone sprints across the street to steal another sign, before the SUV leaves the frame to the right.
The entire scene lasted about 1 minute and 15 seconds.
Another camera mounted in the neighborhood recorded the same SUV later pulling into the parking lot of Alpha Gamma Rho fraternity at 1420 Idylwild Drive, where several people can be seen throwing signs into a dumpster.
Neighbors found the stolen signs still in the trash the next morning.
According to Lincoln Police, which fielded multiple complaints of larceny, neighbors reported signs supporting Black Lives Matter, state Sen. Kate Bolz in her run for Nebraska's 1st congressional district, and other Democratic candidates among those that were swiped from the neighborhood.
Annie Mumgaard, who lives in the East Campus neighborhood, said political signs get taken all the time, but the video and accompanying audio shows the thieves intentionally targeting houses that backed the movement for racial justice.
Taken in a historical context, where those fighting for equality have been shouted down and intimidated — or worse — those actions can be chilling, Mumgaard said.
"There was definitely this racial overtone to it," she said. "They took these signs very much on purpose, and that's very troubling."
The next day, Aug. 28, four members of Alpha Gamma Rho went door-to-door in the neighborhood apologizing for the incident, but when questioned by Mumgaard and her husband, Curtis Olson, weren't able to articulate what they were sorry for.
"They told us they didn't remember taking the signs, or even which houses they were taking signs from, which kind of compounded the problem," Mumgaard said. "My husband and I told them, 'I don't think you have a clue how upset we are.'"
A report was later filed with UNL alleging a "bias incident" that led the Office of Fraternity and Sorority Life to address the situation in an email to Greek students earlier this week.
"The Office of Fraternity and Sorority Life has been made aware of a bias incident that occurred August 27, 2020," the email read. "Members of an organization took it upon themselves to remove political and BLM support signs from a neighborhood near campus."
The division of UNL's Office of Student Affairs said it condemned "the alleged action." 
According to the email, shared with the Journal Star, the fraternity "is working to hold those members accountable through internal processes," but the university declined to comment on student disciplinary cases.
An email to the UNL chapter president of Alpha Gamma Rho — who the fraternity calls its "noble ruler" — went unanswered.
Reached by phone, the chapter president abruptly hung up.
UNL said in its email the matter had been reported to its Office of Student Conduct and Community Standards, which is responsible for "dealing with student behavioral problems in a fair, effective manner."
The neighbors targeted by members of Alpha Gamma Rho said they hope the university doesn't sweep the incident under the rug, adding they want it to be used as a "positive educational experience" for the broader community.
Corby Renard, who lives in the neighborhood, said he grew up in a rural area like many members of Alpha Gamma Rho, "and didn't have the opportunity at a young age to learn about and appreciate diversity.
"As I went out and experienced the world, served in the Navy, traveled and lived overseas, my appreciation grew," Renard said in a text. "Hopefully, these boys are at the beginning of a similar path of discovery that we can help them along and possibly bring others as well."
Mumgaard said the response from neighbors is more than "clutching pearls to say 'How dare you walk on our lawn and take something from us.'"
Many residents of the neighborhood truly believe in the fight for equality and want to do more to fight racial injustice than simply having a sign in their yards, both Mumgaard and Renard said.
Instead, they want the fraternity members and others to understand why Black Lives Matter is so important to them and others.
"When I put the sign in our yard, I was told by someone that people put BLM signs up because they want to feel like they were doing something without actually doing anything," Renard said. "I don't want that to be the case."