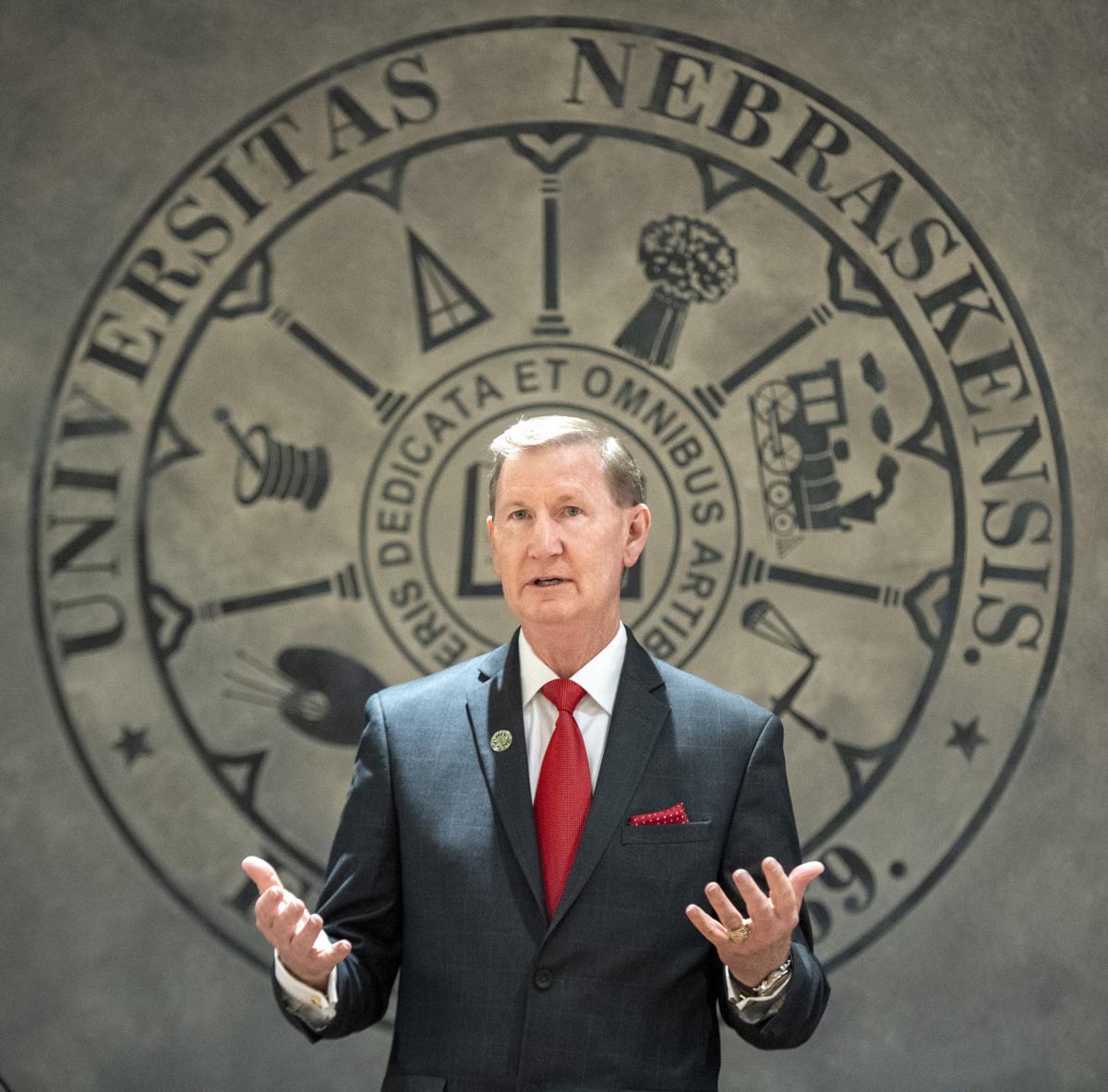 The University of Nebraska Board of Regents spent much of the summer and fall signaling it intended to make the next system president one of the highest-paid public university administrators in the country.
On Dec. 5, when regents meet to consider a five-year contract with Ted Carter, their priority candidate to become NU's eighth president, the board appears poised to fulfill that promise.
Carter will be paid a base salary of $934,600, according to details of his proposed contract made public Wednesday — a more than 70% increase in base pay compared with his predecessor, Hank Bounds, who was earning a base salary of $540,000 when he left NU.
Regents can also award Carter a performance bonus totaling as much as 15% of his base salary at the end of each year, meaning the former superintendent of the U.S. Naval Academy could see an additional $140,000 in pay each year, according to the proposed contract.
Board of Regents Chairman Tim Clare of Lincoln said the bonus will only be awarded if Carter meets what he described as "rigorous, robust metrics that advance the university and improve the student and faculty experience."
"If he hits those metrics, then he'll get the extra compensation," Clare said, adding regents have not yet finalized what performance standards the presumptive next NU president will need to meet.
The board has a strategic framework that illustrates systemwide goals for enrollment, graduation rates and other data points, but the metrics will go beyond those figures, he said.
Finally, like it did with Bounds, the NU Foundation will set aside an amount equal to 11.5% of Carter's base salary — a little more than $107,000 annually — into a separate account that can be paid out at the end of a minimum of three years' service.
In all, Carter's base pay and bonus — paid from a combination of state appropriations and tuition dollars and the deferred-payment plan paid through private sources — will near $1.2 million.
You have free articles remaining.
Taken together, the proposed contract could put Carter at the top of the $800,000 to $1.2 million range outlined by regents and the search firm hired to aid in the process earlier this summer.
Clare said the increased compensation package comes amid changes in higher education in the last five years when NU was last in the hunt for a system president.
"Compensation structures have changed," he said. "To attract top talent that can help benefit the whole university system, this is what it costs anymore."
If regents approve the contract with Carter next week, he would become president-elect Dec. 16 and start as president Jan. 1, per the draft contract that extends through Dec. 24, 2024.
The vote to make Carter president could instantly propel the leader of NU's four campuses from just inside the top 100 highest-paid public university presidents to inside the top 10.
According to a survey of administrator pay and perks published earlier this year by The Chronicle of Higher Education, Carter's total compensation would slot him just behind No. 7 Robert Duncan, chancellor of the Texas Tech University system who earns $1.35 million, and No. 8 G.P. Peterson, president of the Georgia Institute of Technology, who makes $1.24 million.
While Carter's base pay would still fall behind Jeff Gold, who earns $972,405 as chancellor of both the University of Nebraska Medical Center and the University of Nebraska at Omaha, the total terms of Carter's proposed contract would move Carter behind Husker Athletic Director Bill Moos to become the fourth-highest-paid employee at NU and in the state. Football coach Scott Frost makes $5 million a year, while men's basketball coach Fred Hoiberg is slated to make $2.5 million this year.
Carter, 60, like other NU academic and athletic leaders, will also receive benefits from private sources to augment his total compensation and deferred-payment package.
He and his wife, Lynda, will also be provided a home at 9300 Tuscan Court near Firethorn Golf Club, a property valued at more than $880,000 owned by the NU Foundation, and a country club membership of his choosing, according to the contract.
The regents' meeting is scheduled to begin at 9 a.m. Dec. 5 in the Varner Hall board room at 3835 Holdrege St.