Recognize this black-and-white photo? I didn't, and I am embarrassed to admit that.
I had forgotten the story of Ruby Bridges, and that's not OK.
Pete Ferguson, a Lincoln superstar when it comes to helping kids and educating all of us on relationships, did a presentation for the Food Bank of Lincoln staff on "the power of a relationship even when there are numerous barriers."
He showed the 1960 photo and asked if it rang any bells. It rang a couple, but not enough. We need to all remember how young Ruby answered the school bell at William Frantz Elementary in New Orleans.
Despite loud protests with awful slurs and threats and horrible signs and symbols – a black baby in a coffin, for one – Ruby went to school every day, escorted by U.S. marshals.
She was 6. In a class of 1.
A class of 1 – every day, for an entire school year, because white parents would not allow their children to share a classroom with Ruby.
Think about it. Think about the excuses our kids use to miss school. Upset tummy. Sore throat. Can you imagine the courage this girl had to get up and go to school every day?
There is much more to the story, and there are other heroes:
Ruby's parents. Barbara Henry, the white teacher and only teacher who would accept Ruby. And Robert Coles, a child psychologist who worked with Ruby.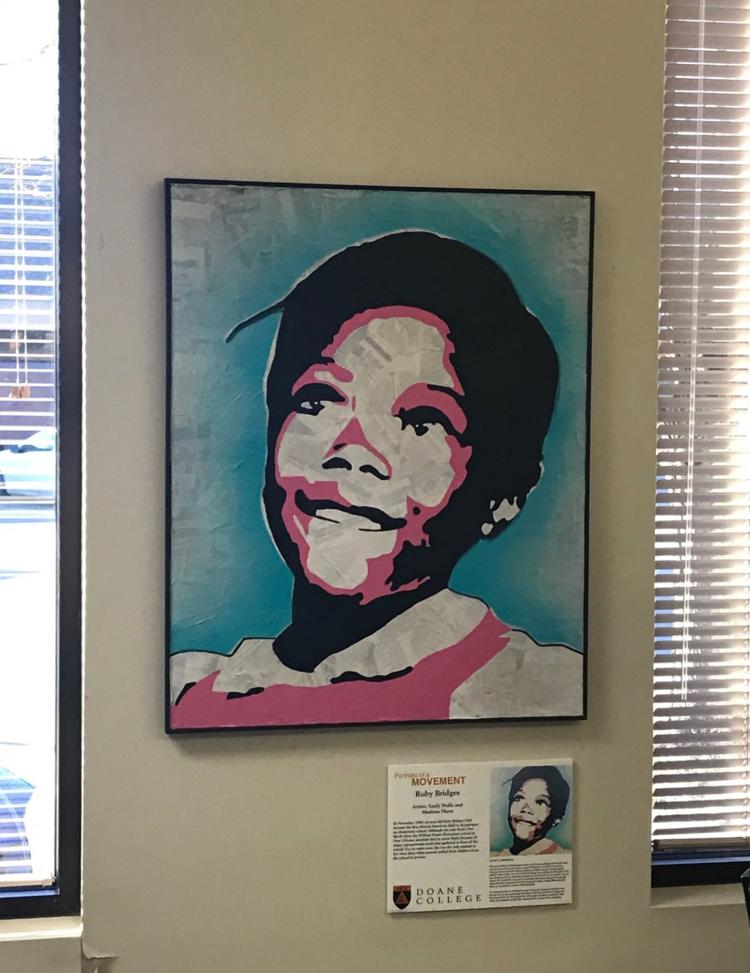 It's a story that inspired Schoo Middle School students Madison Hurst and Emily Wolfe, in 2014, to paint a portrait of Bridges that currently hangs on a wall at the Doane University-Lincoln campus in the Master of Education Programs Building.
The eighth-grade art project, which raised funds and awareness for the Rev. Dr. Martin Luther King Jr. Youth Rally and March, featured several portraits designed to illustrate the struggle for racial and social justice. Norman Rockwell, who did a famous painting of Bridges in 1964, would have been proud.
Doane education professor Dr. Marilyn Johnson-Farr was a key figure in making it happen, along with Ferguson and art teacher Adam Schwaninger and Team Schoo. At the time, Johnson-Farr said:
"We are thrilled to have these fine works of art displayed at Doane College. The portraits will enrich the climate at Doane as we strive to become more inclusive and equitable."
We need to all strive in that way, and not just on Martin Luther King Jr. Day and not just during Black History Month (February).
Ferguson does his part by organizing the annual Rev. Dr. Martin Luther King Jr. Youth Rally and March. He will tell you it's not him; that it's the young scholars from our schools who do all the work. But Pete provides a great coach and mentor in this effort.
"It's a unique showcase," Ferguson said, "that will inspire, educate and entertain while promoting the life and 'dreams' of the late Rev. Dr. Martin Luther King Jr. and Dr. Leola Bullock through positive youth action."
Bullock, who founded the youth rally and march, died in 2010, leaving behind a remarkable legacy of inspiration. She, too, is featured in the Doane portrait collection.
As for Bridges, she is still going strong at age 64. She leads the work of the Ruby Bridges Foundation, created to give kids an equal opportunity to succeed and to promote cultural understanding.
Bridges, during a speech in 2014, said:
"I believe history is sacred, and none of us has the right to change or alter history in any way. Our children need to know that white folks and black folks, men and women, young and old, rich and poor, they stood together, they marched together, they rode buses together, they were beaten together, and in some cases, were murdered and even buried together. All for what was just and right."
We need to keep standing and marching together.