Lindsay Hartmann didn't become a teacher right away.
She didn't want to go into the profession because it was expected of her, to blindly follow in the footsteps of the mom and grandpa who spent their careers as educators.
She wanted to go into teaching because it was the right place for her to be — her own passion and calling.
And she wasn't sure, so she dabbled in computer programming after graduating from Pius X, then managed a Valentino's, having worked her way up from the job she'd landed when she was 16.
But the teaching profession kept beckoning.
And so she acquiesced, earning a teaching degree from the University of Nebraska-Lincoln and landing a job at St. Patrick's Catholic School in northeast Lincoln six years ago.
Turns out it was a good decision, given the events that unfolded at the Tuesday assembly in the school gymnasium, a surprise announcement at an Oscar-worthy event, minus the evening gowns.
Hartmann, who teaches middle school science and literature, won the prestigious Milken Educator Award, given to teachers in early-to-mid-career for their achievements and their promise.
Begun in 1987 by the Milken Foundation, the award recognizes educators as a way to highlight the critical role teachers play in a student's education. 
Actors have the Oscars, athletes have MVP awards, scientists and writers and economists have the Nobel Prize, Jane Foley, senior vice president of the awards program, told St. Patrick's students. 
The Milken Award is for teachers, a major determiner of student success in education, which plays a critical role in society.
"Educators have the most important job in the country because they're preparing you for the future," Foley said.
The award comes with a $25,000 prize and membership in the National Milken Educator Network, a group of more than 2,700 teachers, principals and specialists dedicated to strengthening education. Hartmann will attend a forum in Indianapolis in March with other winners from across the country. She is the only Nebraska winner this year.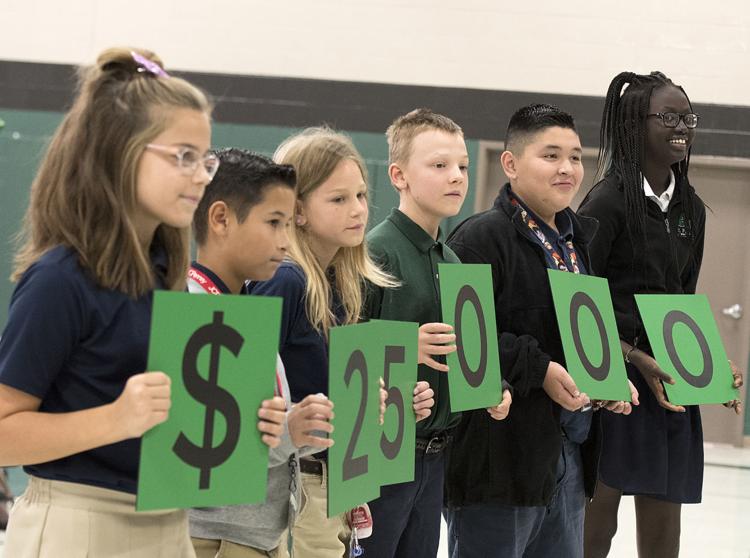 Teachers don't apply for the award but go through a confidential selection process and are reviewed by a panel appointed by the state departments of education.
All of which is to say, Hartmann was surprised that the state's dignitaries and past Milken winners filling the gymnasium were there for her.
You have free articles remaining.
"This is truly unexpected," Hartmann said. "I come to school to teach students, not to get a $25,000 check."
Hartmann said the award highlights the other amazing teachers at St. Patrick's and she told the students they're the reason she walks through the door each day.
"You make it worth coming here," she said. "This is a small-but-mighty school."
Hartmann teaches science and English, two subjects she believes have more in common than many people think.
Both require high-level thinking, and the same reading strategies come into play in the study of science, she said.
She developed the school's annual science fair and lets students guide class discussions. She uses hands-on learning — including her own hands, which are expert at juggling, a skill she uses to demonstrate different types of energy in class.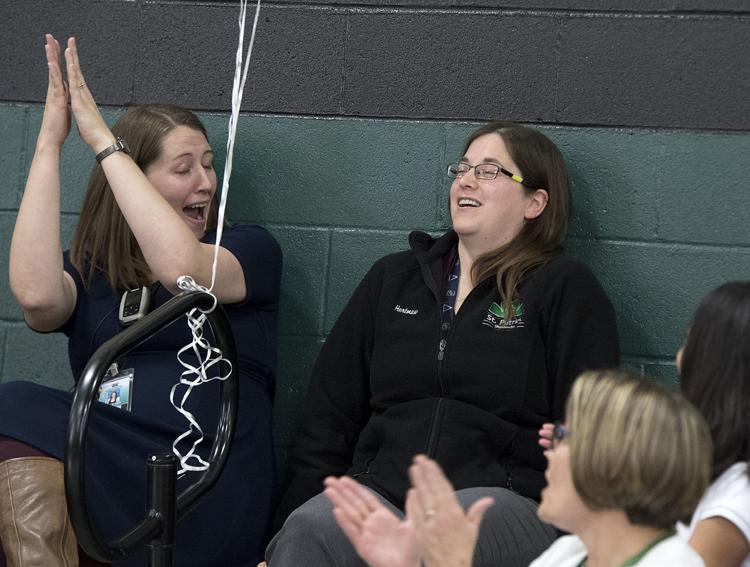 She mentors new teachers and founded a reading mentor program that pairs middle school students with struggling readers in kindergarten and first grade.
That's one of her favorite programs, she said, because it builds confidence in older students, and younger students see their older classmates invest in them and in education.
"It's cool to see the relationships develop," she said.
She helped develop the diocese's English Language Arts curriculum and helps teachers integrate technology in the classroom. She founded an after-school coding club and took a St. Patrick's team to the National Geographic Geo-Challenge's regional competition.
She organizes the school's biggest annual fundraiser, coordinates the eighth grade promotion ceremony and takes those eighth graders to visit UNL.
Her work has paid off: Her students' test scores in science, vocabulary and reading rose 20% or more between sixth and eighth grades.
And those students were pretty excited for the teacher who wears funny science T-shirts, gives hard (but fair) tests and is willing to help by putting some of the formulas on the whiteboard.
"She understands us," said Julian Evans, an eighth grader.
Noah Philson, who likes his teacher's affinity for jokes, agreed with Evans and is glad she won.
"I think she deserves it," he said.