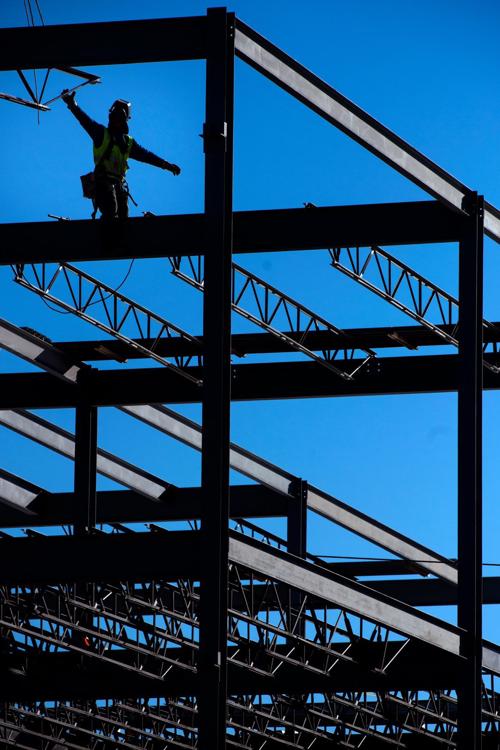 The first tenant for the newest building at Nebraska Innovation Campus will be a South Korean animal food manufacturer and distributor, campus officials said Tuesday.
Sunseo Omega 3, which has leased an office at Innovation Campus since January, will open its U.S. headquarters in the Rise Building when the previously unnamed 80,000-square-foot facility opens in August.
Dan Duncan, executive director at Innovation Campus, said the move came about as Sunseo Omega 3 continued to show more interest in opening a Lincoln office.
"They've been ramping up operations faster than we thought they might," Duncan said.
Seungho Shin, the company's chairman, said Sunseo Omega 3 hopes to partner with the University of Nebraska-Lincoln's relationships within the business market in launching a new brand of livestock feed.
You have free articles remaining.
"We are aiming to launch a premium brand that is high in omega-3 content," Shin said in a statement.
While the company plans to lease office space only, part of its plan to headquarter on the site of the former State Fairgrounds will be conducting research alongside animal science faculty at UNL.
Duncan said Sunseo Omega 3 plans to start a dairy and beef cattle feeding trial this summer, followed by a swine feeding trial in the fall.
Sunseo Omega 3 is known as Green Grass Co. in South Korea, where it supplies a balanced feed mixture of omega-3 and omega-6 to 200,000 hogs and 125,000 dairy cows.
Existing partnerships between Nebraska and South Korea have been an effective recruiting tool for luring companies to Innovation Campus, Duncan said.
Nebraska exported an estimated $500 million in beef, corn and other commodities to the Asian country in 2016, and Duncan was part of a trade delegation that met with South Korean companies in Seoul earlier this year.
Innovation Campus has also partnered with Gilmo Yang, director of the Foundation of Agri, Tech, Commercialization and Transfer based in South Korea, which has helped Nebraska develop partnerships there, Duncan said.