On a wintry afternoon, Vickie Neilly's first-grade class stares at an image of a largely empty yard 170 miles northwest of Riley Elementary School, trying to get the attention of a very round goat in the corner of the screen.
With the webcam's microphone on, they coordinate their efforts.
Blue is oblivious, either because the cold makes the webcam technology sluggish or because she's more intent on the hay she's munching at her home in Burwell.
The first-graders are undeterred. They know these goats, especially the ones not in the picture at the moment, and their teacher tells them that Riley — the baby goat named for their school — often comes running when her owners call her name.
They try that, in unison.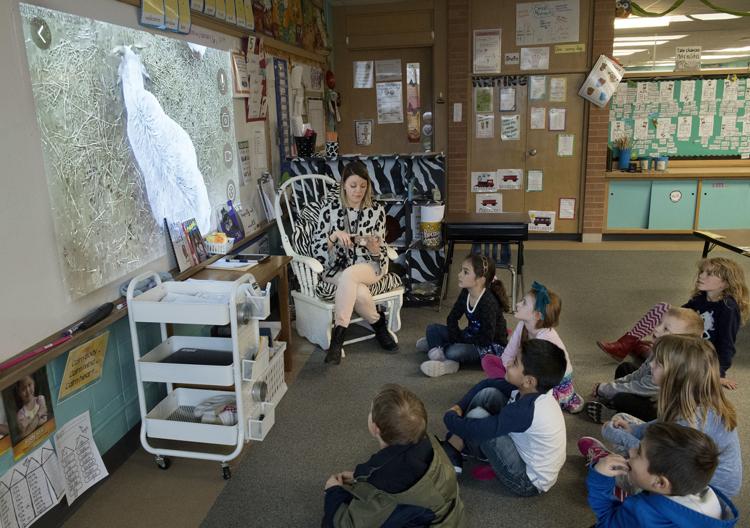 Riley doesn't appear, but that's OK, because the webcam will be there tomorrow and they can check in on a rarity in the world of goats: a mommy who gave birth to quintuplets.
That happens once in every 10,000 births, which nobody in Burwell or Riley Elementary knew until it happened Jan. 22 under the watchful eye of 14 first-graders who are learning about life cycles in real time.
The story of how the kids in Lincoln got to know the kids in Burwell starts with their teacher, who grew up in the Sandhills town and whose brother — and his goats — still live there.
"I'm fortunate to have a brother that farms and is a techie," Neilly said.
Jerome Zulkoski has been raising goats since he and his family returned to Burwell about five years ago. He's a telephone and internet technician by day and decided last year to install webcams so he could check on his pregnant goats at work and without having to trudge outside at night.
Then he suggested maybe his sister's class might like to watch the kids, too.
Neilly thought her brothers' kids (the furry kind) would be a perfect vehicle to teach her kids (the nonfurry kind) about life cycles — one of the topics covered in first grade these days.
"This has been a great experience because it's right here in Nebraska," Neilly said. "Most kids haven't been on a farm."
They love seeing the newborn babies, want to know what they eat and where they sleep. They've gotten to know the Zulkoskis' cat and dog — and the adult goats, including Blue. Last year, they also got to check on the chickens laying eggs.
This year, Zulkoski has 27 goats, 23 of whom were pregnant a couple of weeks ago. On Jan. 22, when he checked in, one of the does had given birth to a kid. When the Riley first-graders checked in, the same goat had given birth to three. Two more would follow. They are all females.
"I honestly didn't think too much of it," Zulkoski said. "Then I got to talking to people who said that's pretty unheard of." They did some research and found out just how rare — and they couldn't find any instances of quintuplets of the same sex.
Because it's so unusual, each of Riley's three first-grade classes got to name one. They chose the white ones, and voted on names, narrowing them down, vote by vote.
There's Lulu (which means pearl), Miracle and Snow White. Neilly named a fourth one Riley, after their school. Zulkoski named the fifth Callie, because of her calico coloring.
The Zulkoskis — who now have another 20 new babies — will keep some, give some to 4-Hers and sell others.
The students at Riley will keep watching from afar. 
Neilly uses other webcams to watch animals in Africa and at the San Diego Zoo, but something about the connection to Nebraska and her family is special.
The experience offers lots of lessons, those directly tied to the curriculum — learning the long O sound in doe, for instance — but broader ones, too.
Last year, one of Neilly's students, an English language learner who rarely spoke in class, loved those goats. She'd grab the microphone and yell "Hi, Blue!"
"She found her voice," Neilly said.
And this year, Lulu and Snow White and Miracle and Callie and Riley have injected a little fun into a busy first-grade year.
"I hope this is what the kids will remember," she said.