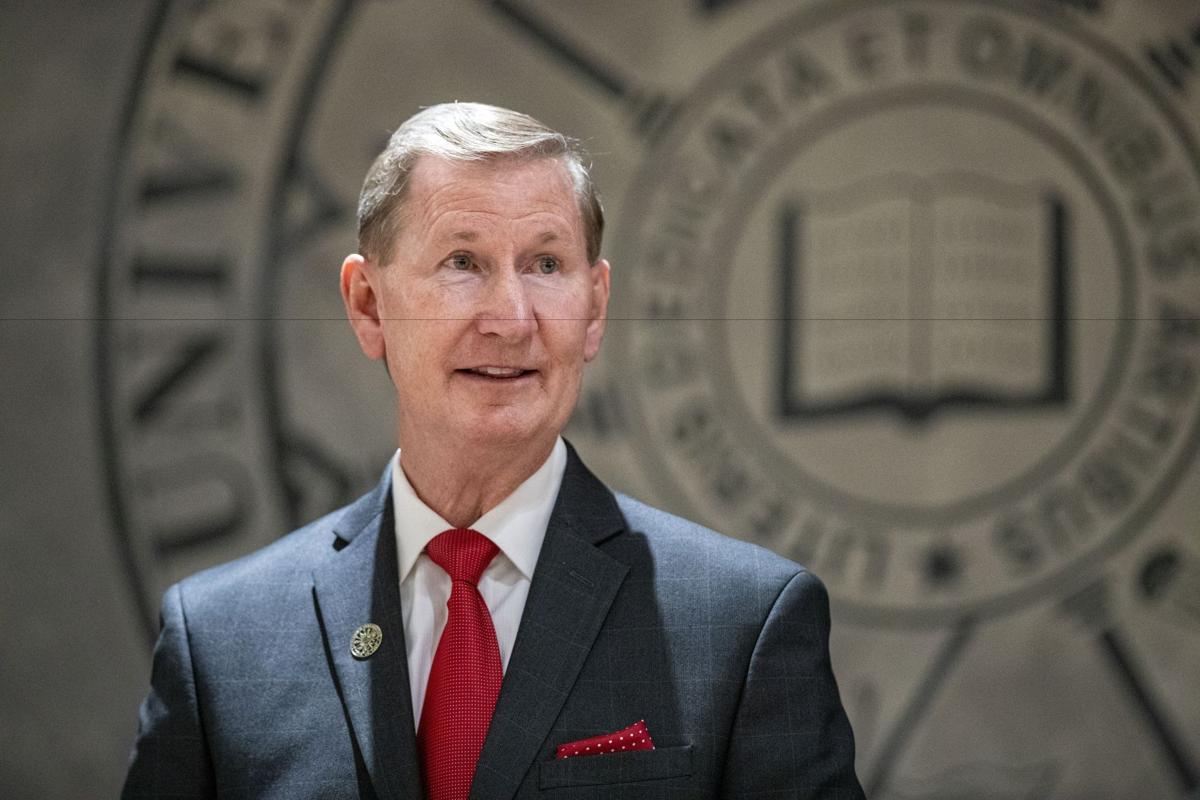 Ted Carter barely settled in as president of the University of Nebraska before the coronavirus upended higher education across the U.S. in March 2020.
The NU Board of Regents — Carter's boss — will consider at its Aug. 13 meeting the job he's done leading the university system through the pandemic.
A performance bonus of more than $140,000 hangs in the balance.
Along with a base salary of $934,600, regents opted to offer Carter a performance bonus equal to 15% of his total salary when they hired the former superintendent of the U.S. Naval Academy in 2019.
The bonus is based on Carter's progress toward each of eight "Core Leadership Pillars" set by the board.
In a July 29 memo to the board reviewing his accomplishments over the previous 18 months, Carter said he was "filled with energy and optimism about the future of the University of Nebraska System."
"We are emerging from a global pandemic in a position of strength — a great credit to your leadership and the incredible efforts of the chancellors, vice presidents, and leaders across our university," Carter wrote.
As part of his memo, NU's eighth president outlined the five-year strategic plan he unveiled a year ago, the launch of a $400 million deferred maintenance program, increased enrollment despite the pandemic and a boost in research funding.
Carter also pointed to a close and collaborative relationship he has formed with Gov. Pete Ricketts and members of the Nebraska Legislature, a 2% boost in state appropriations in each of the next two years and increased engagement both nationally and globally.
According to the regents' agenda, Carter met 95% of the benchmarks set by the board, which means he'll pocket a $140,190 bonus this year.
Both the base pay and performance bonus are paid from NU's state-aided budget, which is funded through state appropriations and tuition paid by students.
The Legislature approved a 2% increase in state appropriations to NU this year; meanwhile regents held tuition steady for the next two years.
Carter, who is now in his second year leading NU, also earns a privately-funded deferred compensation package equal to 11.5% of his base salary that he can begin collecting after serving three years of his five-year contract.
In all, Carter's total annual compensation could reach $1.2 million, which puts him among the highest-paid executives in higher education across the country.
Regents will also consider:
* A resolution from Regent Jim Pillen of Columbus, who is also running for governor in 2022, calling on the board to oppose "any imposition of critical race theory in curriculum" at NU.
The board will hold a public comment period before the vote; more than a dozen people have already signed up to speak.
Pillen's resolution comes after another gubernatorial candidate — Charles Herbster of Falls City — criticized the second-term regent earlier this summer.
Administrators, faculty and student-athletes have criticized the move; conservatives have lauded Pillen for introducing it.
* Reappointing Tom Henning and Dana Bradford to three-year terms on the Nebraska Innovation Campus Development Corporation Board.