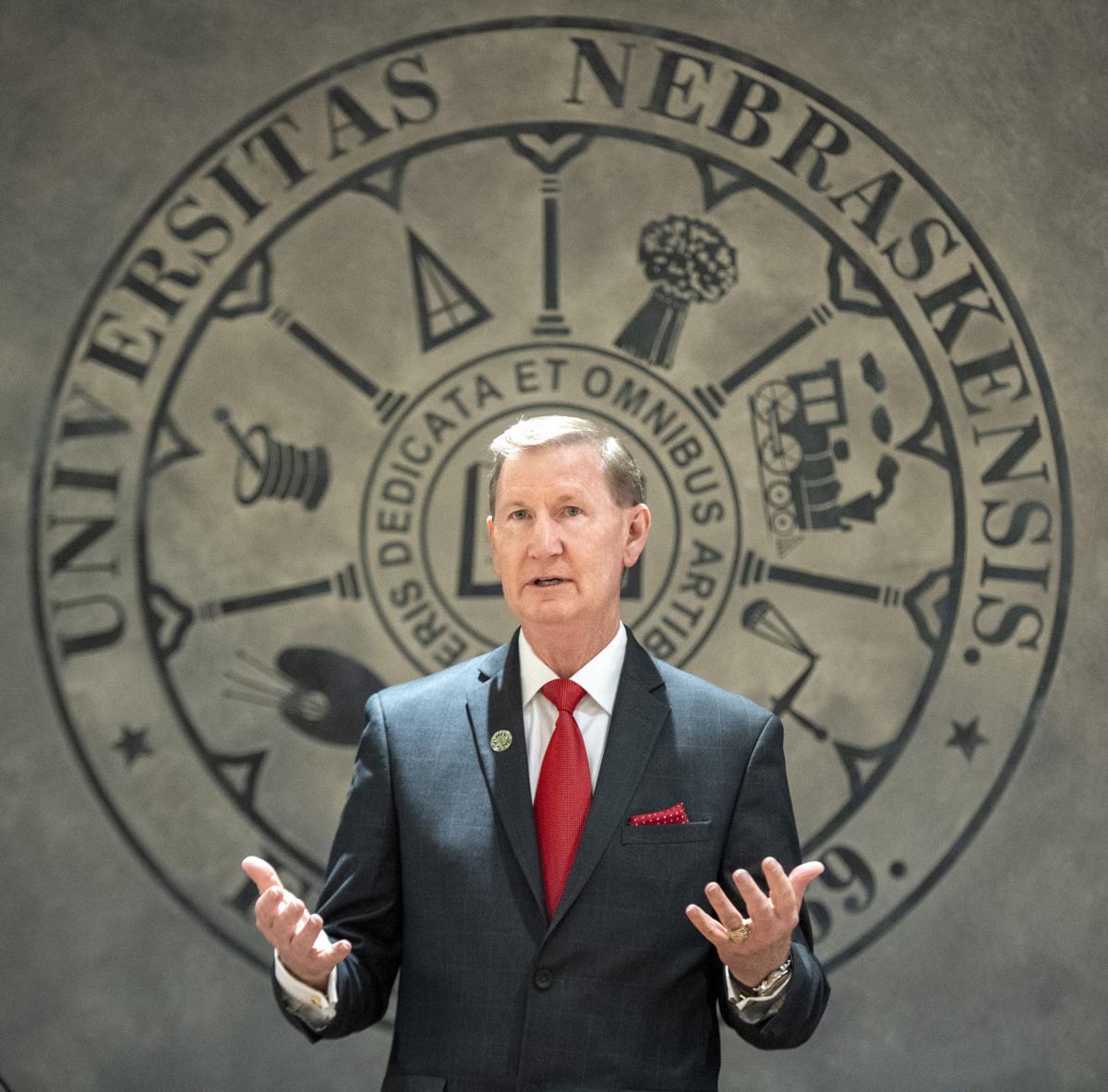 At the end of a nationwide search, dozens of closed-door meetings and public listening sessions, as well as a 30-day vetting period required by state law, the University of Nebraska Board of Regents got its guy.
On Jan. 1, Carter will become the eighth president of the university system with 51,000 students, 16,000 employees, a $2.6 billion annual budget and a presence in every county in the Cornhusker State.
"We've been overwhelmed by the support and the people we've met and excited by the opportunity," said Carter, 60, who will be joined in Nebraska by his wife, Lynda. "I'm ready to get started."
NU will pay Carter a base salary of $934,600 — or more than 70% more than his predecessor, Hank Bounds — and, if he meets certain benchmarks yet to be determined by regents, a performance bonus of around $140,000, equal to 15% of his annual salary.
The base pay and performance bonus are set to come from NU's state-aided budget, which is funded through state appropriations and tuition revenue charged to students.
Regents also offered Carter a deferred compensation package equal to 11.5% of his base salary, money from private donations totaling $107,000 he can begin to collect after serving three years of his five-year contract at NU.
The terms of the contract led one regent to split from giving Carter unanimous approval. His hiring, which came after a closed session lasting nearly an hour and a half, still sailed through on a 7-to-1 vote.
Regent Elizabeth O'Connor of Omaha said while she has "the utmost faith" in Carter and believes "good leadership is expensive," added approving the contract's terms would raise difficult questions in the future for university leaders about how they allocate resources.
"In an ideal world, the state would have all the funding that it needed, the university would have all of its initiatives funded, we wouldn't have needed to create a budget reduction task force, lay off workers, raise tuition, limit scholarships or defer maintenance," she said.
"Unfortunately, that's not the reality we're living in or the future we're looking toward," O'Connor added. "We've had to make several hard decisions in the last two years."
O'Connor cited NU's reliance upon adjunct faculty and not tenure-track professors, the number of students struggling to make tuition payments, and an uncertain economic outlook for Nebraska as the reason she cast a "no" vote.
Some of O'Connor's comments echoed those of Kevin Hanrahan, president of the Faculty Senate at the University of Nebraska-Lincoln, who spoke on behalf of the land-grant university's faculty during the public comment period earlier in Thursday's meeting.
On Thursday, Hanrahan said UNL's faculty were concerned the new NU president's salary would be 39% higher than the average salary of top leaders in comparable university systems in Colorado, Illinois, Missouri, Oregon, Tennessee, Wisconsin and at Texas A&M.
"First, why is the system president being paid nearly 40% more than the system peers, while UNL faculty are being paid well below their peers?" Hanrahan asked. "Second, why is the president's salary so significantly disproportional, by a factor of more than 10, to that of the faculty?"
Carter, who tuned into Thursday's meeting remotely from his home in Virginia, said afterwards he respected and understood the concerns raised by O'Connor and Hanrahan: "There are some things I need to listen to and learn."
The compensation package regents offered to Carter as they closed in on the end of the vetting period was in line with what the board had advertised as far back as July when they said the next NU president could fetch between $800,000 and $1.2 million.
Before taking a vote on Thursday, several regents defended that choice as necessary to secure the best leader possible in a competitive higher education landscape.
Regent Tim Clare of Lincoln, the board's chairman, said Carter's hiring comes at "a critical moment in the history of the University of Nebraska and our state."
"We think the University of Nebraska should be competing with and leading the very best universities in the country. Nebraskans deserve no less," Clare added. "Ted Carter, in my opinion, is the person who will lead us into that future."
Clare said Carter's student-centric approach, integrity and character, communication and leadership skills earned him the unanimous recommendation of the 23-member search committee regents convened to hunt for a new president.
And while Thursday's vote was not unanimous, Carter was chosen as the board's priority candidate on an 8-to-0 vote in October, Clare said.
Regent Rob Schafer of Beatrice said Nebraskans should consider Carter's compensation package against those the university has offered to leadership and coaches in the Husker Athletics office and ask themselves who has a greater impact on the state.
Those expectations have yet to be set, said Regent Jim Pillen of Columbus, who chaired the search committee. But he's confident Carter will be able to meet them.
"Ted's been all in since the day he became priority candidate," Pillen said. "This is a high calling for him to be here."
Be the first to know
Get local news delivered to your inbox!