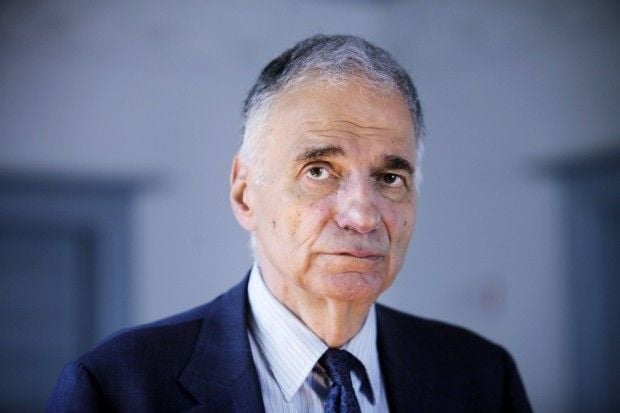 PERU — Longtime consumer advocate Ralph Nader urged Peru State College students Monday night to get involved in government and hold their leaders accountable.
"If you don't turn on to politics, politics is going to turn on you," he said.
Nader, former Green Party presidential candidate, spoke in place of Anthony Shadid, New York Times Beirut Bureau Chief and two-time Pulitzer Prize-winning author, who was scheduled to give the Monday speech but died suddenly while on assignment in Syria. Nader is a friend of the Shadid family and spoke fondly of Shadid, whom he described as a journalist who managed to change the way people think about the Middle East.
Nader spoke at length about the "military industrial complex," and blamed large private defense contractors such as Lockheed Martin and General Dynamics for convincing politicians that war is the only option.
"They have enormous influence in Congress," he said.
He said America spends $800 billion each year -- about half the federal budget -- on defense despite having no credible threats in the world. He said the U.S. government, especially the White House, has failed to follow the Constitution by repeatedly attacking countries without Congressional approval.
He said the United States needs to spend more money on humanitarian efforts, which he said would build good will around the world far more effectively than military intervention has.
"Our foreign policy is now a military policy overwhelmingly," he said.
Americans feel more and more like they're losing control and have begun to disengage in politics, with just 50 percent of Americans voting in presidential elections and 38 percent voting in congressional elections, Nader said.
And parents are surrendering control of their children to corporations, which continuously market products to children through television and the Internet, he said.
The country needs to tax corporations and Wall Street speculators to a much higher degree, he said, rather than forcing the middle and lower classes to pay for such costly and needless wars. U.S. politicians also must begin focusing on real threats, such as deadly viruses and diseases that are spreading throughout the world, as well as on poverty and hunger, he said.
"All they talk about is terror, 9/11," Nader said. "The most important issues aren't discussed."
Nader blamed both Democratic and Republican leaders for America's failure to support peace and help the underprivileged. He said the Republican presidential candidates all are fighting to prove themselves to be the most military-inclined, and President Barack Obama also has shown himself to be inclined toward needless violence.
"Instead of talking about waging war, let's talk about waging peace," he said.
He urged Peru State students and faculty to start a civics skills course that would teach students how to get involved in government and influence politicians. He also urged them to start a Congress 101 course, which would require students to follow the actions of their state's congressional representatives.
"Everything starts with one person," he said. "The power is in your hands."