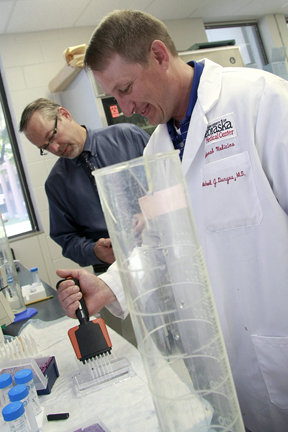 Diving deep into bacteria-eating viruses during a research project at Nebraska Wesleyan University took Carlie Pickrel to the next level of scientific pursuit.
That's when her professors encouraged her to apply for INBRE, a scholars program based at the University of Nebraska Medical Center created to build a statewide biomedical research infrastructure between undergraduate schools like Wesleyan and graduate programs.
Conceived in 2001, the opportunities afforded by INBRE gave Pickrel, a biology major and chemistry and psychology minor from York, a clear direction on her future.
During a 10-week program this summer, Pickrel researched how the Epstein-Barr virus, a herpes strain commonly found in the human body, facilitated or hampered the growth of certain cancers.
By studying cells that produced the virus, Pickrel learned how interactions between the virus and certain proteins in the cell either created favorable conditions for cancer, or stunted its growth.
One of the proteins within the cells that produce the virus is found in 30 percent to 50 percent of cancers and a third of tumors, she said.
"The goal is to figure out how to stop the virus from interacting with certain proteins," she said.
Pickrel presented her research to 23 other undergraduate students in the INBRE program, as well as other biomedical researchers, earlier this week.
Dr. Jim Turpen, associate vice chancellor for academic affairs at UNMC, the INBRE's program's director, said students like Pickrel are pushing the envelope of research being done in the state.
You have free articles remaining.
"The initial goal of the program was to develop the research capacity in the state of Nebraska," said Turpen, who teaches at UNMC's Department of Genetics, Cell Biology and Anatomy. "We focused on getting as many institutions of higher education as we could involved in the project, so no matter the undergraduate campus, students can find out if they like research."
Funded through the National Institutes of Health, INBRE is available in 24 states and Puerto Rico that are not traditionally competitive in receiving federally funded grants for scientific research, Turpen said.
"In reality, most of the states that qualify are rural states," he said. States that have been historically competitive in securing grant funding tend to have larger populations.
But through INBRE, students growing up in rural areas and attending colleges or universities that do not receive a large amount of grant funding can still be exposed to biomedical fields through scientific research.
"INBRE provides the funds and connections to do research and gives us access to rare scientific equipment we would not normally have access to," Pickrel said.
Since its inception, 324 undergraduate students have participated in the INBRE program, many of them going on to graduate schools, professional schools or work in science-related fields.
The success rate has led to multiple renewals of the program, Turpen said, including the most recent five-year, $16.2 million extension.
"We get the best and the brightest," he said. "We need scientifically trained people for the workforce and to develop a biomedical industry here in Nebraska, and (NIH) has said we're doing the right thing."
Pickrel, who will be a junior this year at Nebraska Wesleyan, will continue at INBRE on a part-time basis this fall before picking up another 10-week, full-time research job next summer. She intends to enroll in medical school after graduating from Wesleyan in 2017.
"This has really been an eye-opening process for me," she said. "I've learned that I love research and the biomedical side of science, so I want to do more biomedical research in the future."