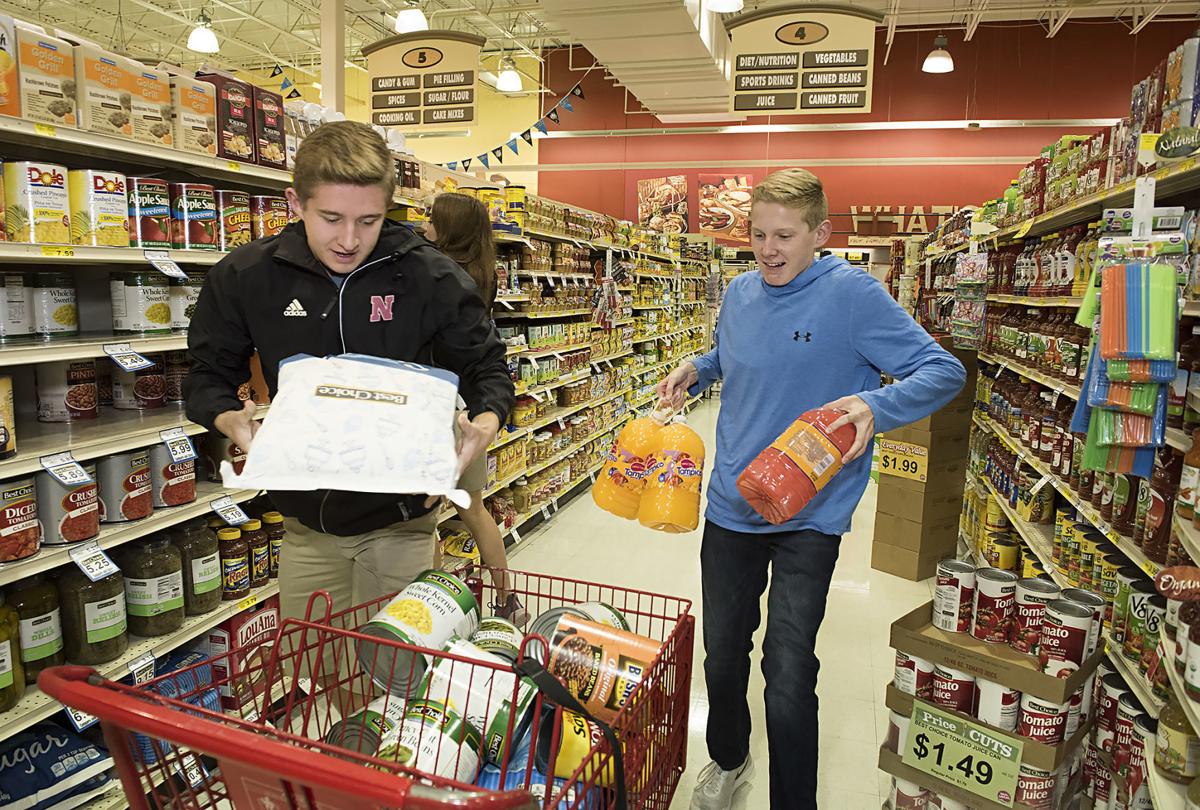 Pius X senior Kloee Sander and her fellow student council members had a plan Wednesday morning as they stared down the canned goods aisle at Russ's Market, their grocery cart at the ready.
Sander, a senior who's been involved with the Food Bank of Lincoln's student hunger drive since ninth grade, knew that much of the food Pius X gathers goes to Catholic Social Services.
She knew it needed bulk items the most, so she went into the Russ's at 33rd Street and Nebraska 2 on Tuesday to scope out the aisles she knew she'd be staring down the next morning.
Wednesday, she and classmates Alex Becker and Luke Tomes joined students from eight other Lincoln and area middle and high schools — as well as one youth basketball team —  for the kickoff of this year's drive known as "Food Fight!"
And the kickoff event this year involved two grocery store aisles, a cart, a timer and some rules.
The challenge: Fill the carts with food, the first of the collections to be added to the blue tubs assigned to each school scheming against the others to collect the most food during the three-week competition.
The rules: One minute. No glass. $100 limit.
Turns out a minute goes really fast, even when you have a plan, and sometimes stuff falls to the floor (thus the "no glass" rule) — but Sander, Becker and Tomes went straight for the big bags of flour and sugar, and lobbed large bottles of juice and cans of fruit on top.
"We are definitely over $100 but better safe than sorry," Sander said.
They were over — like others — which meant once the cash register hit $100, the rest of the food went back to the shelves and not into the buckets.
Unless you happened to be Megan Haeffner, Isaac Torres and Marysa Barnhill from Northeast — who flew down the aisles grabbing cans of beans and fruit and tossing bags of pasta and rice mixes into their cart — and then watched as the cash register took an accounting.
The total in the Northeast Rockets' cart? $99.95. Now that's some accurate tossing.
Haeffner said they tried to get inexpensive items so they could get more of them. It was a fun contest, she said, but that wasn't the reason they were there.
They know classmates at Northeast make good use of the Food Bank's market there, that there are Northeast families that struggle to get meals on the table. And they know it's not just at Northeast.
"We really want to help the community, help Lincoln. We know lots of families struggle," Barnhill said. "It really makes us feel good. We like helping our students and others."
A total of 12 teams from Lincoln and area middle and high schools, and the basketball team, are competing this year.
Since 2014, the student-led competition has collected enough food for 129,953 meals. 
The reigning champ is Pius X, which has won each year, but Sander isn't taking anything for granted.
"As student body president it's my turn to lead," she said.