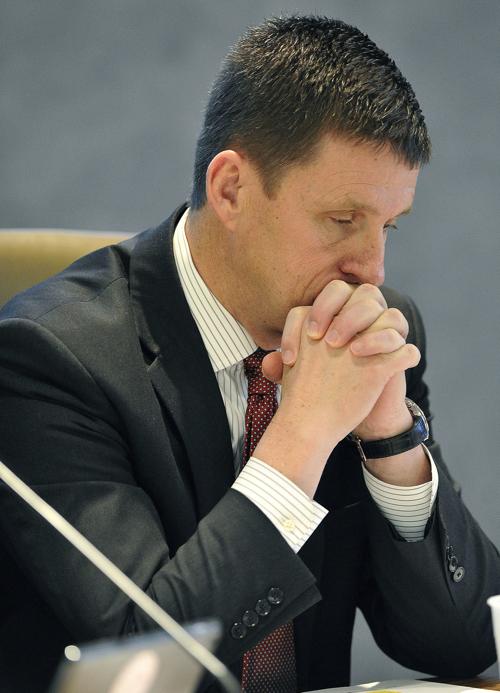 Leadership changes are nothing new at universities across the country, and in fact, they may become more commonplace.
A 2017 survey by the American Council on Education found the average tenure of a university president was 6½ years, down from 8½ years a decade earlier.
The University of Nebraska, which has had seven leaders since the multi-campus system was established in 1968, will soon embark on finding its next president after Hank Bounds announced he would step down later this year after a four-year tenure.
So what's next for NU, which enrolls 52,000 students, employs 14,000 and annually spends $2.6 billion? What does its next leader look like? What is the hiring process?
At this point, there are more questions than answers, said NU Board of Regents Chairman Tim Clare of Lincoln, and it will likely stay that way for weeks to come.
"Five days ago, Varner Hall found out Hank is leaving," Clare said Friday. "So to say that we've identified candidates or identified the interim president is going to be way premature."
As regents settle on a new direction, Clare said one thing in particular is certain.
"The University of Nebraska is a great institution, and we're going to find a great leader to lead this great institution."
The last go-around
Let's start with what we know.
The last time regents undertook a nationwide search to find a system leader — the 2014-15 search that led to Bounds — the process took the better part of a year.
Clare said finding a successor to Bounds could take longer, and the board is willing to take as long as it needs to hire the right person.
Friday, regents huddled for more than three hours behind closed doors to digest news of Bounds' departure together as a group for the first time.
"He put an enormous amount of things in play, and we don't have that leader anymore," Clare said. "But the good news is he gave us a long runway."
The last time an NU president stepped away from the position, regents also had several months of "runway" to get their search up and running.
J.B. Milliken, who served as NU's president for a decade, announced he was leaving Nebraska to become chancellor of City University of New York on Jan. 15, 2014. He left NU in May.
A few weeks later, regents named Dr. James Linder as interim president, appointed two committees to lead the search for a permanent leader, and hired search firm Isaacson Miller to assist.
Committee members gathered input from stakeholders throughout the spring, and in June published a job profile calling for a "dynamic, innovative and visionary" leader.
Months of headhunting and private meetings led to four finalists being named in November 2014 — a new law would allow the university to name just a single finalist this time around — and those candidates toured NU and visited with leaders through December.
In addition to Bounds, they included the president of Central Michigan University, the chancellor of the Colorado State University system, and a deputy director of the National Institutes of Health.
On Jan. 12, 2015, Bounds, the commissioner of higher education in Mississippi, was named NU's seventh president, and he started three months later, on April 13.
In all, the nearly year-long search cost $260,000.
Clare said the board has not come to any decision about how it wants to proceed beyond having a "thoughtful, inclusive, deliberate process."
"We're going to be process-driven, because we believe a good process yields good fruit," he said.
You have free articles remaining.
While no other plans have materialized, Clare said regents are also adopting a maxim of legendary UCLA men's basketball coach John Wooden: "Be quick, but don't hurry."
A competitive environment
NU won't specifically know who is attracted to its position until it asks for applications and recommendations later this year.
But NU is likely to find a "real and significant" marketplace for nationally sought leaders in higher education, said L. Jay Lemons, a Scottsbluff native who spent a career in college administration before joining Academic Search as president and a consultant.
As Bounds himself often quipped: "We're living in the most competitive higher education environment of our lifetimes."
Students have more choices in where, when and how they obtain a college education, and universities have demonstrated they are willing to pay top dollar to lure brilliant faculty and visionary administrators to their campuses.
At the same time NU will be launching its search, searches for top leaders are underway at the University of Southern California, Michigan State University and the University of Maryland, College Park.
There are also efforts to find new leaders for sprawling university systems such as the University of South Florida, which has 49,000 students across three campuses and which paid its previous president $1.2 million, and the 17-campus University of North Carolina, which boasts a total enrollment of 237,000 students and paid its last leader $977,000.
Bounds is earning $540,000 as president of NU, which is $110,000 more than Milliken was making when he left Nebraska in 2014 but ranks below the compensation awarded to several peer university systems, including Texas A&M University and the University of Maryland, University of Illinois and University of Wisconsin.
Lemons said university boards are feeling the "upward pressure" to compete, meaning lucrative salary and benefit packages are being used to land highly sought administrators.
"There are plenty of examples of boards who understand that leadership truly matters and have been willing to invest in securing top talent," he said, adding he considers NU among those institutions.
"My observation is that the Board of Regents made that type of commitment in securing and recruiting Hank Bounds to come to Nebraska," Lemons said.
Mounting pressures
The pressures placed on academic leaders have helped them command top dollar when it comes to compensation, according to Jim McCormick, chancellor emeritus of the Minnesota State College and Universities system who is now a search consultant with the Association of Governing Boards.
University presidents must navigate statehouses and balance competing political agendas seeking state investment.
In Nebraska's case, at least in recent years, that means securing 33 state senators to back a budget plan — the number needed to defeat a potential filibuster from conservative budget hawks.
Appropriations Committee Chairman John Stinner, who worked closely at the Capitol with Bounds over the last four years, said university leaders need to understand how to communicate priorities to state lawmakers, as well as the outcomes for a range of possibilities.
"They also need to partner with us on the state budget to help us see how this all fits together," Stinner said.
Meanwhile, McCormick said university presidents are being asked to hold down tuition costs in order to keep a college education affordable and to meet enrollment goals set by governing bodies.
NU regularly boasts of tuition rates lower than its peer institutions, but financial pressure within the Legislature has forced several years of hikes, increasing the potential that some students are being priced out of a college education.
And in the evenings and on the weekends, presidents are asked to court donors that can pay for new classroom buildings or athletic facilities, or to fund campus initiatives in need of funding.
Last year, the University of Nebraska Foundation, the board of which the university president serves as an ex-officio member, received $186 million in gifts. The year before, it raised $217 million for scholarships, libraries, and a performing arts center.
"It's always been challenging at the top for leadership and it continues to be," McCormick said. "What we're looking for is people who want to take on that challenge, who see it as an opportunity."
Lemons, who consulted on the search that led to a new chancellor of the Nebraska State College System last fall, said the University of Nebraska's top job is "truly a gem" in the higher education world, one that will be highly sought by talented administrators.
"It's a vitally important system that serves the needs of the state in a vital way," he said, "and the regents have made it a post that is attractive and competitive.
"I have a lot of confidence they will find an accomplished, experienced leader."