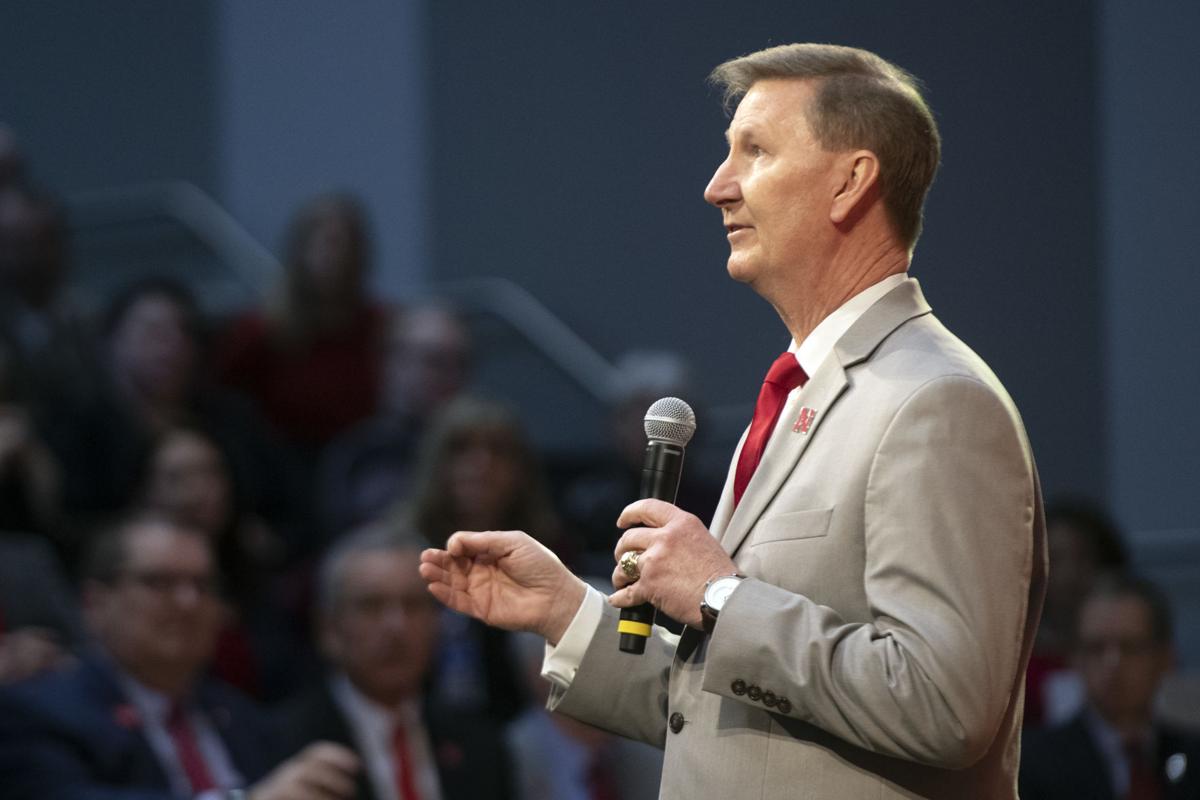 The University of Nebraska will seek to cut $43 million from its budget over the next three years as it aims to steady a turbulent financial situation caused by the coronavirus pandemic.
President Ted Carter said the university system will enact "significant permanent cuts" to NU's state-aided budget, which is funded through state appropriations and tuition revenue, to address a potential 10% drop in the number of students enrolled this year.
That's less than the 15% enrollment decline many other colleges and universities are anticipating but would still result in a dramatic loss of revenue.
"I'm cautiously optimistic," Carter said at a news conference Friday ahead of the release of next week's NU Board of Regents' agenda. Regents will meet remotely on June 26.
NU already absorbed a $50 million loss this year after COVID-19 forced the university system to close its campuses in Lincoln, Omaha and Kearney and refund some money to students.
That one-time loss was handled through some operational cuts, including a hiring freeze and ban on travel, as well as through federal coronavirus aid and dipping into NU's cash reserve.
But NU will still be forced to address a $43 million shortfall, which accounts for about 4.3% of its annual budget.
With a plan to freeze tuition rates for the next two years — a move Carter said was necessary and the right thing to do to help students and their families plan for college — NU's campuses will once more be called upon to slash expenses.
At the University of Nebraska-Lincoln, the system's flagship campus, Chancellor Ronnie Green and an appointed Budget Advisory Committee will address the current 5.5% budget shortfall, as well as future losses in tuition revenue estimated at $38 million over the next three years.
Green said UNL has already begun to enact some cost saving measures, including freezing salaries for the 2020-21 school year. UNL is also considering a voluntary staff reduction, which will allow staff to cut their hours and salary while maintaining benefits, as well as the possibility of furloughs.
"We have been decidedly conservative in our projections for enrollment this coming academic year, particularly given the expected declines in international students coming to the U.S.," Green said in an email to campus.
Administrators are expecting enrollment of international students, who pay full nonresident tuition and do not quality for scholarships, to drop by more than 25% this year. That accounts for roughly 90% of the anticipated tuition revenue losses.
Both the University of Nebraska at Kearney and the University of Nebraska at Omaha will be asked to cut their budgets by 3.9% over the next three years.
Chancellor Doug Kristensen said the decisions on how to cut the UNK budget will be made collaboratively and focus on students.
"You will understand that operations and personnel will not be able to continue at existing levels, and some positions and supports will need to be eliminated," Kristensen told the campus in an email. "These decisions are never easy for leaders to make."
The University of Nebraska Medical Center will absorb a 2.9% cut to its state-aided budget, but the Nebraska College of Technical Agriculture, which is also part of the NU system, will be kept whole, Carter said.
"Their budget is relatively small and we think that their importance to the agricultural community is such that we wanted to leave them out of the planned budget cuts," he said.
The central administration office, located at Varner Hall, already absorbed a 10% cut in its staffing earlier this year.
And Carter announced he'll forgo a 15% merit bonus at the end of the year, returning approximately $140,000 to the university. Husker football coach Scott Frost and men's basketball coach Fred Hoiberg both announced earlier this week they'd return a portion of their salaries to the Athletic Department.
Although the university system will undergo another round of budget cuts just a few years after addressing a shortfall caused by a loss in state appropriations, Carter said the actions taken by NU thus far have helped soften the financial blow.
Announcing a two-year tuition freeze for Nebraska students for the 2021-22 and 2022-23 school years, a free-tuition program for median income students, reducing the price of online credit hours by 7% and adjusting the academic calendar to avoid a potential resurgence of COVID-19 in late fall, are actions aimed at a "strategic shift to focus on Nebraska students," he said.
"That is where our true north is going forward, to maintain the confidence and welcome our Nebraska students and know we are a place of great value and the future of education," Carter said.
Applications to NU were down 5% compared to the previous year on April 17, when Carter announced the Nebraska Promise, which will pay full tuition for as many as 1,000 students from median income households, he said.
Since then, NU has received an additional 2,500 applications, and interest in the university is up 8% over this time in 2019. It's the most applications the university has seen since it moved to a common application form for all campuses in 2017.
"Now, those application numbers will not necessarily equate to enrollment numbers in the fall, and we understand that," Carter said.
At the same time he is addressing a budget shortfall, the university system's eighth president also said he was planning for the future.
"We are planning to make changes that make us stronger," he said.
The university will ask for 2% more in state appropriations over the next two years, what he called a "modest increase" reflective of its efforts to be a good partner to state lawmakers during the crisis.
Carter said NU will also ask for $20 million during the next biennium to improve student access and success initiatives for students from underrepresented backgrounds, and to continue renovating aging infrastructure on its campuses.
Unlike other institutions that are "frozen in their footsteps" waiting for a COVID-19 vaccine or for others to act, Carter said he wants NU to be a leader in higher education when it comes to reopening.
"We have a bias for action, we're trying to be problem solvers, and that's where I believe we are today," he said.
Concerned about COVID-19?
Sign up now to get the most recent coronavirus headlines and other important local and national news sent to your email inbox daily.