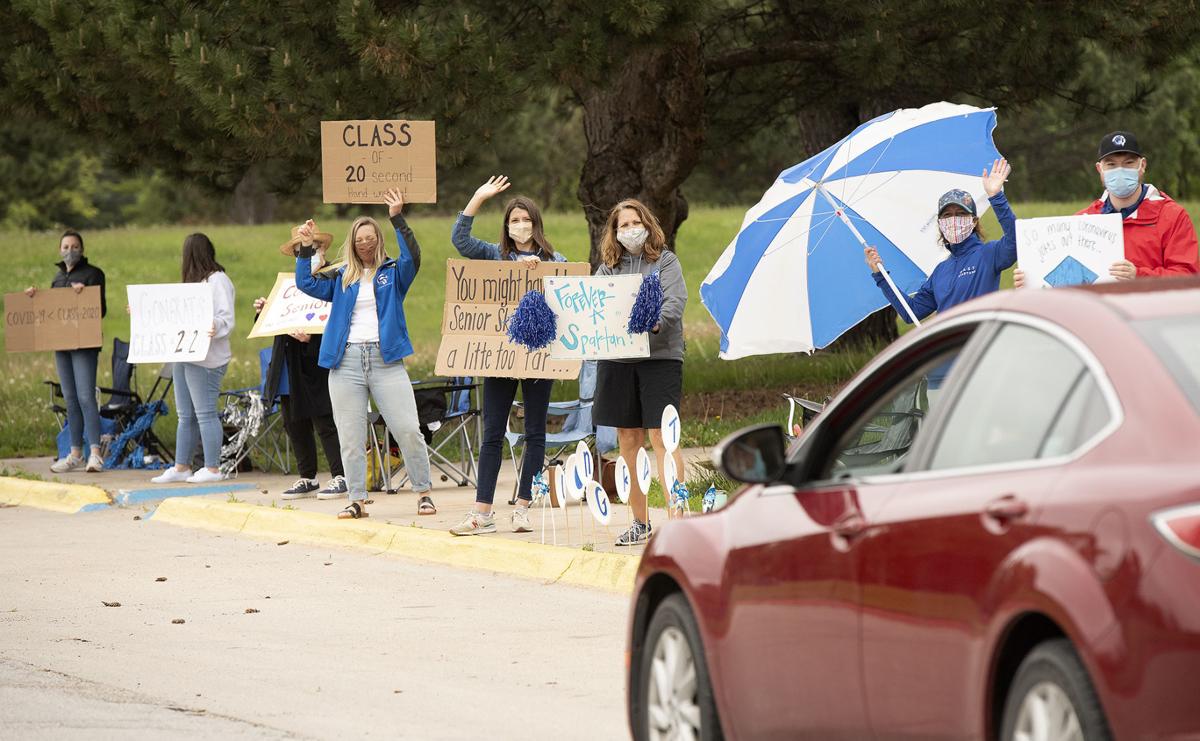 Kelli Cederdahl's sign said it all, really: Hello and good-bye and oh-how-we've-missed-you, all wrapped up in a bit of humor and delivered in black Sharpie and cardboard.
You might have taken senior skip day a little too far. …
The Lincoln East art teacher, appropriately masked, stood alongside a line of other East teachers Tuesday morning holding signs — Congratulations! Way to Go Spartans! We will miss you! — and cheering as the school's seniors drove along the street that loops across the west end of the school.
"Oh, my gosh, I couldn't sleep last night — I was so excited to get here," said Cederdahl.
It was a small gesture, a way to mark the end of their final school year as seniors came to return their Chromebooks, pick up anything they'd left at school and grab their cap and gown for a graduation ceremony that remained uncertain.
Just how — and whether — schools would be able to do anything to mark the end of the year as some students turned in school belongings was up in the air for a while, but eventually district officials gave schools the go-ahead.
Only graduating seniors and those moving to a new school next year — fifth and eighth graders — were allowed to return Chromebooks and get anything they'd left at school before spring break just a little over two months ago, with no real inkling they would not be coming back.
At middle and high schools across the city, teachers made signs and hung decorations and put on costumes and played music to help students note the end of a school year where dining room tables and bedroom desks became the classroom.
A Dawes Middle School math teacher hung a banner across the front of the building with each eighth grader's name on it, printed large enough to be seen from the street.
On Wednesday, fifth graders will make the trek to their elementary schools hosting similar festivities. Some schools had virtual recognition ceremonies and saw slideshows of their classes last week.
At East, students drove to stations set up around the outside of the school, dropping off instruments and Chromebooks and library books. Picking up yearbooks (surprise, kids!) and stuff they'd left in the hallway and their gym lockers (surprise, moms!)
Principal Sue Cassata said teachers were excited to help.
"Anything that lets them see the kids," she said. "Being back in the building helps. Bringing closure to the school year. I think that's a good thing."
Teachers brainstormed ways to end their classes, asking reflective questions at final Zoom meetings, making videos. In the last months of school, she said, staff also found ways to stay connected: virtual fitness sessions hosted by PE teachers, trivia contests and various friendly competitions.
But they missed their students, who drove by Tuesday with parents and friends, waving and fist-pumping at the sign-carrying educators.
Sooki Domico was sad about everything she missed — prom and senior pranks and graduation parties — but happy to get one last glimpse at the school where she'd spent so much of her time.
"It's one last goodbye," she said.
As much as kids like to pretend they don't like school, English teacher Helen Cooper knows they've missed it, and she thinks this gesture — teachers masked and in lawn chairs and blaring music from speakers — helped.
"I think you need a bookend to your high school experience," she said. "There's a normalcy to seeing at least half of our faces."
Watch Now: Lincoln churches unite in blessing
Corrections workers lend a hand
WATCH NOW: Parking Lot Plays
Asian Center connecting with those in need
Watch Now: Screamers performance at Hillcrest Firethorn
Lincoln East return and retrieval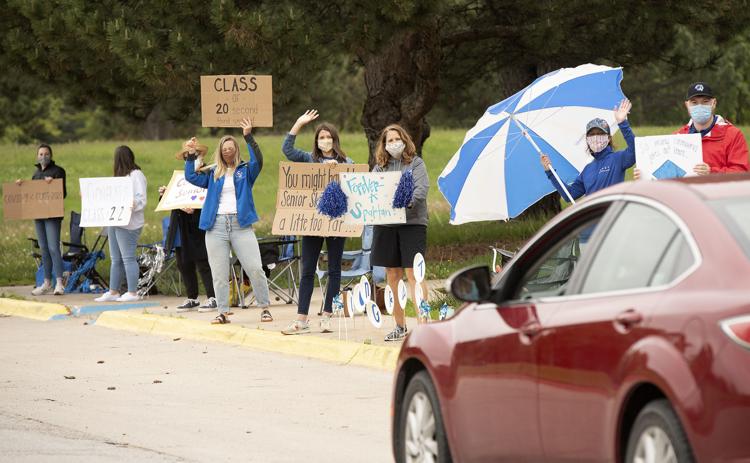 Nebraska National Guard flyover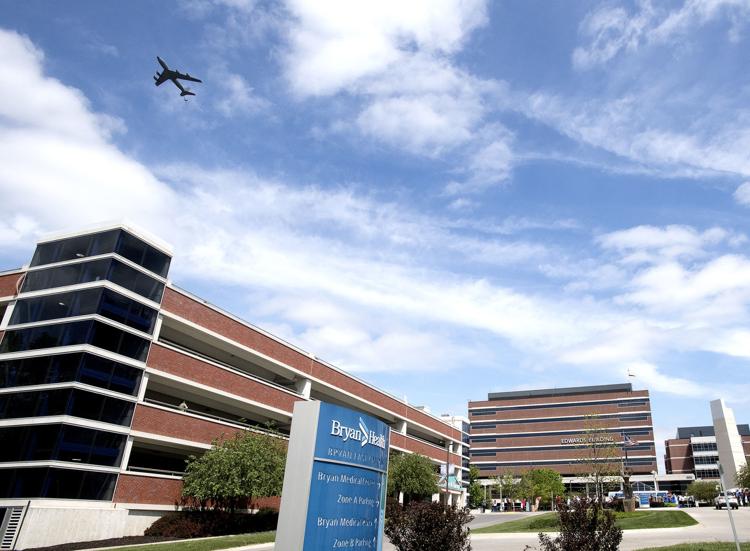 Nebraska Strong PSA
Guard helps Food Bank of Lincoln
Red carpet for essential workers
Lunch date with a squirrel
Red Cloud's parking lot graduation
Homemade masks for the mission
Coffee for health care workers
Switching to hand sanitizer
The show went on … a month early
Concerned about COVID-19?
Sign up now to get the most recent coronavirus headlines and other important local and national news sent to your email inbox daily.