There's a story behind the chair that Al Bock spends much of his time in these days, the one in his living room with a remote that lifts it off its base so he can more easily stand up.
It's the first thing he mentions when I visit, before relaying the next chapter of a story he'd told months earlier — of a concussion and Parkinson's diagnosis and his battle to get back to the classroom where he's spent his career teaching social studies.
He starts with the chair because it's such a perfect example of the good that's happening in the face of a lot of bad, of the kindness of his students and colleagues since a rare neurological disorder took hold.
He needed a chair, Bock explains, so his wife called a consignment store. The seller wanted nearly $700 for a chair that was nearly new. Then the seller found out the potential buyer was the social studies teacher he'd had at North Star years ago. He told the consignment store to forget the sale; he wanted to give it to his former teacher.
"That's the kind of thing, when you get really sick," Bock said. "People are really kind, they're really giving."
When I last wrote about Bock, he was excited for the start of school, as excited as he'd been in his 32 years as a teacher, because he'd had to stop teaching the year before after falling in the bathtub and hitting his head. As he recovered from a concussion, he was diagnosed with Parkinson's.
But he made great progress, and so he remained optimistic even when his doctor told him what they'd initially thought was Parkinson's was actually a rare disorder called multiple system atrophy. The symptoms are similar to Parkinson's but more widespread, and can progress more rapidly.
At North Star, Bock found ways to work around the symptoms: bringing in a wicker "chair of knowledge" to sit in instead of standing during class, letting a teacher help him navigate the crowded hallways to his planning space.
But he was so tired by the end of classes it was hard to grade papers. His voice began failing him by the end of the day and he'd forget things. Once, after standing and talking to the principal, his legs would hardly move.
After about a month, he decided he couldn't continue.
He told his students, then the staff of the department he chaired, and kindness helped ease him into the retirement the disorder had forced upon him.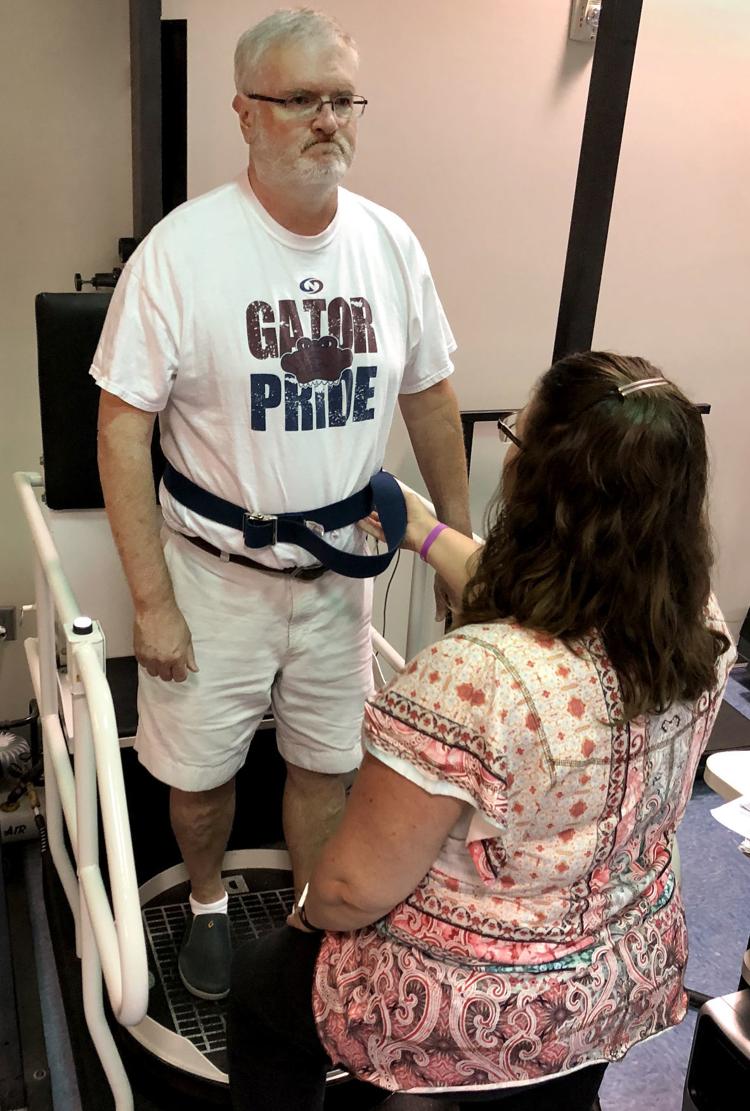 His students knew he loved Pop-Tarts, so they brought him 32 boxes of the toaster-ready treats. They knew he was a Denver Broncos fan and showered him with memorabilia. The students and the teachers hugged him and brought a cake, wished him well and, at an assembly on his last day, gave him a standing ovation.
That, said the veteran teacher, was really something. 
So was driving out of the parking lot for the last time.
"It was so strange, just pulling away from the place," he said. "Having been there so many years, spent so much time there. Every time you leave home it hurts."
But his fellow teachers still visit and help out. He reads and watches football and spends time with his 19-month-old granddaughter.
It's hard, this condition, scary, but here's the thing: There's a lot of good, too, and he's not done. Not by a long shot — and I'm taking him at his word. 
"Your story isn't over yet," Bock told me at the end of our visit. "You'll have to come back."