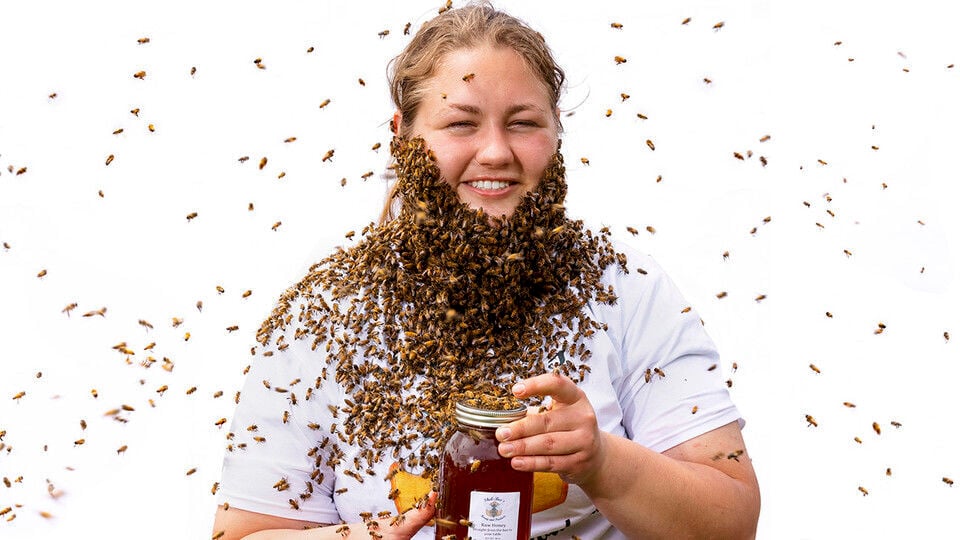 They're her business and her research project; they decorate her car and her T-shirts. Shelby Kittle's passion and involvement in the pollinator world runs deep.
Kittle, a senior agricultural education major at the University of Nebraska-Lincoln, has been keeping bees since she was 14. She is the owner of Shel-Bee's Honey and Products.
The Ord native keeps 10 hives of her own and oversees another 11 at the UNL Bee Lab, where she assists with graduate research and is conducting her own study on how hobby beekeepers can better produce comb honey to compete with commercial honey sellers.
Comb honey was what Kittle first started selling. It's easier to produce than liquid honey, she said, as all the beekeeper has to do is cut away the honeycomb, whereas liquid honey requires extracting the honey from the comb with expensive equipment.
"It's completely edible," she said. "It's really, really good on cheese and crackers. That's my favorite way to eat it."
She sells a lot of comb honey, but over the years Kittle has also added raw liquid honey, pure beeswax, and creamed honey and honey butter to her product line.
She'd eventually like to add skincare products to her offerings, but balancing both research and her business have kept her busy, Kittle said.
"I definitely can't do as much with my business, or with my job, as I could without one or the other," she said. "But I feel like they complement each other well and I can learn from both."
Courtney Brummel, who's been working with Kittle at the bee lab for around three years, said beyond conducting and assisting with research, Kittle also helps the lab come up with innovative outreach strategies.
"Shelby is hands down one of the hardest working people I know," she said. "Her very unique perspective and creativity is overflowing, and she definitely resonates that throughout the UNL Bee Lab."
Kittle said her journey to beekeeping started as a kid when she'd catch bugs and butterflies on her grandparents' farm for 4-H entomology projects. She was looking for a way to get more insect-related experience when she came across a beekeeping project through her school's FFA program.
Though the idea was a bit spontaneous, her parents were supportive of her as she decided to take on the challenge of keeping bees, Kittle said.
"I was a little surprised that my parents were so open to it when I first started, because I basically talked to my FFA adviser before I talked to them," she said.
She also found beginner beekeeping resources through the Nebraska Beekeepers Association's youth program, and worked with a mentor who helped her immensely, she said.
Her mentor also inspired her to switch from her plan to major in entomology to instead pursue ag education.
"I decided that I wanted to be that person for somebody else someday," she said.
In addition to her ag education program, Kittle is also part of the UNL Institute of Agriculture and Natural Resources' Engler Agribusiness Entrepreneurship Program, which offers financial aid and entrepreneurial-focused classes for driven students.
"The Engler program is actually one of the reasons why I'm in college. I wasn't going to be able to afford it without it," she said. "It's basically teaching me how to run a business."
Kittle isn't exactly sure where she sees herself in the future, but could envision either expanding her business or working as an educator through a university extension program. Either way, bees will continue to be a part of her life.
Keeping bees serves purposes beyond research and business for Kittle, she said, including keeping her in shape through lifting heavy hives and helping her center herself. 
"When I've had a bad day, I can go out and work bees and I just have to forget about it," she said. "Because if I act all grumpy, I'm going to make the bees grumpy, and then I get stung."
Kittle shows her dedication to beekeeping through her generous involvement, Brummel said. 
"There is no way someone would take on all that she does without having a genuine love for our vital pollinators," she said.