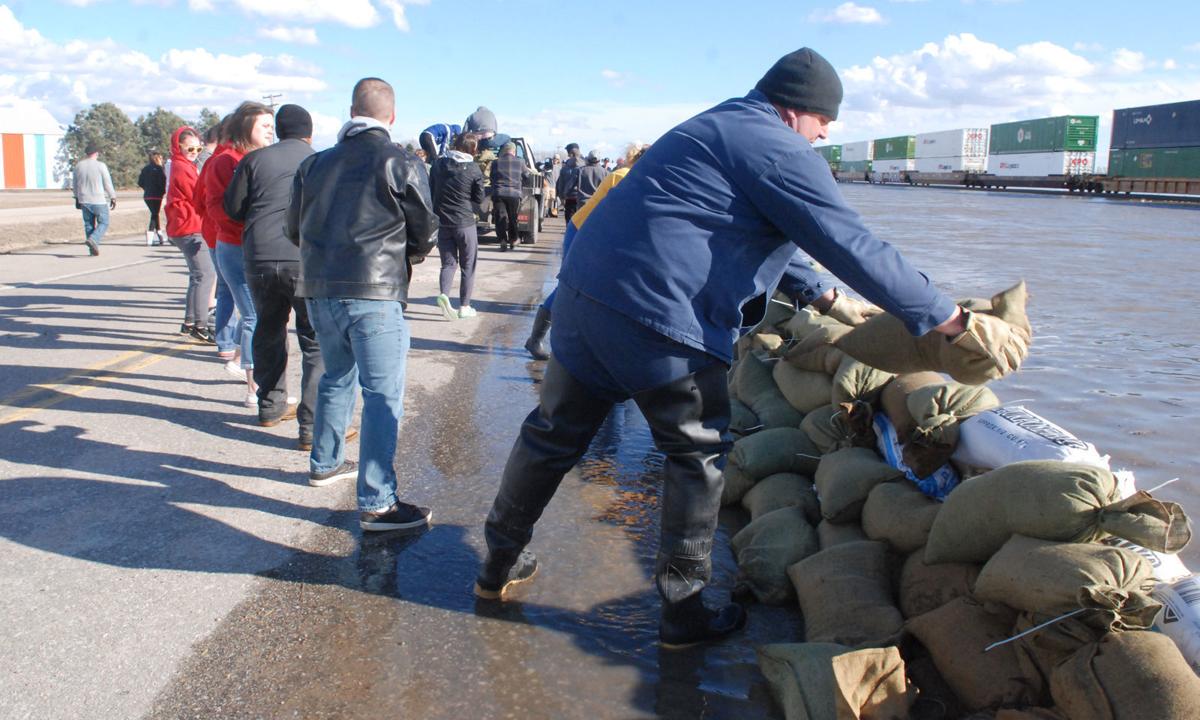 Even before a bomb cyclone wreaked havoc over wide regions of the state last month, Nebraska Extension was uniquely prepared to respond to the disaster, as well as assist in the lengthy recovery efforts.
Nebraska is the one of the few cooperative Extensions to have a dedicated disaster response coordinator, who works with educators in all 93 counties to prepare for floods, blizzards, tornadoes and more.
And supporting Extension is a national network of experts in everything from how to determine when it's safe for victims to return to their homes after a flood to restoring the health of livestock herds following the stresses of a natural disaster.
Those pieces have helped Nebraska Extension position itself to aid the recovery efforts across dozens of counties in a long-term, sustainable way, said Chuck Hibberd, dean of the agency.
"We always had a county-based extension educator whose part-time assignment was emergency response," he said in recent phone interview.
At Purdue University, where he served as associate dean of agriculture before joining the University of Nebraska-Lincoln, Hibberd said he watched as Steven Cain, whom he called "the flood recovery guru," coordinate annual responses to flooding in Indiana's river systems.
Once he returned to his native Nebraska a year after the Missouri River reached record levels of flooding in 2011, Hibberd explored what that position would entail in a state with more miles of waterways than any other in the U.S., as well as volatile weather conditions ranging from blizzards to tornado outbreaks to long and sustained droughts.
Nebraska at that time had an extension educator based in Dawes County who was interested in disaster recovery, but was only assigned to the issue part-time, Hibberd said.
"My experience at Purdue told me we didn't want to delegate disaster preparedness and recovery to someone who would just do it part-time, though," he said.
After a pair of natural disasters in June 2014 — a hail storm that wiped out crops along a wide swath and the devastating twin tornadoes that destroyed homes, farms and businesses across three counties in northeast Nebraska — Hibberd authorized Extension to create a full-time disaster response coordinator position.
Ashley Mueller, a graduate of both UNL and Purdue who previously held positions at South Dakota State University and Kansas State University, was hired as an extension educator focusing on disaster education in 2014.
The position, which Mueller described as "at the intersection of weather and issues that drive decisions," filled a gap within Extension, where she helps counties develop response plans, trains local officials on coordinating local response efforts, and serves as a liaison between the university, state and federal governments in emergency management situations.
"This has been an exciting opportunity to figure out what Extension's role is in disaster preparedness, response and recovery," she said. "Because all disasters are local, I work through county-based faculty and staff, building up capacity through training and professional development opportunities and making connections."
But Mueller, who is based out of Dodge County, found herself in the middle of a widespread natural disaster herself during the historic March 13-14 event.
You have free articles remaining.
As the Platte River became engorged, washing over roads and demolishing bridges, Fremont was effectively "an island for four days," she said.
So Mueller got to work setting up a volunteer reception center, which was run locally until national volunteer agencies could get on site to coordinate those efforts.
Meanwhile, she began hearing from colleagues within the Extension Disaster Education Network, or EDEN, a consortium of extension educators from public land-grant universities from across the country that offers resources and expertise in a wide array of topics.
After the Missouri and Mississippi rivers receded following the Great Flood of 1993, extension agencies in states along those rivers came together to create the network through a U.S. Department of Agriculture grant, said Becky Koch, a communications specialist at North Dakota State University who was among the charter members.
Experts from universities spanning the U.S. are able to quickly provide reliable information and resources in the wake of a disaster, Koch added, so extension educators in those states "don't have to reinvent the wheel."
"We're not so much a response agency there with boots on the ground, but because we are based in the universities, we can say what the research says is the best way to prepare or how to clean up," she said.
EDEN members can connect farmers with fields underwater in one state to corn and soybean specialists in another, or with family-living experts to help victims of a natural disaster in another state navigate the financial aspects following an event, for example.
A biological systems engineer from North Dakota State in Fargo, where the Red River routinely floods, offered information early on testing moisture in structures, Mueller said.
Cheryl Skjolaas, a senior outreach specialist at the University of Wisconsin-Madison who is the current chair of EDEN, said in addition to floods — such as those experienced following heavy rains in the Badger State in 2017 — the group has assisted with recent hurricanes in North Carolina and Texas, as well as the deadly wildfires in California.
When a 4.4 magnitude earthquake shook parts of Alaska last year, Skjolaas said she reached out to EDEN's contact there to ask what resources the network could provide.
"By the time I made it 21 miles home, the responses were already going both ways," she said.
Nebraska, in which the disaster response coordinator Mueller serves as EDEN's point of contact, is the envy of several states in the compact, according to Skjolaas.
As rising global temperatures lead to more frequent and intense extreme weather events such as tornadoes, flooding and droughts, EDEN members say they hope to see more universities create positions like the one Nebraska now has.
"I think Nebraska was very foresighted in putting that position on," Skjolaas said. "We have a number of states that have positions or individuals who have responsibility toward disaster education, but it's certainly one area that has some potential for positions like (Mueller's)."
Mueller said she hopes that, in the wake of the historic flooding, extension educators across the state take stock in how their positions are related to and impacted by the natural disasters that strike Nebraska.
"What does Extension normally do? We provide education and information," she said. "That's no different for disasters. Faculty may not spend all day, every day working on disasters, but it's sure a part of what you do, in blue-sky times or in an active recovery."