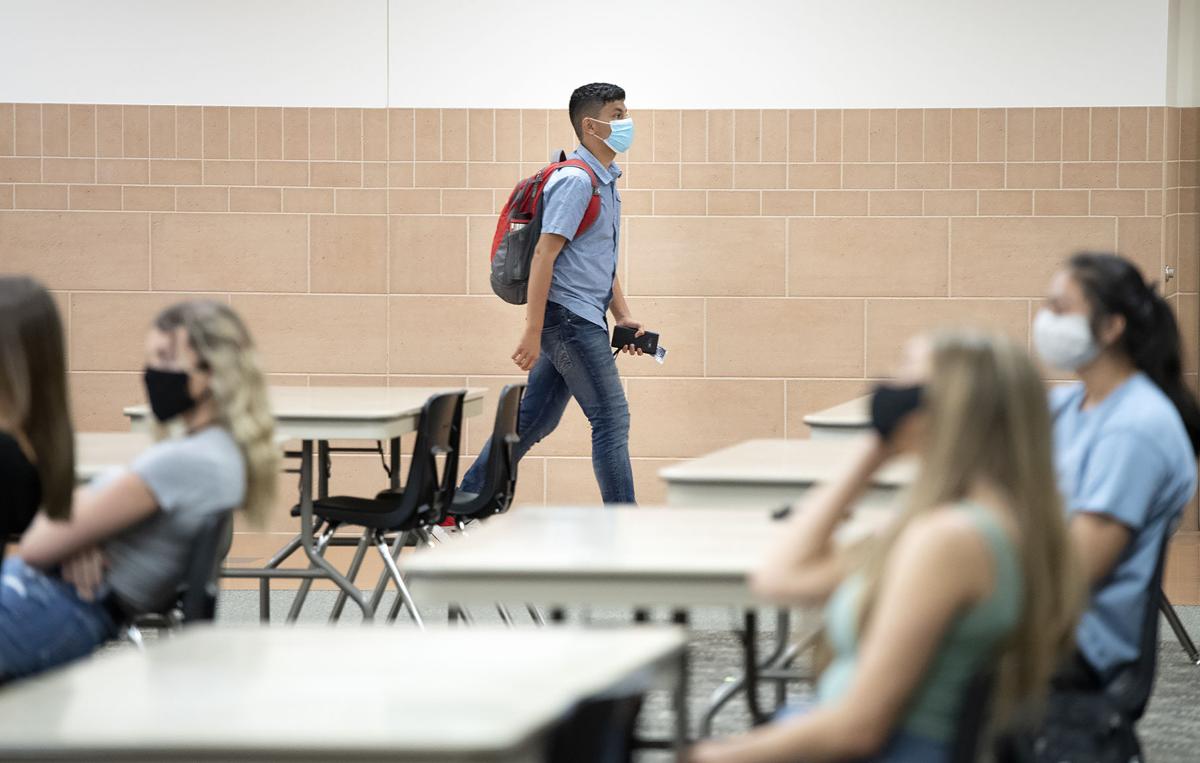 Wearing masks and looking out on a socially distanced crowd, Lincoln Board of Education members heard concerns about a possible new wave of pandemic restrictions amid revised federal guidelines.
At a nearly three-hour board meeting Tuesday evening, some of the nearly 30 speakers who offered public comment questioned mandating masks for students, citing young people's low risk of serious illness and effects on learning. 
Others turned out in equal measure to oppose or support the state's controversial proposed health education standards and critical race theory, highlighting the stark divide polarizing some parents and district patrons. 
The meeting marked the first time board members masked up and social distancing was followed since May, and came just hours after the Centers for Disease Control and Prevention released new guidelines, including universal masking in K-12 schools.
The federal guidance calls for all students and staff to mask up regardless of vaccination status, a reversal that adds weight to the tough decisions individual school districts face this fall. The CDC reiterated its call for in-person learning, albeit with safety precautions in place.
LPS leaders said they were reviewing the guidance and would consult the Lincoln-Lancaster County Health Department before making any changes to the district's back-to-school plan, which currently does not require masks for students.
"At the end of the day, we have to make decisions for our 42,000 students and 8,000 staff members, and we're going to have school; it has to be the safest place possible," said Superintendent Steve Joel at Tuesday's meeting.
The CDC's previous guidance for schools called for masks only on unvaccinated staff and students. Outside of schools, the CDC is now recommending mask-wearing in public indoor areas of the country with high rates of COVID transmission.
Under LPS' current plan for the school year beginning next month, masks are optional for all students but strongly recommended for those who are unvaccinated, which would include elementary students and some middle schoolers as a vaccine is only available to those age 12 and over.
Masks are required for unvaccinated LPS staff members, who will follow the honor system, while visitors and volunteers during school hours will have to show their vaccine card or wear a mask.
But those who spoke on the subject Tuesday expressed concern that the new CDC guidance would lead to stricter measures, similar to last year's mask mandates in schools. Few speakers asked for tighter restrictions. 
"(Students) don't need these masks," said Stephanie Johnson, a former LPS speech pathologist who protested outside the district office before speaking Tuesday. "I think about how children learn. There is so much that they learn by seeing expressions. That's a whole language that you read people's faces. … I just think there's a better way."
Others, like Deb Miller, who has grandchildren in the district, criticized mask-wearing as well, saying young kids aren't at risk of getting seriously ill from COVID-19.
"The masks, they don't work," she said, while another speaker likened them to "child abuse."
But Bob Rauner, school board member and chief medical officer of OneHealth Nebraska, said if no mitigation strategies are implemented, students will be hospitalized and even die.
"Although kids are at low risk, which is true, they're also not at no risk," Rauner said. "But that's only part of the problem (because) people don't realize that the schools are a vector for the entire community."
The CDC recommendations come amid concerns about the more transmissible delta variant of the virus, which has led to a surge in cases in Lincoln and across the country.
Gov. Pete Ricketts on Tuesday balked at the CDC's announcement, saying the new guidance "flies in the face of public health goals that should guide the agency's decision making," while also adding that schools should convene in person without mask or vaccine requirements.
Meanwhile, the University of Nebraska Medical Center's College of Public Health joined the CDC in calling for universal masking in its guidance for schools released Tuesday.
Authored by 12 public health experts, the UNMC plan calls for masking in K-12 schools regardless of vaccination status and recommends districts strongly consider requiring vaccines for students and staff.
The report also raises concerns about low vaccination rates for those ages 12-18 in the state and the absence of an approved vaccine for those younger than 12. Vaccination rates among school staff are also low across much of the state, the authors say.
The American Academy of Pediatrics also offered similar masking guidance last week.
The University of Nebraska-Lincoln said it does not plan to reinstitute a campus mask mandate for students or employees who have been vaccinated — which follows current CDC guidance.
Earlier this summer, following a recommendation from the CDC, UNL lifted social distancing requirements and said its facilities could operate at 100% capacity.
Deb Fiddelke, a UNL spokeswoman, said the state's largest university campus will move forward with its plan, while working alongside the Lincoln-Lancaster County Health Department in monitoring the situation.